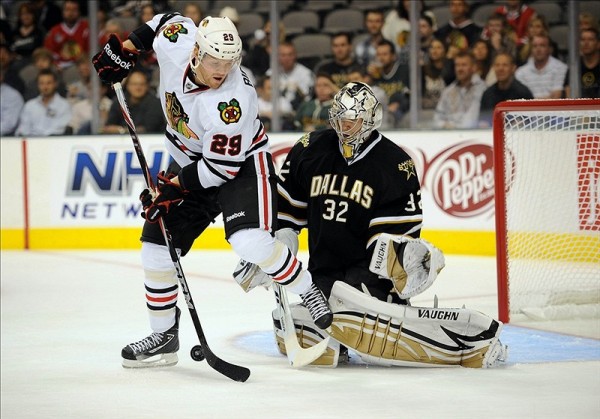 BREAKING NEWS: Jaromir Jagr and Ray Whitney may have discovered the Fountain of Youth… and it's in Dallas, TX.
The 40-year-old duo is playing like it's 2003 again and this season they have connected for seven points collectively to lead the Dallas Stars to a respectable 2-1-0 record after three games. But don't expect the Stars to hinge all their success on the living legends: Kari Lehtonen has sparkled in his starts; compiling a 2-0-0 record and stellar .950 save percentage which puts him among the league leaders. Last game, the Detroit Red Wings pelted Lehtonen with 40 shots and he stopped 39 of them to steal a 2-1 win at the Joe Louis Arena. His success against Chicago has been similar, putting together a 4-2-0 record with a .934 save percentage, 1.98 goals against average, and one shutout in six games.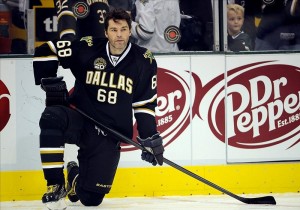 Luckily for the Blackhawks, Jamie Benn will not dress for the game considering he has an on-going contract dispute. Benn scored 63 points in 71 games last season and would be an instant boost to a roster that has only averaged two goals per game this season. Let's face it, the way the Blackhawks are generating offense that type of production simply will not cut it for the Stars unless Lehtonen gives his best impression of a wall. Steve Ott is no longer part of the team either (former Hawk killer) after getting traded to the Buffalo Sabres for Derek Roy, who is still trying to find his game in Dallas.
On the flip side, the Blackhawks are the first (and so far the only) team to go 3-0-0 this season which is an accomplishment they have not been able to reach since the 1972-73 season. It keeps piling on from there: they have averaged 4.67 goals per game and have seen contributions from all four lines. They have also scored a power play goal in all three games this season.
STOP… REWIND: nosaes siht semag eerht lla ni laog yalp rewop a derocs osla evah yehT
PLAY: They have also scored a power play goal in all three games this season. 
You heard that correctly. These guys are producing at a 23.1% clip which ties them for 7th in the league compared to teams that have played three games or more and almost an 8% improvement over last season. Ultimately, who cares about the percentage — all that matters is that they are generating momentum on the man-advantage instead of losing it. If Jamie Kompon has anything to do with this resurgence, then kudos to Quenneville for bringing this man aboard (Sorry Mike H.) after he won the Stanley Cup with the Los Angeles Kings last season.
The penalty kill also kicks serious butt this year going 9-for-10, which is a 90% kill rate for those who need a calculator. In fact, the Blues were the only team to dent the twine, but to be fair they lead the league with six power play goals and could be the hottest team out there right now when they are up a man.
Corey Crawford has also played particularly well in his two starts going 2-0-0 and a solid .927 save percentage. Corey might be a tad behind Lehtonen if it comes down to a goaltending battle, but with the firepower upfront he should have no problem as long as the Blackhawks can net at least three goals.
Bottom line: There is no guaranteed wins in the NHL and this match-up is going to be proof of that. Kari Lehtonen has a fantastic track record against Chicago and he can steal a win. This will be a real test for the Blackhawks snipers and the opportunities will be there but they need to capitalize. Corey Crawford is bound to be outplayed this game, so temper your expectations — Kari is not going to make him look good. Either way, Corey will give the Blackhawks an opportunity to win, but it's really up to the offense to find a way to beat a team that seems to have their number over the last few years.