The lockout has ended and NHL hockey is back. It may have seemed that hockey was at a standstill for the past six months while fans waited for the return of their favourite NHL players and teams, but in reality, great hockey never stopped. As many people were without work due to the lockout, NHL scouts remained as busy as ever as they shifted their focus to draft eligible skaters and travelled to rinks around the globe in preparation for the 2013 NHL Entry Draft.
The class of 2013 has been receiving rave reviews from their outstanding performances as they prepare to become one of the best top heavy crops in recent years. Similar to the 2008, 2009 and 2012 drafts, the battle for first overall is between two franchise players at different positions – a defenseman in Portland Winterhawks' Seth Jones and speedy Halifax Mooseheads' forward Nathan MacKinnon. The campaign for top spot is as competitive as ever and at this point and deciding on a clear top player was virtually impossible as both players own magnificent personal qualities and hockey skills. It is important not to dwell on Nathan MacKinnon being ranked first over Seth Jones as that decision will be made by the NHL team that eventually holds that pick and at that point, the franchise will choose accordingly based on its team's needs. Instead, indulge yourself in the skillful battle between these two mesmerizing hockey talents as each of them plan to showcase their skills deep into the playoffs on strong major junior teams.
As the rankings are arranged, there are several tiers of importance to note to properly understand players' value. MacKinnon and Jones formulate the clear-cut top tier but the second tier of elite players consisting of Mooseheads' Jonathan Drouin, Finnish star Aleksander Barkov, underrated Swedish pivot Elias Lindholm, big projectable Russian Valeri Nichushkin and the mature Sean Monahan are pushing their way up the ranks for a piece of the pie. From Medicine Hat sniper, Hunter Shinkaruks' spot at 8th to Ryan Pulocks ranking of 13th, there are a half dozen talented players that make up tier three.  Following those three defined tiers of players, an argument can be made for selecting any of remaining players from the remaining top 50 at any point.
Regardless of who is ranked first or how the selections actually fall, the 2013 draft class has exceptional talent throughout the first round and game-breaking skill is front and centre for prime picking.
Previous Rankings (November) can be found here
Note: All statistics below are current as of January 22nd.
1st Nathan MacKinnon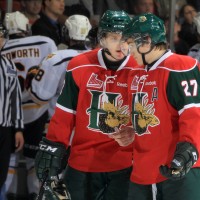 Halifax, QMJHL
Height:  5'11"
Weight:  179
Position: Centre
2012-13 Statistics:  35GP – 26G – 34A – 60P, 37 PIM
Twitter: @MacKinnon9
The difference between MacKinnon and second ranked Seth Jones is virtually zilch. With these two top end prospects, it is a ranking of 1A and 1B and one could easily exchange one for the other. MacKinnon gets placed above Seth Jones (for now), based on his upside.  At this point in time, MacKinnon has more room to develop as a player in all areas of the game. Seth Jones is equally deserving of the top spot but it is more likely that the big poised defenseman is closer to his ceiling than the younger MacKinnon, who is only two weeks removed from being 2014 draft eligible.
2nd Seth Jones
Portland, WHL
Height: 6'4"
Weight: 206
Position: Defense
2012-13 Statistics:  36GP – 8G – 21A – 29P, 25 PIM
Twitter: @seth_jones04
As stated above, an argument can be made for Seth Jones to be the top ranked prospect as he possesses the rare size and skill that franchises desperately covet. In the end, it is difficult to find the type of defender that Seth Jones is and projected to become, which could persuade a team to use its first overall selection simply because it is a more difficult position to fill.  Regardless, the Seth Jones-Nathan MacKinnon battle is as close as any 1-2 ranked draft debate in modern day draft history. Flip a coin.
3rd Jonathan Drouin
Halifax, QMJHL
Height: 5'11"
Weight: 192
Position: Left Wing
2012-13 Statistics:  29GP – 22G – 36A – 58P, 16 PIM
Twitter: @jodrouin27
Drouin is the feel-good draft story that surfaces every season during draft discussion. Initially ranked as a borderline top 10 selection to start the year, Drouin has displayed elite puck handling, good skating skills and the hockey intelligence to climb into the discussion as a top three player. With continual dominant play by Jonathan Drouin, he could rival teammate MacKinnon as the top forward selected at the upcoming draft.
4th Aleksander Barkov
Tappara, FIN
Height: 6'2"
Weight:  205
Position:  Centre
2012-13 Statistics:  38GP – 18G – 17A – 35P, 4 PIM
Twitter: @Barkovsasha95
Despite not meeting the lofty expectations set for him at the 2013 WJHC, Barkov remains a potential top five skater. Like MacKinnon, Barkov is a late '95 birthday and has lots of room to develop his skills that are already advanced. Barkov is a patient pivot with a good frame and possesses the soft hands, vision and creativity to thrive as an offensive playmaker at the next level.
5th Elias Lindholm
Brynäs, SWE
Height: 6'0"
Weight: 192
Position: Centre
2012-13 Statistics:  37GP – 7G – 17A – 24P, 2 PIM
Twitter: @lindholmelias
Lindholm is not garnering the attention that a player of his skill level deserves. As one of the more complete two-way forwards available in the 2013 draft class, Lindholm is a player that comes with a high NHL likelihood. To boot, Lindholm has been exceptional in Elitserien play this season playing amongst men and sits as the top scorer among all undrafted players. Lindholm's attention to detail, two-way abilities and consistent production makes him a sure-fire top 10 selection.
6th Valeri Nichushkin
Traktor Chelyabinsk, RUS
Height: 6'3"
Weight: 176
Position: Centre
2012-13 Statistics:  14GP – 2G – 2A – 4P, 0 PIM
Moving his way up the draft boards is rangy pivot Valeri Nichushkin after an impressive showing for Russia at the 2013 WJHC. Nichushkin's overtime goal in the bronze medal game sent Canada home without a medal for the first time in 14 years. Easily the top-ranked Russian forward in this draft class, Nichushkin has climbed his way up the ranks by impressing with the use of his sizeable frame, coveted net drive game and dangerous shooting arsenal. Nichushkin is a player with tons of raw offensive potential and this ranking reflects that. Whether or not the Russian factor comes into play at the draft, Nichushkin has top-10 skills.
7th Sean Monahan
Ottawa, OHL
Height: 6'2"
Weight: 196
Position: Centre
2012-13 Statistics:  37GP – 17G – 33A – 51P, 16 PIM
Twitter: @Monahan20
Monahan's draft spot has dropped slightly but it has more to do with other players performing well enough to pass him rather than him playing poorly.  Despite producing strong offensive numbers, it has been a challenging draft season for Monahan as he has had to endure playing on a weak team and even sit through a lengthy suspension. He lacks elite skating skills but Monahan is arguably one of the most complete draft-eligible skaters in this draft class and will push for a top five selection.
8th Hunter Shinkaruk
Medicine Hat, WHL
Height: 5'11"
Weight: 175
Position: Left Wing
2012-13 Statistics:  43GP – 26G – 30A – 56P, 32 PIM
Twitter: @H_S_9
Shinkaruk is a dynamic offensive talent that has a knack for finding the scoring areas and capitalizing. Highlighted by a pro release that has dangerous quickness and accuracy, Shinkaruk definitely fits the mold of a sniper but his playmaking, vision and creativity with the puck certainly makes him an above average passer as well. Shinkaruk's lack of ideal pro size will draw criticisms but he has shown a willingness to compete in battle and that should ease the concerns.
9th Darnell Nurse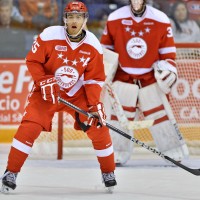 Sault Ste. Marie, OHL
Height: 6'3"
Weight: 185
Position: Defense
2012-13 Statistics:  46GP – 9G – 20A – 29P, 87 PIM
Twitter: @drtwofive
Nurse entered his draft season as a player with immense pro potential and scouts were eager to see him tap some of that underlying talent. Fortunately, Nurse has done exactly that. The large smooth skating mobile defenseman has progressed with every shift this season. The biggest question mark in Nurse's game was always his offensive potential and after increased opportunities with Ryan Sproul injured, Nurse displayed quickly that he does indeed have the offensive skills to become a threat in all 60-feet of the rink. His ability to play the game calmly under pressure makes him easy to project as a reliable responsible two-way defender. Large, mobile, physical defensemen with the ability to provide offense are highly coveted and, as a result, Nurse will be the target of many NHL teams.
10th Josh Morrissey
Prince Albert, WHL
Height: 6'0"
Weight: 184
Position: Defense
2012-13 Statistics:  44GP – 12G – 21A – 33P, 55 PIM
Twitter: @Morrissey_10
 Morrissey is a puck moving defensemen who prides himself on also having an astute defensive game. The Raiders' blueliner is a significant piece in his team's transition game as he makes smart decisions and executes passes with pin-point accuracy. NHL teams will welcome Morrissey's attitude as he is a player that shows a willingness to improve and the drive to win. While his offensive skills may appear his biggest asset, Morrissey does not shy away from physical contact either adding an improving dimension to his game.
11th Rasmus Ristoläinen
TPS, FIN
Height: 6'3"
Weight: 207
Position: Defense
2012-13 Statistics:  35GP – 2G – 9A – 11P, 22 PIM
 Ristoläinen projects to be molded into a top-four defenseman who excels in all aspects of the game. He owns size, effortless skating skills, physical shutdown abilities, and an offensive game that is developing on the go. The big Finn defenseman certainly has a top-10 skillset and will contest to be the second blueliner selected after Seth Jones.
12th Adam Erne
Quebec, QMJHL
Height: 6'1"
Weight: 198
Position: Right Wing
2012-13 Statistics:  45GP – 20G – 35A – 55P, 42 PIM
Twitter: @AdamErne73
Erne lacks the ideal power forward frame but he is solid enough to succeed in that type of role. Erne's hard-nosed approach is the key to his pro-style of game that features exceptional board play, a heavy shot and impressive physical strength.
13th Ryan Pulock
Brandon, WHL
Height: 6'0"
Weight: 194
Position: Defense
2012-13 Statistics:  37GP – 10G – 21A – 31P, 18 PIM
Twitter: @rpulock2
When Pulock is ranked 13th, it is quite clear that this is an extremely gifted draft class as the young defenseman certainly has top-10 potential. Blessed with a rocket of a point shot, Pulock has no problems finding the back of the net even as a defenseman. This instinctual rearguard could improve his physical play but as a smaller defenseman, he will be more successful if he uses his high hockey sense to perfect body positioning and gap control to contain the opposition rather than brute force.
14th Bo Horvat  
London, OHL
Height: 6'0"
Weight: 200
Position: Centre/Wing
2012-13 Statistics:  46GP – 21G – 21A – 42P, 23 PIM
Twitter: @BoHorvat
This future captain of an NHL team owns a complete package of skills and the intangibles of no other player in this draft class. Understanding and reading the game is Horvat's greatest asset and it is evident in his ability to play in all three zones of the ice. He has been high on this list since last season and now other scouting services are beginning to realize that Horvat is much more than just a defensive forward (although, good luck winning a faceoff against him). He lacks top end speed but his powerful skating stride makes him a difficult player to knock off the puck especially when he combines his underrated puck control skills and intense never-quit attitude in board battles.
15th Anthony Mantha
Val-d'Or, QMJHL
Height: 6'4"
Weight: 187
Position: Left Wing
2012-13 Statistics:  45GP – 34G – 29A – 63P, 51 PIM
Twitter: @antomantha8
Mantha's game is predicated on his hockey sense as he shows an ability to find open teammates at will. Leading all draft eligible skaters in scoring in the QMJHL, Mantha has ramped up his offensive production and it has resulted in an increase in his draft stock. The lanky winger has great raw potential as a scoring winger but he will need to continue to show scouts that he has a good compete level and plays to win.
16th Max Domi
London, OHL
Height: 5'10"
Weight: 194
Position: Centre
2012-13 Statistics:  44GP – 25G – 36A – 61P, 47 PIM
Twitter: @max_domi
Domi remains an interesting prospect. There is no doubt the small feisty Domi owns the offensive skills of a top 10 forward but the criticisms come in many forms – size and strength concerns, too individualistic, and even the fact that he has diabetes have all surfaced as alarms, whether warranted or not. Regardless, Domi is an elite skater with great puck skills, above-average distribution skills (when employed) and absolutely loves to have the puck on his stick. If Domi slides outside of the top-20, one NHL team will be absolutely thrilled.
17th Nikita Zadorov
London, OHL
Height: 6'5"
Weight: 228
Position: Defense
2012-13 Statistics:  41GP – 3G – 13A – 16P, 38 PIM
Twitter: @zadorov61
The third London Knights' skater to crack the top-20, Nikita Zadorov falls into that "player with great potential" category and that alone could see him drafted higher than his current slot. Projected as an elite defensive defenseman, Zadorov is an imposing blueliner that terrorizes the opposition with bone-crushing body checks. From an offensive standpoint, Zadorov's upside is limited but it is not to say he could not challenge the 40-point plateau at the NHL level. Based on his raw potential, Zadorov could go as high as a top-10 selection this June.
18th Jason Dickinson
Guelph, OHL
Height: 6'2"
Weight: 176
Position: Left Wing
2012-13 Statistics:  44GP – 15G – 21A – 36P, 21 PIM
Twitter: @jdickinson_11
Dickinson could be that one player that the hockey world looks back on with a "why wasn't he drafted higher?" attitude if he realizes his vast potential. Good size and great offensive instincts are Dickinson's greatest attributes and he is only beginning to tap his skillset. Offensively, Dickinson has a good arsenal to beat the opposition with slick puck handling skills, quick feet and an eye for offensive opportunities. Dickinson continues to battle consistency issues as he occasionally takes shifts off but there is little question that he is a player with first round size and skills.
19th Zachary Fucale
Halifax, QMJHL
Height: 6'1"
Weight: 176
Position: Goaltender
2012-13 Statistics:  28-4-1-1, 2.20 GAA, .896 SV%
Twitter: @Fucale31
Projected as the top goaltender of the 2013 draft class, Fucale is technically sound goaltender with a poised demeanor. With Fucale having the privilege of playing in front of a Memorial Cup contending team, the mobile and athletic netminder should provide scouts with ample scouting opportunities to showcase that he is a big-game puckstopper with NHL starter's potential.
20th Madison Bowey
Kelowna, WHL
Height: 6'1"
Weight: 200
Position: Defense
2012-13 Statistics:  44GP – 9G – 12A –21P, 61 PIM
Twitter: @m_bows4
Bowey, a mobile puck-moving defenseman, is a product of the Kelowna Rockets' program with a history of developing quality NHL defenseman.  He is a smooth skater who can skate the puck into open ice or execute a crisp accurate pass in transition. A safe and reliable defender, Bowey owns a solid yet unspectacular physical game and can shut down the opposition with strong positioning. If a team fancies Bowey's consistency and reliable game, it is quite possible that he is scooped up midway through the opening round in New Jersey.
21st Frédérik Gauthier
Rimouski, QMJHL
Height: 6'4"
Weight: 215
Position: Centre
2012-13 Statistics:  40GP – 15G – 34A – 49P, 20 PIM
The most appealing aspect of rising pivot Frédérik Gauthier's game is his ability to commit to all three zones of the rink. He projects as a solid two-way second line centerman and his combination of size, intelligence and admirable compete level is attractive as a future pro player. The first year rookie has room to grow offensively and how far he can succeed in that area remains to be determined but that unknown can also be a bonus for a raw prospect of his type.
22nd Alexander Wennberg
Djurgården, SWE
Height: 6'1"
Weight: 189
Position: Centre/Left Wing
2012-13 Statistics:  32GP – 10G – 9A – 19P, 10 PIM
Twitter: @wenniss
Molded in a similar style to many Swedish hockey players, Wennberg is a player with a well-rounded two-way game that stems from an intelligent hockey mind. The asset that stands out the most is Wennberg's playmaking abilities as he executes accurate and creative passes using impressive on-ice vision. Wennberg is also extremely versatile as he lines up on the wing and centre equally well.
23rd Artturi Lekhonen
Kalpa, FIN
Height: 5'10"
Weight: 161
Position: Right Wing
2012-13 Statistics:  36GP – 9G – 16A – 25P, 8 PIM
Twitter: @arsilehkonen
Lekhonen is a Finnish winger with plus playmaking skills and scoring instincts who has quickly found his way playing amongst men in Finland's top professional league. He is a good skater that holds value as a two-way responsible forward and much of that comes from his advanced hockey sense. It has been known that Lekhonen possesses the intangibles that every scout appreciates including a strong work ethic and a will to win. Improving his strength will be his biggest challenge to succeed at the next level.
24th Robert Hägg
Modo, SWE
Height: 6'2"
Weight: 201
Position: Defense
2012-13 Statistics:  23GP – 9G – 11A – 20P, 18 PIM
Twitter: @Robbanhagg
Hägg has been on draft radars for several years now as the young defender has captivated hockey scouts with his fluid mobile skating ability and poised approach that many veterans do not possess. Hägg is a cerebral player who can slow the game down with his exceptional puck moving skills and ability to remain calm under pressure. He owns a good sized frame and projects to be a top-four defender that can log both offensive and defensive minutes.
25th Kerby Rychel
Windsor, OHL
Height: 6'1"
Weight: 200
Position: Centre
2012-13 Statistics:  45GP – 25G – 22A – 47P, 46 PIM
Twitter: @Krychs
Rychel is a natural scorer with a fantastic shooting arsenal and is extremely opportunistic. He owns the size to play as a power forward but lacks the consistent physical aspect to be tagged as that type of player. He can stand to make better decisions with the puck as a passer but it is his scoring prowess that will carry Rychel to a first round selection. The young winger stands a great chance to improve his draft stock as former linemate Alexander Khokhlachev has returned to Windsor to team up with Rychel and the duo has great chemistry together.
26th Curtis Lazar
Edmonton, WHL
Height: 6'0"
Weight: 198
Position: Centre
2012-13 Statistics:  48GP – 21G – 13A – 34P, 29 PIM
Twitter: @CurtisLazar95
Lazar has slipped in the rankings mainly due to others surpassing him and that is no slight to the versatile Oil Kings' centerman. He is a player with the skills that should translate flawlessly to the pro-game. Adaptable, reliable and defensively responsible, Lazar is a forward that can play tough minutes and that role is deserving of first round consideration.
27th Ryan Hartman
Plymouth, OHL
Height: 5'11"
Weight: 190
Position: Centre
2012-13 Statistics:  38GP – 19G – 21A – 40P, 97 PIM
Twitter: @RHartzy18
Ryan Hartman defines the agitator role in hockey with his intense physicality and non-stop puck pursuit. Fortunately, Hartman's game also includes a skilled offensive package that is highlighted by a rare net drive ability one rarely sees in a sub-6-foot body frame. Hartman excels in traffic and seeks to engage himself physically – two qualities that were front and center during his outstanding World Junior performance. Hartman will certainly be appealing to NHL teams after the recent successes of similar smaller energy NHL players like Brad Marchand and Steve Downie.
28th Shea Theodore
Seattle, WHL
Height: 6'2"
Weight: 175
Position: Defense
2012-13 Statistics:  44GP – 9G – 20A – 29P, 18 PIM
Twitter: @Theodoree
Theodore is a tremendous skater with the four-way mobility to marvel at. He is an offensive defenseman with great vision, a hard accurate point shot and knack for running an effective powerplay. Physically, Theodore has room to grow into his frame and as he does that, he will become an even more appealing defender.
29th Chris Bigras
Owen Sound, OHL
Height:  6'0"
Weight:  174
Position: Defense
2012-2013 Statistics: 45GP-5G-22A-27P, 18 PIM
Twitter: @Chris_Bigras
Tucked away in Owen Sound, Chris Bigras is certainly flying under the radar. In much of the same mold as Maple Leafs' prospect Stuart Percy, Bigras is a solid all-around defender who employs a safe mistake-free style of hockey. Defensively, Bigras is adept at positioning himself to maintain textbook gap control and when needed he uses his good skating abilities to close in on the opposition. Offensively, Bigras' ceiling is limited but he transitions the puck up the ice efficiently via passing and/or skating and projects as a reliable second or third pairing defenseman.
30th Nicolas Petan
Portland, WHLHeight: 5'9"
Weight: 165
Position: Centre
2012-13 Statistics:  46GP – 31G – 49A – 80P, 23 PIM
Twitter: @petan19
The hockey world is witnessing too many smaller statured players experiencing success in the NHL for a team not to consider Nicolas Petan in the first round. As the Western Hockey Leagues' current scoring leader and top scoring draft eligible skater, Petan makes up for his lack of size with an incredible work ethic as he simply radiates energy.  His quick feet and willingness to go to the dirty areas to score goals are promising traits for this undersized forward. Petan is considered by most as post-first round player but it would not be surprising to see a team with several early draft picks take a chance on this scorer late in the first or early in the second round.
31st JT Compher, C (USNTDP, USHL)
32nd Keaton Thompson, D (USNTDP, USHL)
33rd André Burakovsky, LW (Malmo, SWE)
34th Morgan Klimchuk, C/LW (Regina, WHL)
35th Anthony Duclair, LW (Quebec, QMJHL)
36th Steven Santini, D (USNTDP, USHL)
37th Spencer Martin, G (Mississauga, OHL)
38th Valentin Zykov, RW (Baie-Comeau, QMJHL)
39th Jacob de la Rose, C/LW (Leksands, SWE)
40th Connor Hurley, C (Edina High, USHS-SW)
41st Eric Comrie, G (Tri-City, WHL)
42nd Tyler Hill, LW/RW (Chicago, USHL)
43rd Ryan Kujawinski, C (Kingston, OHL)
44th Ian McCoshen, D (Waterloo, USHL)
45th William Carrier, C/LW (Cape Breton, QMJHL)
46th Jusso Ikonen, RW (Espoo, FIN)
467h Pavel Buchnevich, C/LW (Cheropovets, RUS)
48th Marko Dano, C (Sloven Bratislava, RUS)
49th Oliver Bjorkstrand, RW (Portland, WHL)
50th Laurent Dauphin, C (Chicoutimi, QMJHL)
BONUS: 10 Players with Intriguing Upside
Justin Bailey, RW (Kitchener, OHL)
Blessed with one of the draft's best shots, Bailey possesses raw offensive potential but has struggled to stay healthy in his draft year making him one of the riskier players with offensive reward.
Nicholas Baptiste, RW (Sudbury, OHL)
Baptiste has adopted a larger role in Sudbury after the franchise traded away its key vets and now the sizeable winger is earning the ice time he needs to show scouts that his strong puck possession game is a valuable commodity.
Taylor Cammarata, LW (Waterloo, USHL)
An undersized crafty winger with an elusive quality to his game, Cammarata is an extremely skilled player that competes with a ton of energy. Size is what keeps him down on most draft lists.
Ryan Fitzgerald, C (Valley Jr, EJHL)
Fitzgerald had his coming out party at the All-American Prospects game in the fall when he showcased his speed, crafty puck skills, quick release and terrific hockey sense – all attributes that help him succeed as a small player.
Stephen Harper, LW (Erie, OHL)
Inconsistencies have knocked Harper way down scouting lists but this big power forward owns all the natural abilities (speed, shot and strength) to develop into a good professional player if he can prove to be more dependable.
Samuel Morin, D (Rimouski, QMJHL)
Morin is a mammoth defenseman who projects as a defensive rearguard at the next level that will thrive in a shutdown role providing a physical element.
Mirco Mueller, D (Everett, WHL)
Coming off of a strong WJC tournament for Switzerland, Mueller (or Müller) showed that he is a reliable two-way defender with great pro potential.
Eric Roy, D (Brandon, WHL)
Roy is a large mobile defenseman with a mean streak who has figured out the offensive part of the game but remains a project defensively.
Anton Slepyshev, LW (Novokusnetsk, RUS)
Remarkably passed over in the 2012 draft, Slepyshev certainly has first round offensive talents that deserve to be drafted in his second go round, regardless of his Russian passport.
Nick Sorensen, RW (Quebec, QMJHL)
Sorensen is a Swedish skilled forward who commits to all areas of the ice has shown flashes of brilliance and is now looking to put it altogether in a consistent package.
Jordan Subban, D (Belleville, OHL)
Subban is an elite skater with high offensive abilities but his lack of strength and defensive awareness keeps him outside of the top 60.
Please follow @RossyYoungblood for all of your #2013NHLDraft needs.