By Mike Miccoli, Boston Bruins correspondent
BOSTON– The story coming out of Game 1 between the Washington Capitals and the Boston Bruins should have been about the performance of rookie goaltender Braden Holtby.
Chris Kelly had other plans.
Just 1:18 into overtime, Kelly scored the Bruins' first and only goal of the game to seal the victory and take the 1-0 series lead for Boston.
"Their guy kind of had a play one-on-one, and (Thomas) made a great save and kicked it out, " said Kelly. "(Corvo) had a lot of time to pass it out and over to (Pouliot). I just happened to pick up speed wide and tried to put it on net. I think it went off the defenseman a little bit, or changed up a little bit on him."
Up until then, Holtby had stopped 29 of 30 shots, including 26 alone in the first two periods. Down the other end of the ice, Tim Thomas stopped all 17 Washington shots for the shutout.
"I thought he played very well," said Thomas, commending the effort of Holtby in his first career postseason game. "I didn't see a lot of holes tonight. He worked very hard. I'm hoping he expended a lot of energy and wore himself out a little bit, because I hope he doesn't play that good every game. I thought he did a very good job."
Holtby is third on the depth chart for goaltenders in Washington, playing on Thursday in place of an injured Tomas Vokoun and Michal Neuvirth, the team's top two netminders. Though he did appear shaky at the start, Holtby was locked in, coming up big on the Bruins' scoring chances, most notably in the second period where he made some dynamic saves with the Capitals shorthanded.
"Well obviously he's a very capable goalie," said Kelly. "He played a good game tonight and I think that it's one of those things that, it's hockey. He's out there doing his job, just like everyone else. You've got to stay focused, and work through those things."
While it took them an extended period to solve Holtby, the Bruins were strong defensively throughout the game. The defensive pairing of Zdeno Chara and Dennis Seidenberg were impressive neutralizing Alexander Ovechkin, holding the Washington captain to only one shot on goal.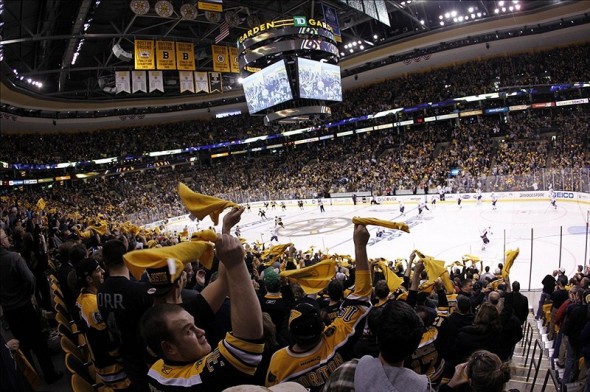 "I have to give him credit, he didn't back down," said Bruins coach Claude Julien. "He played and he played hard. He knew he was going to be checked all night and that we were going to have people on him as soon as he got the puck. (Ovechkin) didn't have as much space as I'm sure he'd like to have, but I thought he played a decent game despite that."
The Bruins will host the Capitals for Game 2 at the TD Garden on Saturday at 3pm before traveling to DC for Games 3 and 4.
Follow Mike on Twitter for more Bruins updates, commentary and news through the playoffs.