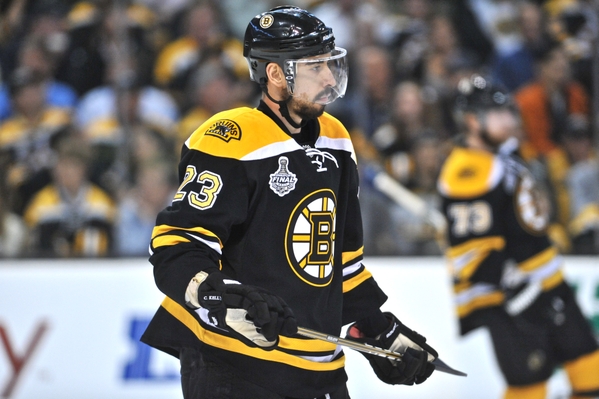 Chris Kelly scored two goals in the Boston Bruins' Saturday victory over the visiting Winnipeg Jets.  They were his eighth and ninth of the year, giving the defensive forward a hefty total and second most on the Bruins just seven weeks into the 2011-12 season. He's only six away from tying a career high and it's still November. How did this defense-first, third-line forward become such a potent offensive threat for the defending Cup champs?
After the B's lost for the third consecutive game on February 15 of this year, the Bruins' media were asked to hang around the Garden for a press conference. Twitter and HFBoards exploded with speculation that this was going to be the long-awaited acquisition of Tomas Kaberle – the defenseman that B's GM Peter Chiarelli had long coveted.
Unfortunately, the real announcement was far less spectacular.
"BOS trades 2nd round pick to OTT for Chris Kelly. Done deal," tweeted NHL Rumor guru Bob McKenzie.
At the conference, Chiarelli lauded Kelly: "He has a lot of playoff experience, very good on faceoffs, he's a high character person. He plays both ways and … we needed a centerman that is going to give us some depth… has good leadership characteristics…"
On the other hand, Bruins fans seemed to universally reject the trade. They were underwhelmed with the addition of the 'thirty point scorer' and across the board saw the deal as a massive overpayment for what would probably be a complementary piece (and at worse a redundant one) for their eventual playoff run.
For his part, Kelly didn't seem to quash those perceptions in his first month and a half with the Black and Gold. He was a minus-one with five points in the B's 24 remaining regular-season games. He took icetime away from youngster and favorite Tyler Seguin and many considered him a glorified Greg Campbell (a fourth-liner the B's already owned) who made a million more a season.
But the postseason came along and everything changed. Kelly – who oozes intangibles like a hot pocket oozes cheese – played like a man on fire; scoring five goals and eight assists for thirteen points during the Bruins' playoff run, eventually skating the Cup around Rogers Arena in Vancouver as champion.
Several of Kelly's goals were in extremely clutch situations including the tying goal late in game four of the B's first-round series against the Habs, a third-period goal to give the B's the lead in game seven of the same series and a very important tally in game one against the Flyers when the B's were already down by two.
The B's management and coaching staff rewarded him with an "A" (which he splits with Andrew Ference). His leadership during the postseason ultimately won him the acclaim of B's staff and teammates.
Even with all those heroics, there was a degree of uncertainty for Kelly at the start of this season. While there were certainly Kelly supporters in the crowd, many felt worried about his production potential – especially with super sophomore Tyler Seguin slotted to begin the year on his wing.
Off the bat this setup was a serious issue, as the seemingly stone-handed Kelly muffed several golden opportunities created by the dynamic nineteen year-old. However, since the first Bruin lineup shakeup the 'thirty-point scorer' is on a tear with fifteen points in sixteen games including eight goals (and six multi-point games) and is a startling plus-fourteen.
Kelly's had excellent chemistry with fellow third-liner and February 2011 acquisition, Rich Peverley. The two have combined for some excellent goals while playing excellent defensive hockey. If there's a better all-around third-line pair in the NHL, I'd like to hear about it.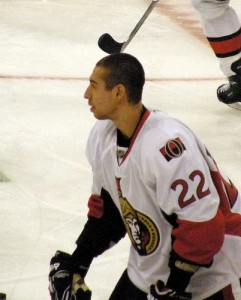 Kelly's eruption is making more than a few individuals eat their words, your humble author included. His play really makes you realize why many in Ottawa were reticent to see this guy go (even for what fans in Boston were outspokenly adamant was an overpayment). After Mike Fisher was traded, many saw Kelly jumping in to fill his spot as the second-line center. A few expected him to get the vacated "A" (though Jason Spezza eventually got it). These Sens fans loved Kelly for his consistent all-around effort and leadership, the same things which have quickly earned him the praise of many around Boston.
Many note that Kelly's numbers are the result of some luck, particularly being in the right place at the right time – but when you're consistently in good position, consistently working hard on the forecheck and in front of the net – opportunities seem to create themselves.
Kelly will be the first to acknowledge good fortune "I just happened to be kind of, right place, right time…" he said of his shorthanded goal in yesterday's contest vs. the Jets.
Of Kelly, B's coach Claude Julien said "He's one of those guys that flies under the radar most times. There are always bigger names that get mentioned ahead of him, but he's been probably one of our most consistent forwards this year…"
It's unlikely that Kelly will see his improbably torrid start continue. Sixty points and thirty goals are probably just too much to expect out of a guy who's averaged around half of each of those totals over his career.
His current shooting percentage of 22.4% is fifth-highest among qualifiers and second-highest among players with forty shots (as well as almost double his career rate). His slightly elevated secondary assist rate (four for every three primary assists) is a tad worrisome, but not completely unsustainable. The fact that he's getting under 15 minutes a game (the lowest average since his rookie season and much of it coming on the PK) makes that less likely (Kelly has the third-highest 5-on-5 points per sixty-minutes average in the game so far that season, at 3.49, courtesy of Behind the Net).
Bruins fans should probably expect him to fall back to Earth a bit in the coming months. This means thirty goals and sixty points isn't really in the cards. Projecting a career-best 20-goal, 45-point season over the remaining sixty games would give Kelly an additional 5 goals and 33 points for a 24-goal, 49-point '11-'12 season.
More conservatively, if we see Kelly's numbers dip back toward his career 82-game average of 14 goals and 32 points he'll end up adding 10 goals and 23 points to his totals, thus giving him a 19-goal, 39-point regular season – both still representing career highs.
So, while his numbers are most likely to retreat towards expected third-line levels (I'd bet a 20-20-40 season is a solid projection), his exceptional two-way play and superb leadership capabilities make him an essential part of this Bruins franchise. He's made himself almost indispensable and given the B's brass a lot to think about as they consider re-signing him.
Kelly's recent offensive successes have opened eyes to his value – but the B's will tell you his worth goes far beyond that.
Bob is a Boston Bruins Correspondent for The Hockey Writers. He lives in the Boston Metro Area with his wife, Amanda and their five-year-old son, Cormac.