Follow Lukas on Twitter @LukasHardonk for more Leafs coverage.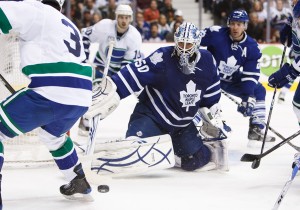 When sophomore goalie James Reimer went down with an upper-body injury on October 22 in Montreal, just about everyone involved with the Toronto Maple Leafs held their breath. At the time, Reimer appeared to be OK. However, after he was re-evaluated in the dressing room during the first intermission, the decision was made to pull him.
That is the last anyone has seen Reimer in terms of game action.
The moment it was announced that Reimer would be out for the foreseeable future, there was an immediate panic that surrounded Leafs Nation. And there was certainly reason for people to be worried.
Reimer, 23, had just about single-handedly led the Maple Leafs back into playoff position last season from January 1 on. Over that time, Reimer made 37 appearances in which he posted a 20-10-5 record, a 2.60 goals against average and a .921 save percentage. He had appeared to have picked up where he left off last season, too.
He has only played in six games this season. Over those six games, the Morweena, Manitoba native went 4-0-1 with a 2.58 GAA and a .912 save percentage. His impressive statistics weren't the only reason to be concerned.
Jonas Gustavsson, the Leafs' backup goalie at the time, had struggled mightily last season. He eventually fell to third on the depth chart and even spent some time with the AHL's Toronto Marlies.
A 3.29 GAA and a .890 save percentage are definitely enough to make people wonder whether or not he would be able to hold down the fort while Reimer sat out of the lineup.
At first, it appeared as though it was going to be another rough season for Gustavsson. He allowed 13 goals over his first three appearances, one of which (the October 22 game in which Reimer was injured) he didn't even play a full 60 minutes. If you take a look at his more recent performances, though, you will notice that Gustavsson has improved drastically.
The 27-year-old Swede has not lost in his last three games and has allowed more than one goal in a game just once over that span. In those three games, to go along with his perfect record, Gustavsson owns a .946 save percentage. In the second game, a 7-1 win over the Tampa Bay Lightning, the only goal Gustavsson allowed came while he team was shorthanded.
If you would like to go a little farther back, we can look at the last time he allowed more than three goals in one game. That occasion came  over a month ago to the Philadelphia Flyers when he allowed four goals on 30 shots. Since then, Gustavsson has made nine appearances, seven of which he was the starting goalie.
Some may be quick to attribute his recent success to the Leafs' vastly improved penalty kill, but credit still must be given to Gustavsson. He has shown better positioning and has been more cautious over his last few games.
Perhaps another reason why he has been playing so well as of late is the fact that he now knows head coach Ron Wilson is not afraid to place rookie Ben Scrivens in goal if need be. That leads us into the next point: What happens when Reimer does return?
A big worry for many Leaf fans and something that management must be wondering is whether or not Gustavsson will be able to accept his role on the team once again when Reimer returns, which is expected to be soon.
At that point in time, Gustavsson will need to understand that it will be Reimer's job for at least a few games. If Reimer begins to struggle, don't be surprised to see the man people refer to as The Monster placed back in between the pipes.
Until then, Gustavsson must continue to do what he has been doing over the last few games; play solid and win.
One Twitter follower of mine sent me this tweet earlier today re Gustavsson not allowing more than three goals in a single game in over a month:
@LukasHardonk that means ethier a) he's back to the monster or b) he's due
The Toronto Maple Leafs hope it's the former.
Twitter: @LukasHardonk | Email: lukas.hardonk@gmail.com | Lukas' archive
For every Leafs article on THW, follow @THW_MapleLeafs on Twitter.