Claudia Téllez is the first Mexican player to work her way into the Canadian Women's Hockey League (CWHL). The Mexican National Team alternate captain is looking to inspire and break new ground. She entered the 2016 CWHL Draft at age 32 with lofty ambitions. It's not just about forging a spot in the league, but about a dream of getting the Mexican National Team into the 2018 Winter Olympics.
It's a long shot, but being selected by the Calgary Inferno in the eighth round of the draft already says a lot about how far the national team program has come in Mexico.
First Steps
Mexico officially became an International Ice Hockey Federation (IIHF) member nation in 1985, but it wasn't until 2012 that a women's team was formed. The team was assembled from women who had been playing inline hockey, including Téllez. "I've always wanted to go to the Olympic games," said Téllez through a translator, "and the only way to go is through ice hockey."
It's a long path, but Téllez took the challenge seriously, moving to Mexico City to focus on training full-time. Then, watching a CWHL game she had recorded, she decided to pursue more than an Olympic berth for Mexico. "One time I got invited to Spain to play inline hockey in the European League. But because of political problems with the inline federation, they didn't let me go.
"So I got the opportunity to play ice hockey and I find out that there's a professional league in ice hockey, and I decided that the next four years I'm going to work on the project for the Olympics and also to prepare for professional hockey."
Meet the 2016 #CWHLDraft prospects: Mexican National Team F Claudia Tellez (@Klawz7) from Guadalajara, Mexico pic.twitter.com/WGVW5coBMf

— CWHL (@TheCWHL) August 11, 2016
The first step has been taken toward the latter goal. On Aug. 25 she was drafted by the CWHL's Calgary Inferno. "I was very excited, very emotional," she said.
"When I decided to apply for the draft last year, I was watching a Calgary game. So, I fell in love with the team, and I said I want to be there. I want to play there."
She's supported along those first steps by the Comisión Nacional de Deportes, which offers a stipend to female athletes in Mexico who are training. They will help fund Téllez for CWHL camp. She also has a sports management team helping her to raise money. It's yet another challenge for Téllez, as the CWHL doesn't pay players a salary, though they somtimes offer support finding housing or jobs.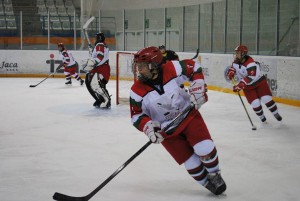 A Big Year
It will be a whirlwind fall for Téllez. First, she heads to Calgary's camp in an effort to turn being a draft pick into being a roster player. "I think that my game is to create opportunities. I am a playmaker. That's my strength here on the Mexican team. I play for the team. I'm a team player… And I score," she says with a smile.
She will return to Mexico City in October, where the first round of Olympic qualifications is being held. From that qualifier to PyeongChang, South Korea, where the 2018 Olympics will be held, is a difficult slog — it starts with this qualification round, pitting the 26th ranked Mexican team against Turkey and Hong Kong.
"It's very amazing to be at home," says Téllez of the opportunity to play the first qualifier in Mexico City. "The number of fans of the Mexican hockey team has grown… they're very excited to attend the game from all over the country."
If Mexico comes out of that qualifier, they'll head to Spain in November, where they will need some major upsets to continue. They would be berthed into a group against Kazakhstan, Great Britain and Poland where eight teams will compete for two spots in the next round of qualifications. After Spain, there are still two more qualification rounds where the competition gets even more challenging.
The Future of Hockey in Latin America
Olympic qualification for Mexico is unlikely, but Téllez and teammates are inspiring the next generation of players in Latin America, where only three countries have women's national ice hockey clubs. Among them, only Mexico will compete to qualify for the Olympics. But she understands that making into the CWHL is another way to inspire teammates and future players at home.
"Of course [teammates are inspired], but they are in the process of finishing university," she says. "There are four players that aspire to go to the professional league, especially the goalkeeper. I hope they have the time and development to grow and get the same opportunity that I am getting."
She hopes to inspire and to bring pride to her national federation, but she's a determined athlete. She's also striving to show she belongs among the best in women's hockey. "I hope to prove myself," she says of what could be a defining year in her career and the history of the Mexican national team.