We are more than half way into the dog-days of summer and NHL news is getting fewer and further between. You need look no further for proof than the Twitter explosion yesterday when Kyle Dubas was hired as an assistant general manager for the Toronto Maple Leafs — now that, was something. All the big names in hockey media are on vacation or getting married or just plain old having lives, and this means free agent updates are extremely rare and generally occur only after a player has put pen to paper.
This is doubly true for the San Jose Sharks, who have been remarkably inactive all summer in free agency. Unless, of course, you think John Scott was the missing piece… but I digress. It's all quiet on the Western front for this franchise, which had me guessing: who, if anybody, could the Sharks be looking at in these late-hours of free agency? Or rather, who should the Sharks be looking at?
I touched on this topic to some extent when musing on Doug Wilson's slew of stupid signings to start the summer. I threw a few names out there, for arguments sake, but the article was more or less about what they had done; not what they could do. At this time I hope to offer a comprehensive list of players I feel the Sharks should be looking long and hard at and why I think they would be a great fit for this franchise. Who doesn't like playing armchair-GM?
Step On Up
Andrei Loktionov: Since the Sharks have made it perfectly clear that they plan on dwelling on their first-round loss to the L.A. Kings for the entirety of this season, why not take a former blue-chip prospect of theirs? And yes, blue-chip is exactly what Loktionov was and to some extent still is — he's only 24-years old, after all. After being traded by the Kings to the New Jersey Devils last season, Loktionov managed to handle himself remarkably well as a middle-six center option for the Devils, switching from the second to third-line. Loktionov posted a respectable 12-points in 28-games for the Devils, but more importantly was a 59.6% Corsi (!!!) player. It's always worth cautioning against overreacting to Devils possession numbers as they are perennially in the upper echelon of possession teams, but that is downright dominant.
The Devils also scored exactly 50% of the goals while Loktionov was on the ice, which may seem like no-great-shakes, but consider the fact that Loktionov's on ice SV% was 89.2% and it starts to look a whole lot better. His next season with the Devils, Loktionov's raw Corsi dropped 2%, but his Corsi relative to his team actually went up 1%; his team also controlled 7% more of the goals on-ice. To this point in his career, Loktionov only has a .31 points per game to his credit, which means the odds are against him ever developing into that second-line center he originally projected as. As a third-liner though, you could do no better. Having moved Brent Burns back to defense, I imagine they'll be moving Joe Pavelski to Joe Thornton's right-wing, leaving a gaping hole on the third-line. Nothing against James Sheppard, but a third-line center, he is not.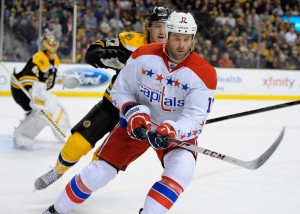 Dustin Penner: Another glaring market inefficiency of this off-season, and also another former Los Angeles Kings forward. Dustin Penner would sure look great in teal. Penner's days of being a 20-goal scorer may be well behind him, but that doesn't necessarily mean he can't contribute on a good second-line or a great third. What makes Penner so remarkably valuable is that his team almost always has the puck with him on the ice. It's why the Kings put up with PDO-induced years on unproductive play. Even without potting an awful lot of goals, having Dustin Penner on the ice is still great.
Much like Loktionov, Penner has shined as a possession player no matter where he has gone. While playing on the Kings, a traditionally amazing possession team under Darryl Sutter, Penner's Corsi hovered in the 55% region for almost the entirety of his stay. Same rules apply to former Kings as they do with the Devils, in terms of cautioning your approach to gaudy possession numbers, but Penner was still a positive Corsi Rel. player as well. When playing for the Anaheim Ducks and Washington Capitals, teams that aren't necessarily good at keeping the puck, Penner was still coming out on top with his head above water. It's easy to look at Penner's counting stats and feel a bit underwhelmed. The perceived reputation of Penner is one of a formerly dominant power forward and power forwards are expected to score in bunches. But if you look at Penner as just a run of the mill third or second liner, his production falls in line with league averages for the most part. Think of Penner as a poor man's Benoit Pouliot.
Daniel Winnik: Again, this guy still being available makes less than no sense, but here we are. Also, again with the familiarity on my part; if you'll remember, Daniel Winnik was a Shark for the end of the 2012 season and playoffs. For whatever reason, Winnik just can't seem to grab the attention of NHL executives for much, if any, time at all. Anaheim was smart enough to throw Winnik an end of the summer low-money contract and reaped the benefits, before re-signing him to a contract with almost double the cap-hit. Then for reasons that escape me, they just let him walk in free agency.
Their loss, Sharks gain? One can only hope so. Much like Loktionov, Winnik would fill a need, insofar as I think the Sharks will have a vacancy on the third line. Winnik isn't nearly as young as Loktionov, but is nearly as good a possession player with a longer track record. Winnik is a guy who, all things going right, could be an effective member of a second-line, but is much better suited to third-line duties. Winnik also has an added hint of versatility as he can play every forward position.
Pipe Dreaming?
The two magic words of this off-season are youth and grit… It's dumb, but yeah, that's where we're at. The likelihood of the Sharks signing any of these players is unfortunately quite low. Adding any one of these three would potentially take a spot away from a younger player and in case you hadn't heard, the Sharks are rebuilding. Or something.
If the Sharks are even half as fixated on the Kings as they seem, these would be prudent moves to surpass their inter-division rivals at what they do best: possess the puck. Yes, there is size in the Kings lineup, but what makes them such a dangerous team is that they are always at the top in terms of possession. This allows them to overcome low shooting and save percentages on an almost annual basis and it's why they are always a scary match-up in the playoffs. Want to beat the Kings? Get better at puck possession. Signing any one of these three players will help the Sharks very much in that category.
That said, I heard Dan Carcillo is looking for work…