LOS ANGELES — Nathan MacKinnon scored one of three power-play goals for Colorado, and the Avalanche dominated the Los Angeles Kings 7-3 on Wednesday night.
Colorado has scored three power-play goals in two of four games, going 8 of 11 with the man advantage in that span.
Vladislav Kamenev and Colin Wilson also scored on the power play, and Patrik Nemeth, Tyson Barrie, Nikita Zadorov and Matt Calvert scored at even strength. Alexander Kerfoot had three assists, and Mikko Rantanen remained the league's scoring leader with two assists to increase his total to 34 points. Semyon Varlamov made 33 saves.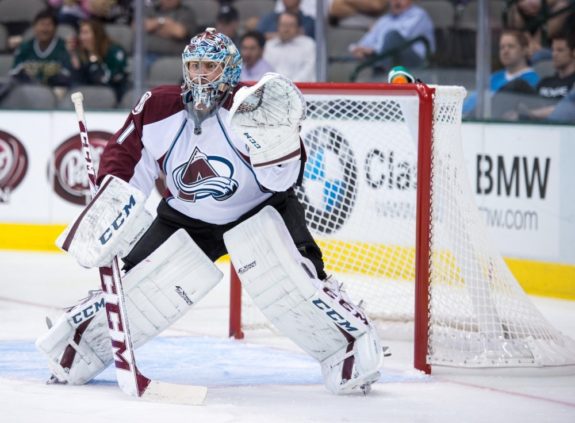 Kyle Clifford, Matt Luff and Austin Wagner scored for Los Angeles. Cal Petersen allowed six goals on 31 shots before leaving early in the third.
Colorado opened the scoring less than 12 minutes into the first when Carl Soderbeg skated toward the net and slid a pass across the crease to Kamenev. Los Angeles tied it four minutes later when Clifford pounced on a loose puck in front of Varlamov, who mishandled a dump in to the zone by Tyler Toffoli when he couldn't snag it with his glove and it bounced off his pads.
The Avalanche retook the lead 50 seconds later. Gabriel Landeskog was behind the net and fed MacKinnon with a pinpoint pass to beat Petersen with a wrist shot eight seconds into a power play.
Nemeth extended the lead midway into the second with a 57-foot wrist shot from near the blue line that found its way through traffic. Wilson netted Colorado's third power-play goal of the night with less than three minutes remaining in the period when he beat Petersen after a behind-the-net pass from Rantanen.
Colorado chased Petersen with a pair of goals less than two minutes apart in the third. Barrie extended his points streak to six games when he put home a rebound 70 seconds into the period. Zadorov then ended Petersen's night with a wrist shot that went over his glove.
Peter Budaj, who made two saves on three shots, came on and allowed Calvert's goal. Los Angeles closed the scoring on goals by Luff and Wagner, who had the first of his NHL career.
NOTES: Los Angeles C Adrian Kempe suffered a lower-body injury during the first period and did not return. … Rantanen has been fined $2,000 by the NHL for diving/embellishment. It is the second time Rantanen has been cited for embellishment this season, which is what triggered the fine. The embellishment penalty happened during the second period of a Nov. 14 game against Boston. … Los Angeles acquired forward Pavel Jenys from Minnesota in exchange for defenceman Stephan Falkovsky. Both players are currently in the East Coast Hockey League. … The Kings honoured Ventura County Sheriff's Sergeant Ron Helus.
UP NEXT
Avalanche: Travel to Arizona on Friday to complete a three-game road trip.
Kings: Host Vancouver on Friday.
___
More AP NHL: https://apnews.com/NHL and https://twitter.com/AP_Sports
Joe Reedy, The Associated Press