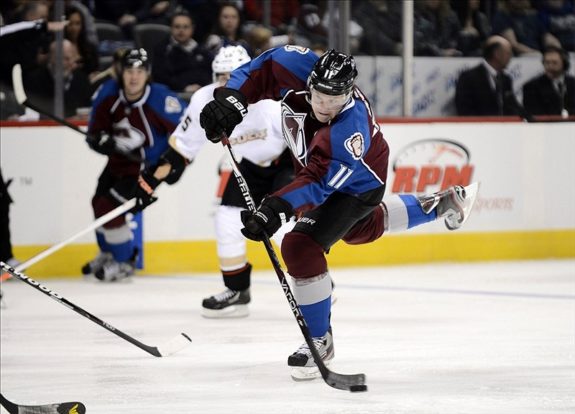 Paul Stastny, Gabe Landeskog and Nathan MacKinnon have been outstanding for The Colorado Avalanche during their first round match up against the Minnesota Wild. It's been remarkable, especially the way that an 18 year old has been so tremendous with the puck on his stick. But going through Colorado's depth chart recently has been less impressive. Injuries to key players like Matt Duchene have limited the Colorado offense. What was at one point in the season a formidable offense has, in the playoffs been a bit of a one line show. While this isn't to say that Colorado's offense has been bad, it is an issue, and one that Minnesota has taken advantage of at times during the series.
At the start of the season Colorado had an extremely deep forward group. They were able to dress at times three good scoring lines. That 18 year old rookie, he was brought in to the league as a third line center. Presumably, this was a way for Patrick Roy to shelter him and give him time to adjust. Early injuries to players like Alex Tanguay forced Patrick Roy to adjust his lineup not long after the season began. Though Colorado had plenty of depth, Tanguay's absence was never really apparent as Colorado continued to win without him.  As it goes with every team in the NHL, injuries happen. But with Colorado, as the regular season came to an end, there were major concerns about how the team would be able to cope as the playoffs began.
Winning the hard way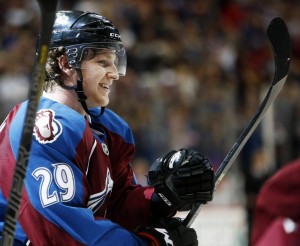 The series against Minnesota started out well for Colorado. Wins in the first two games in Denver gave the Avalanche a much needed boost of confidence.  Most importantly those wins showed that they could win without Matt Duchene, at least early on. Game one was obviously a little frightening for Avalanche fans, but the team got things done, and they had a big game from the top line. MacKinnon was making headlines around the league with his game breaking speed, and Paul Stastny was about as clutch as anyone could hope for. It was the 2nd line on down though that had trouble. Ryan O'Reilly did score, but his line with Jamie McGinn and P.A. Parenteau were not generating enough offense early in the game. Jamie McGinn eventually found the back of the net, which is something Colorado desperately needs more of. With home ice, Patrick Roy had last change, so he was able to make sure his top line was able to be on the ice at the most opportune time. As a result the Stastny line had two terrific performances in both games in Denver.
Going even deeper into the Avalanche lineup there is growing concern about the team's ability to control the game. Despite sometimes being unable to score, the second line with O'Reilly has the ability to control the play. O'Reilly is great as a two way forward, and his defense is tremendous. Colorado's third and fourth line though have routinely been bossed around by Minnesota. The problem here is, again injuries. Matt Duchene and John Mitchell balance Colorado's lineup rather well. Duchene is obviously the team's leading scoring, but in his absence players have to step up and fill his role. When moving players around a coach will inevitably create holes in the lineup elsewhere. Right now on Colorado's third line players like Patrick Bordeleau, who has never been more than a 4th line enforcer, are being asked to step into roles they are probably not suited for. John Mitchell is the kind of player you would want on the 3rd line, not Bordeleau.
Colorado's possession number have been less than impressive this year, though some of that has to due with their defensive system. But regardless the team needs more from it's third and fourth line. They need to be able to hold onto the puck. Too often the bottom six for the Avalanche was getting out worked. Players like Bordeleau are not puck possession players. Because of the lack of  talent on these lines Patrick Roy relied heavily on his top lines in the first two games of the series. This kind of reliance on fewer players has the potential for fatigue problem. For Colorado, if they were going to remain in control they were going to need more zone time, and it would help if it came from the bottom 6.
Minnesota turns it around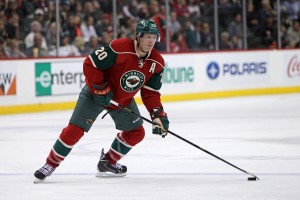 Having home ice in the playoffs is a nice luxury, and the Avalanche took control of the series with smart coaching and advantageous matchups in games one and two. When the series shifted to Minnesota, Colorado looked like a completely different team. Coach Mike Yeo was able to get his big checking line, and top defensive pairing out on the ice more often against players like MacKinnon. When Colorado was deeper with their forwards earlier in the season they were able to get around this problem with more than one line capable of putting up big numbers. Now with Colorado's depth showing cracks, the Wild were able to completely take MacKinnon and Co. out of the game. Colorado's top line, which had torched the Minnesota defense in games one and two was held scoreless in the two games in Minnesota. If it were not for Seymon Varlamov, Colorado could have expected some serious lopsided scoring in those two games. In game four Colorado amassed 12 shots on goal. 12 shots is no where near good enough to win in the playoffs. The fact that they were in that game until the final whistle was again, a testament to the tremendous goaltending of Varlamov.
Patrick Roy introduced some new ideas in Minnesota, in hopes of getting his team some life. He moved forwards around at the start of Game 4, presumably to spread out the talent. But it was the forward depth that caused problem, again. The feel good story before game 4 was the NHL debut of 201o draft pick Joey Hishon. Patrick Roy hoped he would infuse some skill into the lineup. Hishon didn't do much in his first game, and neither did his line mates. Obviously taking only 12 shots on goal looks bad for everyone, not just the third and fourth lines, but it showed that Minnesota would win the match-up game if Colorado wasn't going to generate much secondary scoring.
Matt Duchene and a possible return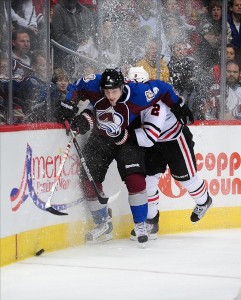 Anytime you only have one forward line it makes it easy for the opposition to target them, and try to shut them down. In game 5, Colorado again had last change and as a result MacKinnon had another big night. Patrick Roy was able to keep MacKinnon and Sutur seperated for the most part.  Now as the series shifts back to Minnesota, Colorado could see the return of their leading scorer. All season Matt Duchene has played so well with Ryan O'Reilly, so reuinting the two of them has the potential to offer up more scoring option for Patrick Roy. Being able to roll more than one scoring line gives Colorado a few different options against the Wild, and it forces Mike Yeo to decide with line to shut down. If Duchene has a good game, it becomes a sort of, pick your posion situation for Yeo. In the first five games of the series if Nathan MacKinnon was on the ice, Yeo wanted Ryan Suter out their with him. While even with Matt Duchene it's likely that Yeo will want to continue to match up Suter with MacKinnon, it's something that the Avalanche could potentially take advantage of. Patrick Roy would hope that a potential return of Matt Duchene is enough to throw a wrench in Mike Yeo's matchup plans. Colorado is still short of a full compliment of quality forwards, but even an opportunity for more than one line to attack the Wild, must be an exciting prospect for Roy.
Matt Duchene's possible return also forces some players back down into rolls they are more comfortable with. A second line or Duchene, O'Reilly and McGinn would move Parenteau down to the third line with Talbot, which ideally would give Colorado a line that is more capable of holding onto the puck. The Avalanche have quality roll players, and players with a lot of heart. But even the most enthusiastic player will be over matched if he's played out of his comfort zone. Patrick Roy is a superb motivator, but asking players like Bordeleau or Marc-Andre Cliche to deliver anything more than forth line production is a mighty big ask.
As the series shifts back to Minnesota, all eyes are once again going to be how Mike Yeo and Patrick Roy match up their players. If Colorado go without Matt Duchene then Colorado will need big games from a lot of players who have never been asked to produce much more than some solid defensive shifts. More importantly players like Jamie McGinn and P.A. Parenteau, who had a big goal in game five, will need to produce. Because Minnesota will do everything they can to make sure Nathan MacKinnon's line is held off the score sheet.
Depth is everything in the playoffs. No one thought much of Colorado's defense to start the season, but it's a scary prospect for the team that the biggest concern going into game six is the offense instead. Anyone watching will know early on if the high flying Colorado Avalanche show up, or if it is the feeble 12 shot Avalanche that take the ice. If it's the latter, then hopefully everyone is excited for game seven. If Colorado's big guns show up to play, well then, bring on the Blackhawks.