Even though the season is still in the early stages, Colorado was teetering on the edge of a disastrous start, which could have doomed the Avalanche due to the shortened season.
After three straight losses on the road, the loss of their captain to injury, the continued contract dispute with Ryan O'Reilly, David Jones out with an injury, and a team that was struggling to score goals, it was imperative for the Avalanche that somebody step up to stem the tide. Luckily for Colorado, the bell has been answered.
Matt Duchene
Matt Duchene has been having a monster year to this point. After today's two assist output against the Edmonton Oilers, Duchene now has nine points on the season, leading the team in scoring.
More impressive than Duchene's first real hot start to a season is how complete his game has become. He spent most of last season playing left wing, but he has been moved back to his natural position of center. He is doing absolutely everything for Colorado. He's producing points, winning face-offs, and is playing a fantastic defensive game. He is everywhere and is finally showing the strong leadership qualities that Avalanche fans have been waiting for.
Right now, the Avalanche are Matt Duchene's team.
P.A. Parenteau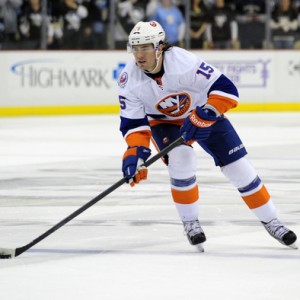 Parenteau was Colorado's biggest free agent signing of the off-season, signing a four-year contract with $16 million. His career is not really the one that a team's leading goal-scorer would take. Parenteau spent several years in the AHL before grinding his way into the NHL. He had a couple very strong seasons with the New York Islanders and now plays on Duchene's wing on Colorado's top line. Prior to his time in Colorado, Parenteau was primarily known as a passer, but he has become a scorer.
With his performance against the Oilers, Parenteau now has a team-leading six goals. These goals are also coming in big moments, two of Parenteau's last three goals brought the Avalanche to a tie score and ignited their offense.
At his current pace, Parenteau is set up to break 30 goals for the first time in his NHL career. It's doubtful that this torrent pace will continue, but Parenteau is certainly becoming a star for the Avalanche.
John Mitchell
A less heralded free agent signing, John Mitchell has surprised everybody. Mitchell played as a fourth-line center on a loaded New York Rangers team a season ago and scored a total of five goals all season. Just eight games into the regular season this year, Mitchell has already tallied four goals.
Mitchell quickly endeared himself to Avalanche fans with his hard work and toughness. The love affair officially began when he "blocked" a shot with his face against the Columbus Blue Jackets, but came back in the game and scored a very impressive goal. He's probably been the second best overall player on the team, behind Duchene. Mitchell has worked his way onto the second power play unit and is gaining ice time every game. The secondary scoring that the Avalanche need to be successful, he is providing.
There is still a long way for this season to go, and we're not totally positive if the Avalanche are going to find the consistency that they need in order to make a serious run at the playoffs. But with the Avalanche in desperate need of leaders other than their captain to step up and make a difference, these three players have all answered the bell.
I'm a Denver native who has been a fan of the Avalanche since they came to town and a fan of the game before that. I started writing my own blog a couple years ago before moving to Bleacher Report and becoming a Featured Columnist there. You can also find me the Burgundy Brigade Podcast