Welcome back to Blue Jackets Unzipped. Once a week or as needed throughout the season, we will discuss the latest happenings around the Columbus Blue Jackets mixed in with my deeper thoughts. Today, we talk the Traverse City Prospect's Tournament and much more.
Early Impressions of Traverse City
The Columbus Blue Jackets needed just two games in two nights to secure a spot in the championship game of the prospect's tournament. They dismantled the Dallas Stars 7-2 on Friday. They then defeated a decent Minnesota Wild squad by a 3-1 score. With their six points in the standings, nobody can catch up to them. They await the winner of the other division.
The Carolina Hurricanes are in the driver's seat. A Hurricanes win Monday puts them in the finals. If the Blackhawks defeat the Hurricanes in regulation, then the result of the Rangers/Red Wings game matters. That will all sort itself out come Monday night.
So what have we learned in these two games for the Blue Jackets? There's plenty, but we'll focus on three things for now and address Abramov's brilliance a little later.
#CBJ win 3-1 as Hodgson adds insurance goal in the 3rd. W/ wins in 1st two games, club has guaranteed spot in championship game on Tuesday.

— CBJ Public Relations (@BlueJacketsPR) September 10, 2017
Some Guys are Close
The first thing that jumps out is just how close some of these players are to the NHL. Blue Jackets assistant general manager Bill Zito recently told me in an interview that he felt several players were close to the NHL. He was eager to see which players took the summer to take the next step.
Pierre-Luc Dubois stood out the first night. Calvin Thurkauf played well. Paul Bittner scored two goals and looked like a different player after a tough season in 2016-17. Gabriel Carlsson looked comfortable. Both goaltenders Matiss Kivlenieks and Ivan Kublakov played well in their starts. This is a deep team.
Blue Jackets Scouting is Shining
Speaking of depth, how about free agents making an impact on a game? In the Blue Jackets' 3-1 win on Saturday night, Haydon Hodgson scored twice, including the game winner and insurance goal on a beautiful snipe.
The Blue Jackets have brought in guys on free agent contracts of late and have done well in their time with the team. Justin Scott comes to mind. He's played well in the early going. He could surprise some at camp and make a serious run at this roster. Jordan Maletta wears the "C" for this team. Kole Sherwood is another signing that helps the depth.
How are the Blue Jackets doing this? Their scouting staff has done an excellent job finding guys that didn't get drafted but deserve a longer look. It's paying off. A good majority of these players will find themselves on the Cleveland Monsters making important contributions. Who knows? Maybe someone will get to the Blue Jackets. These are low-risk gambles that could pay big dividends later.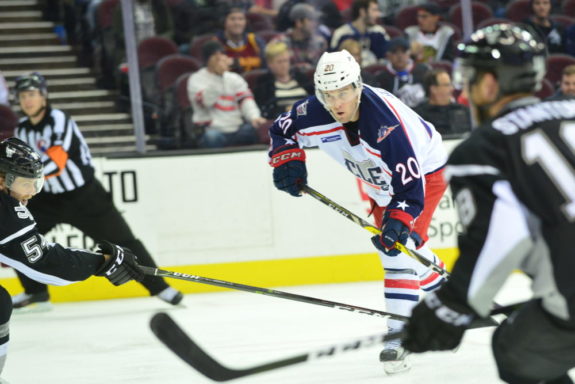 Getting Good Habits Early
The Blue Jackets have allowed just three goals in the two games. Defense and goaltending lead the way. But have you seen the success of their penalty kill?
Going back to last season's tournament, the Blue Jackets have killed over 90% of penalties against them. This points to good coaching and developing good habits early on. Coach John Madden leads the way.
The Blue Jackets pride themselves on building from the back. This tournament shows us where the team gets their habits. They are sound defensively. They make simple plays. They work on making correct plays. This is what they'll bring to Cleveland and eventually to Columbus if they make it. The coaching is as strong as it's ever been in the Blue Jackets' organization. They instill good habits on the young players from the start. It's no wonder the Blue Jackets show well in Traverse City.
Vitaly Abramov Puts Blue Jackets on Notice
Perhaps the best part of Traverse City thus far is Vitaly Abramov's performance. He had five points in Friday's 7-2 win. Every time he touches the puck, you feel like something special will happen. He doesn't look out-of-place on the ice against future NHL players.
Here's the takeaway. Abramov has his sights set on making the Blue Jackets this fall. His performance has put bubble players on notice. If you're Sonny Milano or Markus Hannikainen, you best come to camp in the best shape of your life ready to go. If not, you'll get passed by Abramov.
Now is Abramov ready for the NHL? That's the million dollar question. He's been the best player on the Blue Jackets in Traverse City. He won a scoring title and league MVP in the QMJHL last season. He played well in limited time in Cleveland last season. But is he ready for the challenge of full-time NHL work? Training camp will sort that out for us. But he's close. He's in the conversation for a roster spot now. What a luxury that is for the Blue Jackets to have this much depth competing for jobs.
Top ten scoring leaders at Traverse through two games. Abramov T-1, Thurkauf, Bittner also make the list. #CBJ pic.twitter.com/Maxbr1GIrj

— Alison (@AlisonL) September 10, 2017
Brandon Dubinsky's Injury
We knew Brandon Dubinsky had offseason wrist surgery. What we weren't sure of was how long it would keep him out. Could he miss the start of the season?
Dubinsky gave some hints about his recovery to the Athletic. Here is what he said to Tom Reed.
"I will be back as soon as I possibly can, as soon as I feel strong enough to play." (from 'Brandon Dubinsky reveals extent of wrist injury that required surgery', The Athletic Cleveland – 9/8/17)
Even Dubinsky isn't sure when he'll play again. What could this mean in the short-term if he isn't ready?
That more or less cements Dubois' spot on the roster as they'll need center depth. Perhaps Nick Foligno or Boone Jenner would slide to the middle for a short time.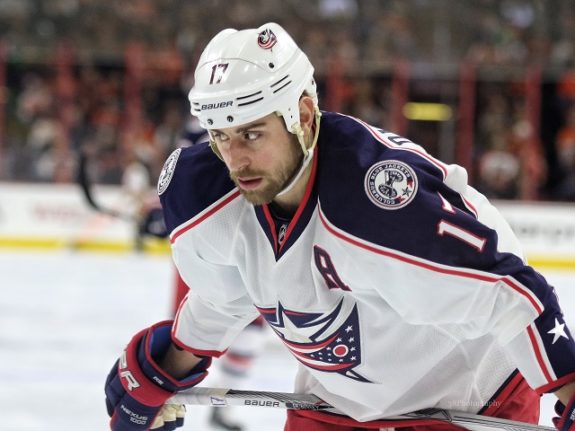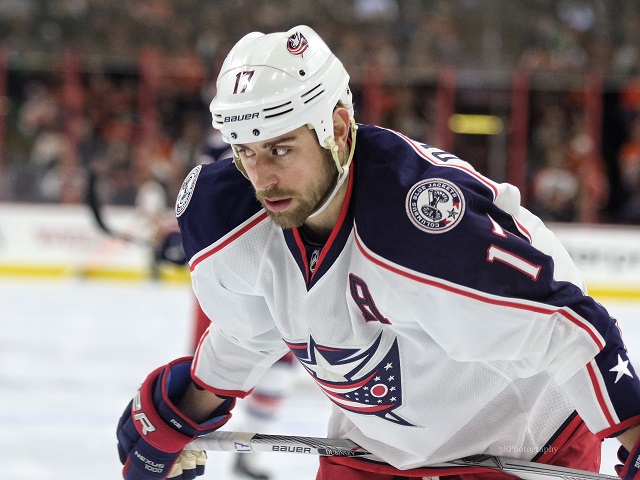 If Dubinsky starts the season on injured reserve, that's another roster spot up for grabs early on. Does this open the door for Milano or Hannikainen to make it? Does the team offer a PTO to someone like Daniel Winnik? There's many ways this could go.
The Blue Jackets will hold their media day this Wednesday Sept 13. John Davidson, Jarmo Kekalainen and John Tortorella will each speak to the media before training camp opens. We should have a clearer picture of the situation by then including an update on Dubinsky.
Watch the news this week. If you notice any centers on PTO's, that could imply where Dubinsky is at in his recovery. He won't rush back. His focus is making sure he is healthy. If that means he misses time, then it's next man up. If there are no noticeable PTO's, then we'll see which prospects take advantage of a golden opportunity to make this roster.
I am a fully credentialed writer who covers the Columbus Blue Jackets, Cleveland Monsters and Erie Otters as well as the Ontario Hockey League and NHL Draft. The 2021-22 season will mark eight seasons with the Hockey Writers. I am also the site's Credentials Manager.