History Repeats?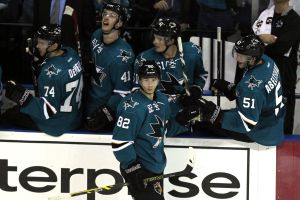 Before Logan Couture wound up as a Calder Trophy candidate for his terrific 2010-11 season, he made a significant impact the year prior. Couture played the maximum 25 games during the 2009-10 regular season before one would lose rookie eligibility the following season. During the 2010 playoffs, the then just turned 21-year-old Couture was a staple on a third line with Manny Malhotra and Torrey Mitchell. In the regular season Couture chipped in a respectable nine points and added four more (all goals) while playing in all 15 playoff games. If memory serves, his fourth playoff goal gave the Sharks a 1-0 lead in what ended up being their final game of the season in Chicago.
Couture gave that Sharks team an extra boost of scoring depth that opponents had to account for even with a top-heavy number one line featuring Patrick Marleau, Joe Thornton, and Dany Heatley. At present day, the Sharks are primarily going with a top-heavy first line featuring Thornton and Joe Pavelski. Their five-on-five and depth scoring has been a significant problem thus far this year, 21st in the league in even strength goals for percentage. Perhaps though, scoring help could be on the way internally.
Shining in the preseason and staying with the big club longer than anyone expected during training camp, top prospect Nikolay Goldobin could possibly end up mirroring Couture's late season 2010 success. Playing for HIFK Helsinki in the Finnish Elite league SM-liiga, the 2014 first round pick has five goals and four assists in 15 games. When Couture made his run in the 2009-10 season he had played less than one full season out of junior. Goldobin is in the same spot playing his first year in a men's league. Unlike Couture however, Goldobin is playing overseas instead of the AHL because of a rather complicated age requirement for the A.
As for Goldobin, the current knock against him is his size. On the Sharks website Goldobin is listed at 5'11" 180 and on hockey data base, he is listed at 6'0″ 185. There are a fair amount of players in the NHL who play at those same types of body dimensions, but Goldobin definitely looked physically thin during the preseason. By the time spring rolls around, if Goldobin has tacked on 5-10 pounds to his frame, he would certainly have a better chance of making the jump.
As seen this past preseason and at the OHL level, there is no shortage of skill when it comes to the Russian born forward. He has the hands and vision required to play at the highest level but whether he can handle the physically punishing North American style remains to be seen. The potential is through the roof though, just watch the goal he scored scored back in November:
https://www.youtube.com/watch?v=PWV0B8uB8yk
If Goldobin were to be called up, one would have to imagine playing him opposite a healthy Raffi Torres would be the most ideal fit. While a left-handed shot, Goldobin is most often listed as a right winger and Torres could be an ideal body guard. Torres can intimidate opponents and has the necessary skill to play next to a guy with Goldobin's creative abilities. If the Sharks want to go with Pavelski at third line center, Perhaps Goldobin could even be best with Joe Thornton in a sheltered scoring role. Although a Torres-Pavelski-Goldobin line would be pretty sweet as well.
All this said, chances are Goldobin is just not ready to make an impact this season even late in the year. He is a year and a half younger than Couture was when Logan made that jump. The Sharks should have enough depth with a couple tweaks at the trade deadline to make a legitimate playoff run without rushing their first round pick.
Andrew has been credentialed to cover the Sharks since 2010 and the 49ers since 2012. He graduated with his BA in Broadcast Electronic Communication Arts in 2013 from San Francisco State University.