For a team which has not qualified for the Stanley Cup playoffs in the past four years, there appears little sense of urgency to address the maladies of the Arizona Coyotes. Other than parting ways with general manager Don Maloney last month, things have been relatively quiet.
Then again, we're only a month into the post-season, and teams, out of the playoffs, do not start seriously start to plan ahead until after the Cup is awarded.
Currently, there are three basic issues on the Coyotes' front burner. First, there is the appointment of a general manager. Plus, the question of where to actually play seems to occupy more attention than the question deserves, and there's the future of captain Shane Doan.
Anthony LeBlanc, the Coyotes, CEO and president, appears grappling with these paramount issues alone. In absence of a GM in place, LeBlanc did oversee the draft lottery last Saturday in Toronto, and continues to be in the fore-front of settling the Coyotes' protracted issue of where to play.
Their current lease at Gila River Arena expires at the end of the 2016-17 season, and discussion is underway on three possible locations. Actually, a fourth, and that's if the current Gila River Arena issues can be resolved, and all parties agree on the Coyotes future in the building.
One possible scenario would have the Coyotes and NBA Suns share a new arena in downtown Phoenix. Also under consideration is a joint venture between the Coyotes and Arizona State University. The Sun Devils joined Division I last season, and scheduled a successful tournament with Michigan Tech, Yale and the University of Connecticut this past January at the Gila River Arena.
LeBlanc has made it known he would love to partner with Arizona State and have the Coyotes extricate themselves from a contentious relationship with the city of Glendale, site of the Gila River Arena. A third possible venue would be on native American lands and an arena built by native Americans. This appears as a similar business partnership between the Salt River-Pima-Maricopa Indian Community and the Arizona Diamondbacks and Colorado Rockies. The Salt River spring training complex for the Rockies and Diamondbacks was built on native American land, and the teams share the facility.
For now, LeBlanc promised an announcement on the Coyotes' arena dilemma sometime between the end of the regular season and July 1, the first day of free agency. So far, he gave no hint as the Coyotes' thinking, but only indicated an announcement is forthcoming.
Doan's Future
Regarding Doan, the Coyotes' captain is coming off one of his better NHL seasons, and all indications point to his return for next season. At 39-year-old, he topped the Coyotes in goals with 28, and tied a personal best for second most goals scored in one season. He also recorded a plus four, and that represented a vast improvement from the minus 29 from the season before.
While it's likely the strong offensive season would influence Doan's decision to return, he is an unrestricted free agent at the moment.
"I'm not sure how many teams would want a 40-year-old," he smiled recently as his teammates cleaned out their lockers in Gila River Arena. "Seriously, what decision I make will be in discussions with my family. Passion-wise, and health-wise, I feel good, and as long as I feel that way, I'll continue."
Among his avid supporters, coach Dave Tippett believes Doan will return for his 20th NHL season.
"I remember our last game and that was in San Jose (April 9)," Tippett said.  "Shane came off the ice with about a minute and a half remaining. If that was last game, he would be out until the final buzzer, so I think he'll be back."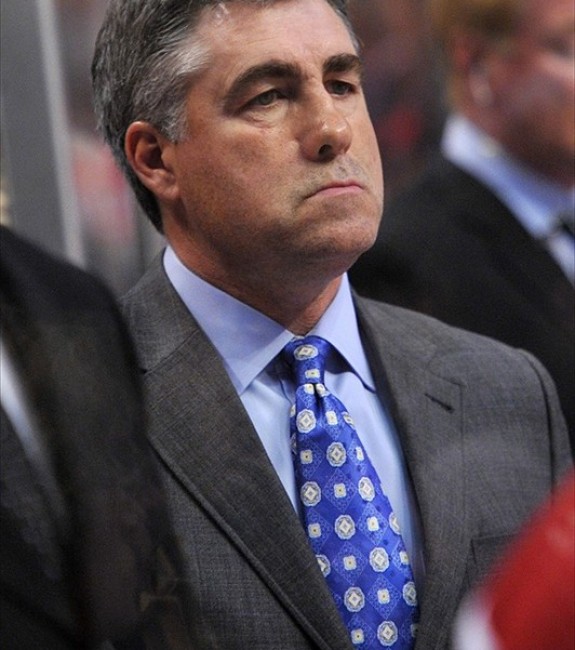 Aside from physical skills, Doan's leadership and character in the Coyotes' dressing room, many believe, is unparalleled among captains in the NHL. If he does not return as a player, he would likely end up in an executive position. For now, Doan is weighting the future, and trying to address the Coyotes' recent frustration.
"When you lose, there are changes, and you have to deal with it," he said. "We have young guys coming along, and you trust what they bring. We want to be competitive. For me, the passion is there."
Another decision on LeBlanc's plate is his general manager. One theory that surfaced after the firing of Maloney was a difference in philosophy. The Coyotes, like most major league teams in professional sports, are moving toward analytics, and Maloney remained "old school." He relied on personal scouting at games rather than crunching numbers. To that end, John Chayka, appointed as an assistant GM last season and head of analytics, and has been mentioned as a strong candidate to replace Maloney.
For his part, Le Blanc said the issues of a vacant GM chair, future location of their home rink, and Doan's stature should be resolved by the start of free agency. That's less than two months from now.
Mark Brown is a former sports editor for daily newspapers in the Philadelphia and Cincinnati markets. He was named Best Sports Columnist, honorable mention 2004 by the Associated Press Society of Ohio. He is a contributor to major daily newspapers, including the Chicago Sun Times, Philadelphia Inquirer, Honolulu Star-Bulletin, Milwaukee Journal, Arizona Republic, Nashville Tennessean and the Associated Press. He was a Featured Columnist for bleacherreport.com and covered the Arizona Coyotes.