During a prospect scrimmage last Friday night in the Gila River Arena, a member of the Arizona Coyotes. P. R. department offered an interesting comment.
"Looks like the NHL is playing small," he leaned over and said to another staffer. That seemed to be case in this scrimmage, because two players clearly took control of play. The presence of Clayton Keller, the club's first pick in the 2016 draft (seventh overall) at 5-10, 163 pounds, and Conor Garland, the Coyotes' fifth round pick (No. 123 overall) at 5-8, 163 pounds, showed flash, speed, creativity and daring. There is no chance that either will be on the Coyotes' opening night roster against the Flyers at home this October, and an even better chance that neither will play professional this coming season.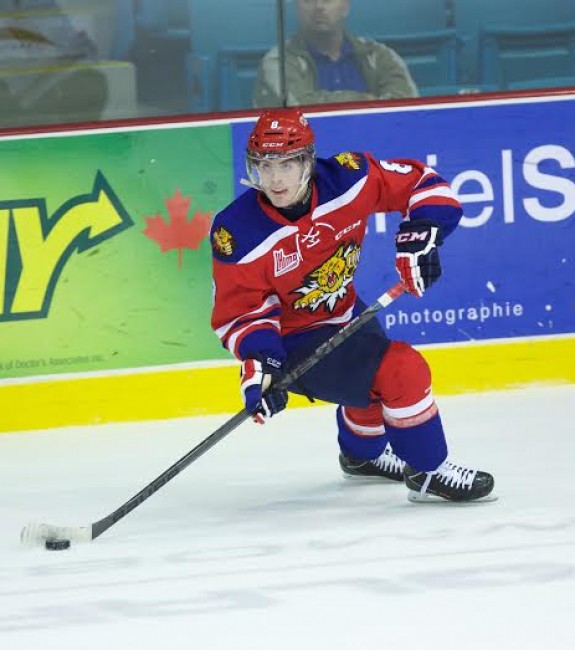 What Keller and Garland represent is a glimpse into the future thinking of the franchise, and a greater emphasis on speed and agility.  For his part, Keller is committed to Boston College and Garland will likely return to Moncton of the QMJHL, where the native of Scituate, Mass. picked up 39 goals and assisted on 89 others for 128 points.
Where the value of the prospect camp is more than a casual introduction to life in the NHL, there were valuable lessons. Aside from the physical dimension and speed of certain players, coaches emphasized a greater focus on how to play the game at the highest level in the world.
"What I took out of this camp is the fact that guys have to play on both sides of the puck," said forward Christian Dvorak, who led London to the Memorial Cup championship in 2016. "The coaches stress the need to improve and to get better. There are many things I'll take from here, and it was great to learn from so many good coaches."
Transitioning to Rookie Camp In The Fall
At the conclusion of camp, Dvorak, a second round pick in the 2014 draft, and Dylan Strome, the Coyotes' first pick and the third overall selection in the 2015 draft, were given better than even chances to make the final roster cut in the fall. For Strome, the rap since he was drafted last June was a lack of speed. When prospect camp concluded, Strome was the first to counter that observation.
"I think I'm more mature than I was at this camp last year, and certainly improved," Strome said. "What's important to me is that I saw growth both as a hockey player and as a person."
At conclusion of the week's activities, the 48 prospects in camp were divided into the Red Team and White Team for a scrimmage. The goal was to simulate the NHL experience, and that included a morning skate, pregame meal, regulation 60 minutes of play, a five-minute overtime (regardless of the score after 60 minutes) and a shootout. The result was a physical issue for Strome in particular, and that addressed his need to both bulk up from his 6-3, 185-pound frame, and make sure he is not trailing play up the rink.
"It was tough to play at a high competitive level in the middle of the summer," Strome said of the scrimmage game. "I started slowly, but skated better in the last two periods. Overall, I thought the camp was great. Coaches covered on- and off-ice instructions, and gave us stuff on financial matters and nutrition. It was a cool experience."
Not all players are ready to transfer what they experienced in prospect camp into the start of their professional career. Keller, for one, is off to Boston College this fall and with direct instructions.
"I want to be a better two-way player," he said. "My goal is to develop stronger defensive skills, and also use my size to my advantage. In camp, I listened to everything. I know I can always be better, and that's my goal every day."
For now, the nearly 50 prospects repaired back to their home towns for a summer of further instruction and education. Most will be back for the rookie camp in September, but all took a heighten sense of awareness and what it takes to play competitively in the NHL.