I've got big feet, so filling someone else's big shoes doesn't scare me — Caroline Rhea
Last week, the Los Angeles Kings dipped into the bargain bin by signing veteran winger Ted Purcell to a one year, $1.5 million contract to replace the departed Milan Lucic.
For Los Angeles, the inability to re-sign Lucic — who cost them a King's ransom to rent for just one season — stings, particularly considering persistent reports that he and the team were "in the same area code" of a new deal. Ultimately, Lucic and his big skates moved to an area code 1,750 miles away, leaving the Kings few options but to sign Purcell and hope for the best.
Will it work?
Purcell's Offense
The notion of prodigal son Ted Purcell making Kings fans forget all about man-mountain Milan Lucic seems, on its face, patently absurd. Given Lucic's age (28), stature (6'3″, 233 pounds), production (four 50+ point seasons), championships (2011 Stanley Cup) and reputation for physicality with two dollops of nastiness, he is consistently ranked among the top power forwards in the game.
However, despite the budget-conscious price tag, Ted Purcell has been a surprisingly productive under-the-radar NHL forward. While we recognize the inherent flaws in comparing raw statistics, the following are four key offensive metrics for Lucic and Purcell over the past five full seasons: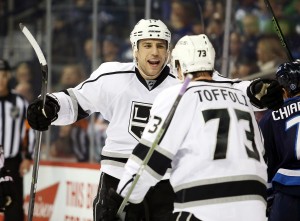 Milan Lucic
Goals: 118
Assists: 164
Shooting %: 15.9%
Corsi For: 54.9%
Ted Purcell
Goals: 79
Assists: 156
Shooting %: 9.9%
Corsi For: 51.8%
Clearly, Purcell isn't the lamp-lighting threat Lucic can be, as he trails by 39 goals and is significantly lower in shot percentage. That shouldn't surprise anyone, as Purcell has always been considered more of a playmaker than a goal scorer. To that end, their assist totals are virtually identical, and from a possession standpoint, Lucic wins the comparison.
Offensive Summary: Purcell isn't the threat Lucic represented on offense, and as such, probably won't spend the majority of his time on the Kings' top line. He appears destined to pair up with Jeff Carter and Tanner Pearson on the second line.
Purcell's Defense
Analyzing a few basic statistics tells us something we already knew: Lucic is a superior offensive player. But that's considering only one half of the ice. What about their defense?
One again, we'll cherry-pick a few statistics:
Milan Lucic
Hits: 1,111
Blocked Shots: 115
Takeaways: 138
Shorthanded TOI: 66.9
Ted Purcell
Hits: 106
Blocked Shots: 73
Takeaways: 182
Shorthanded TOI: 162.6
The elephant in the room within these four categories is, predictably, hitting. Lucic hits virtually anything that moves, while Purcell moves to avoid anything that hits.
The rest of the numbers, on balance, are reasonably close. Lucic's big frame blocks a greater number of shots, but Purcell's stick is more adept at takeaways. As for ice time, it's a bit surprising to see that Purcell is used more often when shorthanded, an indicator that his defensive skills — while not close to elite level — aren't a liability.
Defensive Summary:
Although closer than one might have expected, Lucic's huge advantage in physicality wins the day for him defensively. Purcell shouldn't be a liability, however, especially within the context of Los Angeles' system.
The Final Verdict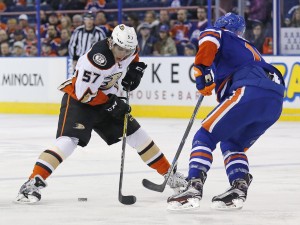 Admittedly, this was a tongue-in-cheek exercise, as no reasonable person would have concluded with a straight face that Ted Purcell could replace the biggest free agent (literally and metaphorically) signing of this offseason. However, Dean Lombardi's gambit is a reasonable one, as Purcell provides playmaking skills, experience, a few goals and a credible defensive effort without the crushing price tag and term that Lucic received.
Can Ted Purcell fill Lucic's skates? No, he cannot. Will he be a productive second line forward, one who should fit in nicely with shooter Jeff Carter and emerging left winger Tanner Pearson?
The Magic 8-Ball says, "All Signs Point to Yes".