What was believed to be an organizational-turning day for the Arizona Coyotes instead ended in complete heartbreak. Tuesday night (May 16) the citizens of Tempe, Arizona voted no to props 301, 302, and 303 and the Tempe Entertainment District, effectively putting the future of the franchise in Arizona on thin ice. Uncertainty now sits in the air as the Coyotes' days in the Valley of the Sun look to be coming to an end.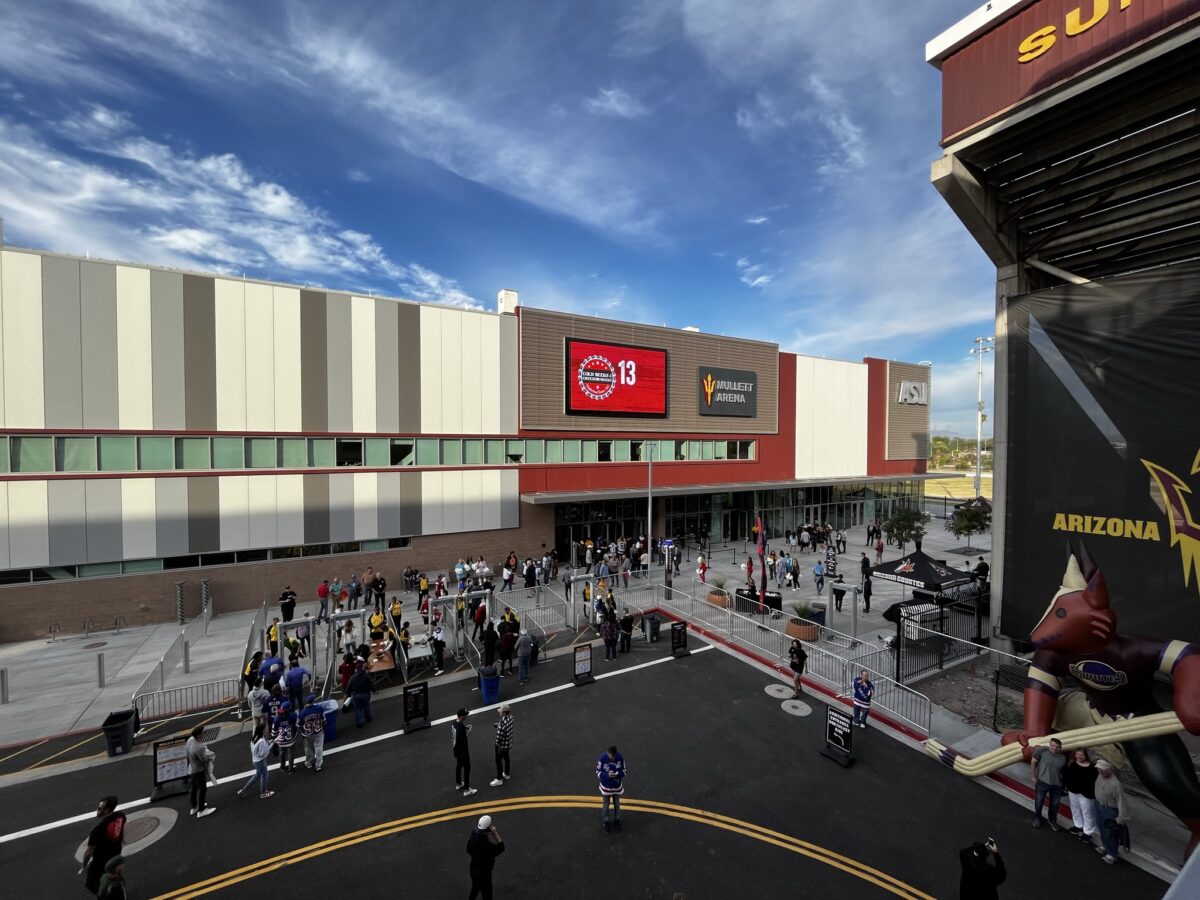 In a rather surprising result, the Coyotes are left without a future home, and the clock to find a new deal now becomes increasingly apparent over the next few weeks. Very few options remain for the team, and the likelihood of relocation sits atop the table. In one of the hardest articles that I have personally ever had to write, I take a look at what's next for the desert dogs.
What Options Remain for the Coyotes in Arizona?
The options for the Coyotes to remain in Arizona are slim at best. The most hopeful Plan B would be for Alex Meruelo and company to work out a deal with Phoenix Suns owner Mat Ishbia to move back to Phoenix and share Footprint Center. The Coyotes originally played in Phoenix at the then-named American West Arena from their inaugural season in 1996 to their subsequent move to Glendale in 2003. The move ultimately signaled the beginning of 19 years of arena drama culminating in their move to Mullett Arena this past season.
The biggest issues standing in the way of a probable return to Phoenix would be for one, revenue sharing. This was the very same issue the team had in their first stint in Phoenix. The next biggest issue is Footprint Center itself. After investing over $50-plus million into renovations in 2020, the arena currently doesn't have the space or means to accommodate a hockey team, another issue the team also faced when original co-tenants. There would need to be some compromises made to make a move back to Phoenix possible. Finally, unless Ishbia is interested in buying the team, there's a very thin line of optimism. 
Related: 7 Cities That Make Sense for NHL Relocation
Other locations such as Mesa and reservation lands still sit as an offer. The old Fiesta Mall sits untouched currently in Mesa, but a public vote would ultimately have to be made in order to strike a deal. This leaves reservation lands as a final option. There is currently land available, but according to the state's gaming laws, it would require Meruelo to forfeit a large sum of revenue if he were to build a casino as part of any development, something he may not be willing to do. 
Then there's the surrounding development. The Coyotes looked at this possibility for years, but ultimately have found it difficult to structure. Add in the issues with approval from the Bureau of Indian Affairs and that leaves the Coyotes with a slim batch to pick from. That said, the Salt River Pima–Maricopa Indian Community has land available and remains open to a deal.
Is Relocation a Likely Possibility?
As much as it pains this writer to say this, yes, relocation remains a very likely possibility. The Coyotes' never-ending history of good luck finally seems to be running out. With Salt Lake City, Houston, and Kansas City as viable options to house an NHL team, the Coyotes may be forced to vacate their home if they can't strike a deal.
---
Latest News & Highlights
---
Add in the fact that all three Plan B options would take time to organize, and you get a waiting game that the NHL isn't prepared to play. The NHL's Board of Governors has already expressed their displeasure with the Coyotes' temporary home arena and would be against the team staying there for longer than expected.
What Does This Mean for the Future of the Arizona Coyotes?
As of right now, the Coyotes are expected to play this upcoming season at Mullett Arena. As for the future, no one really knows. If you had asked this a week ago, many believed the Coyotes were finally on their way to ending any speculation of leaving; a privately funded entertainment district that would've generated the city of Tempe millions over the next 10-15 years. Alas, last night's vote may have all but killed the hope of Arizona's future in the Valley, or so we may think.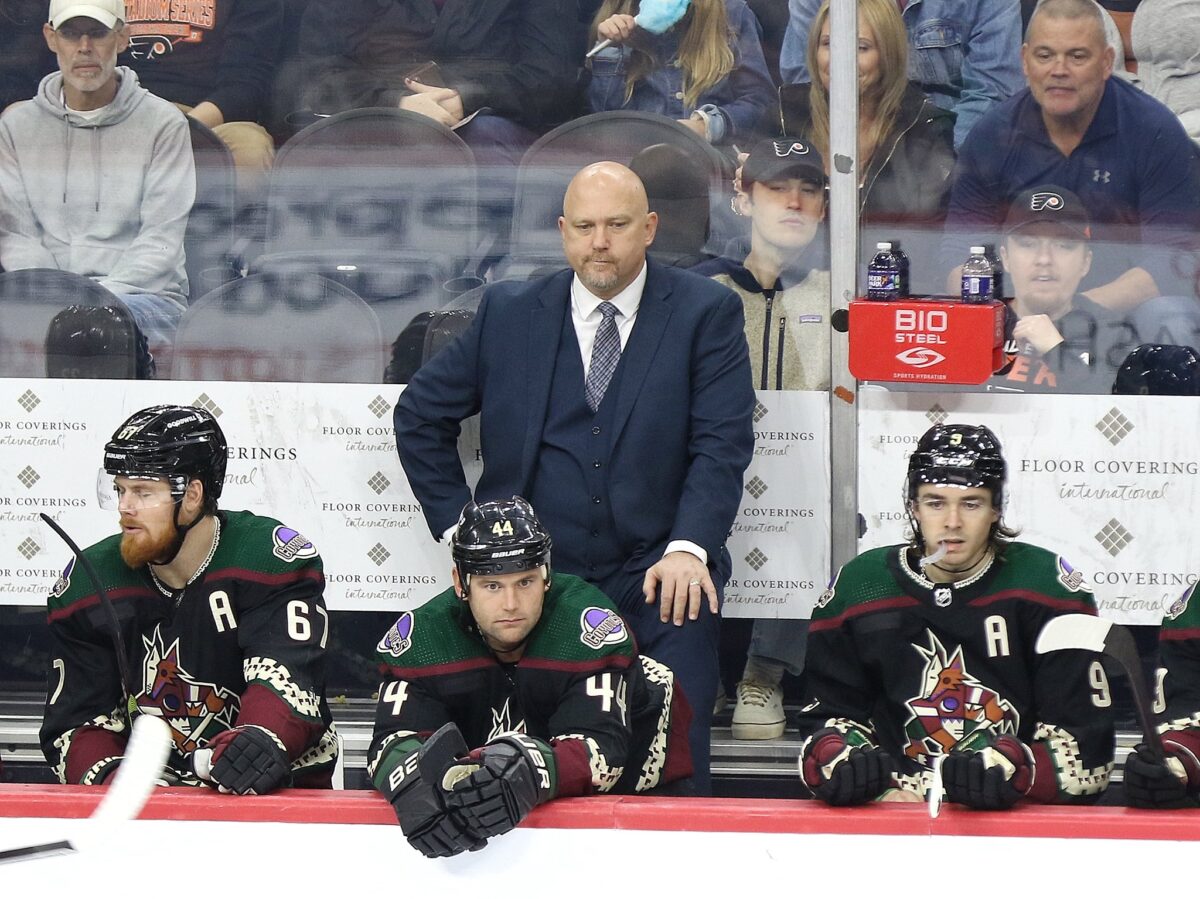 But what about the fans? There's no denying the growth of hockey in the state since the Coyotes' arrival. Stars such as Auston Matthews, Brady and Matthew Tkachuk, Sean Couturier, Tage Thompson, and Matthew Knies are all products of Arizona who played youth hockey at some point in the state and credit their introduction to the game to the Coyotes.
Is This the End of the Coyotes?
This is a hard question to answer as we don't fully know yet. While many would tell you the "experiment" in Arizona should've ended long ago, there's no denying that there's a passionate fanbase in this state that has come together and formed a bond over the Coyotes. But as reported yesterday by PHNX Coyotes' writer Craig Morgan, there still may be a path in place for the Coyotes in Arizona after all. We will have to wait and see what that may be.
For fans like me, this team means a lot. Hockey wasn't a part of my life until I turned five years old. Growing up in Greenville, South Carolina, hockey was unheard of largely throughout the state. The Coyotes were the team that got me interested in the sport. They were the sole reason I became a player, a fan, and eventually a coach and part-time writer. For 19 years, I've been here through the ups and the downs, just hoping to finally reach the light at the end of the tunnel. Things finally seemed to be heading in the right direction. Yet here we are, back at square one. Meruelo undoubtedly remains committed to Arizona, he's said so himself countless times and reaffirmed it Tuesday afternoon. He doesn't want to own the team anywhere else but Arizona. But will he finally be forced to give up on his dreams?
This sport and this team have given me and so many others so much joy. Fans still vividly remember the Coyotes' 2012 Western Conference Final run. After Tuesday's news, I for one remain hopeful and I encourage all Coyotes fans to remain hopeful as well till the end. Commissioner Gary Bettman has fought for this team multiple times and he will continue to do so until there are no options left. These next few weeks will shed more light on the team's next steps, and hopefully, just hopefully, the Coyotes can find a way to remain right where they belong – in Arizona.