The Winnipeg Jets had an exceedingly up-and-down 2022-23 season. They had a strong first half, suffered a prolonged slide in the second half, recovered from it just in time to squeak into the playoffs, then were quickly dispatched in the first round by the Vegas Golden Knights.
In this series, we'll take a look back on the season, player by player, and grade their individual performances with an eye toward their future with the team.
Dylan Samberg was not asked to do much on the back end in 2022-23, but in the role he was given under the new coaching staff, he was fantastic as one of the youngest players on the team.
Dylan Samberg Posts Impressive Rookie Season
Although a traditionally older rookie at the age of 24, this was Samberg's first full season in the NHL and he took full advantage of it. He was in an extremely sheltered third-pairing role and was asked to kill penalties on the Jets' top-10 penalty kill.
Related: Jets 2022-23 Report Cards: Kyle Connor
Samberg proved to be a shutdown defender. He only posted two goals and six assists throughout 63 games, but he more than made up for his lack of offence on the defensive end. It did not matter if his partner was Dylan DeMelo, Nate Schmidt, or Kyle Capobianco, he posted above a 50 percent expected goals percentage with all of them according to Money Puck.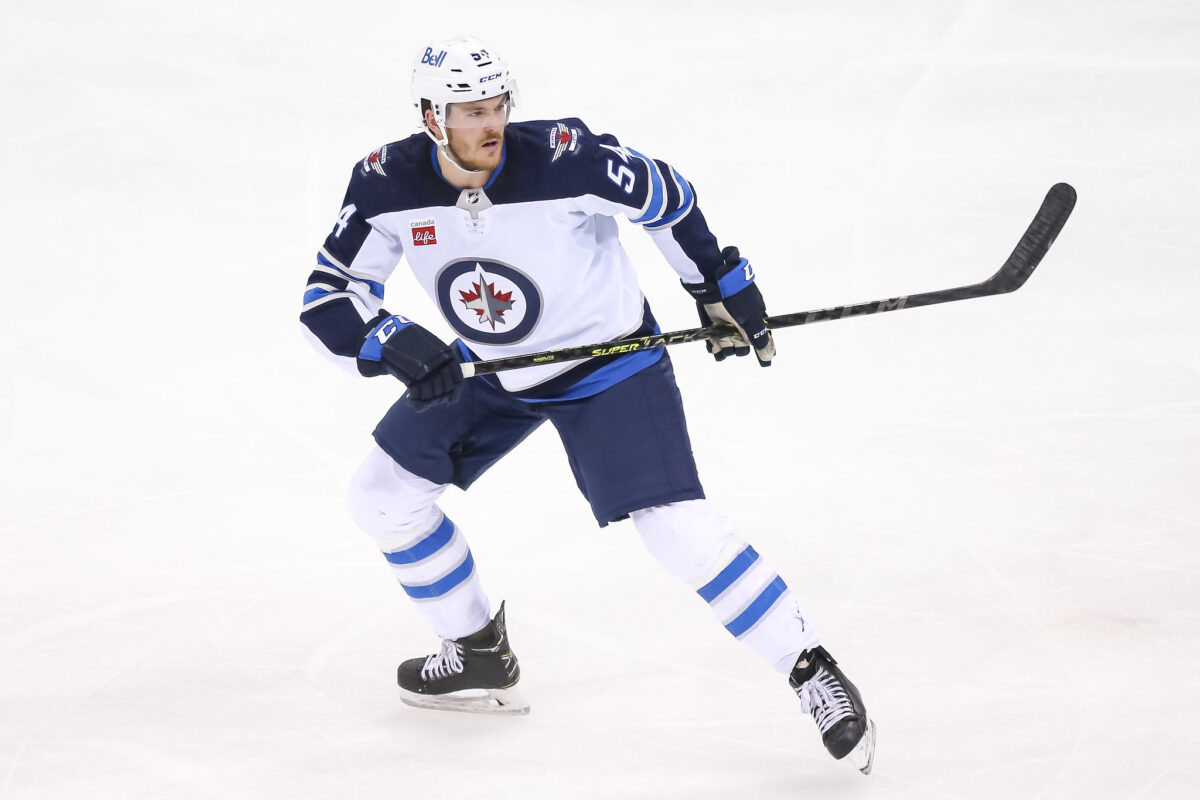 Samberg played 15 games with the Jets in 2021-22, before being sent back down to the Manitoba Moose for the remainder of the Calder Cup Playoffs. He proved on the Moose last year that he had what it took to take the next step, and he was able to do just that this season.
His improvement was noticeable among fans and media. Throughout the season, he was making better reads in his own end and improved his foot speed a considerable amount. An unfortunate and unlucky turnover in overtime against the Vegas Golden Knights in Game 3 of the first round skewed a handful of fans' perception of his first season, but ultimately the stats proved that he belonged.
Samberg Proved He Could Be Cornerstone of Jets' Defence Core
Samberg was an analytical darling in a third-pairing role. According to Natural Stat Trick, he posted a 54.08 Corsi For %, a 55.27 percent expected goals percentage, and controlled 56.71 percent of the high-danger chances at 5-on-5. Those incredible numbers resulted in the analytical-minded Jets fans falling in love with Samberg's game.
---
Latest News & Highlights
---
The Athletic's player card had him posting a surplus value of $5.9 million. While these numbers may be inflated due to the role he was playing, this is still a fantastic season from the 2017 second-round pick which should result in him being a long-term answer on the Jets' blue line.
Samberg is a pending restricted free agent (RFA) in the 2023 offseason, and the Jets organization undoubtedly has a big decision to make. Do they go with a typical two-year bridge deal, in order to see whether or not his rookie season was a fluke? Or, do they go long-term at a higher price tag that may turn out to be a value down the line as he develops into a top-four defenceman?
It would be wise for the franchise to sign him to a longer-term deal, as at 24 years old, Samberg has proven that he possesses the ability to be a cornerstone of the Jets' top four for the next five seasons. The organization isn't afraid to go the long-term route, as they handed out massive deals to Josh Morrissey, Kyle Connor, and Nikolaj Ehlers. Whether or not they are willing to do the same for Samberg remains to be seen this offseason.
Given the fact that Samberg was being rotated out of the lineup in favour of Logan Stanley early in the season before he eventually won the job outright, he deserves a fairly high grade (A) in 2022-23. He will be a staple within the Jets' top four for years to come as this was an incredible start to his career. Jets fans have every right to be ecstatic about what year two has to offer for Samberg, as his role may increase mightily with a new contract.
Final Grade: A