Ottawa Senators: Craig Anderson is an Elite NHL Goalie
When the Ottawa Senators signed both Anderson and Robin Lehner to three-year deals in the off-season, Sens fans could have been forgiven for imagining a timeshare.
Young goalie learns from a veteran. Playing time slowly shifts. Eventually, the torch is passed.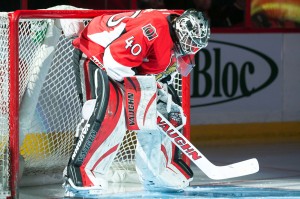 Finally, Anderson is dealt away at the trade deadline (maybe to the Edmonton Oilers? Maybe to a Stanley Cup contender?) as Lehner takes over as the full-time starter for the re-building Senators.
Here's the problem: Craig Anderson is elite.
With the Senators surrendering a ton of shots (34.5 per game, ranked second-worst in the NHL) and mustering low goal totals (averaging only 2.48 goals per game, ranked 20th in the NHL) Anderson has maintained stellar statistics.
Let's take a look at just how good Anderson has been.
Craig Anderson is Better Than You Think
Lehner and Anderson have found themselves in a 1A/1B arrangement this year. Craig Anderson has started 16 games for the Sens while Lehner has started 11. Despite the tandem approach, Anderson has played far too well to share the crease.
Standard Stats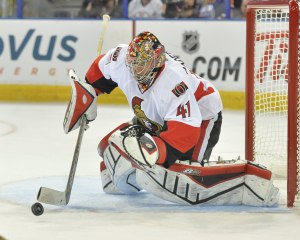 Anderson's standard stats are strong. He's posted a respectable 2.43 goals against average (league average this season is 2.56 GAA) and has maintained the solid GAA despite the Senators' porous defense, which has led to the over 34 shots per game.
Not shabby.
More impressively, Anderson has registered a .930 save percentage, which ranks fifth in the NHL. At this pace, Craig Anderson is on track to post his fifth season with a save percentage at or above .930 (note: Anderson has posted these save percentages in seasons in which he has played 24 games or fewer).
Taken altogether, the standard stats are very good.
Fancy Stats
While Anderson's standard statistics are solid, his advanced metrics show that he is truly elite.
Goals Saved Above Average (GSAA) measures how many goals a goalie prevents/allows compared to the average NHL netminder.
So far this season, Anderson's GSAA is among the best in the NHL. He now sports an 8.68 GSAA, ranked third in the NHL behind only Jonathan Quick (12.38 GSAA) and Pekka Rinne (10.78).
Anderson is no stranger to the top-tier of this statistic. In 2012-13, Anderson finished second in the NHL with a 19.63 GSAA. In 2009-10, Anderson finished 11th in the league with a 12.14 GSAA.
Sounds pretty elite already, right?
It gets better.
Hockeyreference.com also tracks goalie point shares (PSg), a metric that measures a goalie's individual contribution to the number of standings points earned by a team. Since 2009-10, Craig Anderson has finished among the top ten NHL goalies in this statistic three times. That includes this season as the Sens netminder ranks sixth in the NHL for goalie point shares.
In conclusion…
Craig Anderson has posted solid marks in goals against average and save percentage throughout his career. Those marks have been especially strong this season.
But the case for Anderson as an elite NHL goaltender is made by his performance in advanced statistics. After a number of top ten finishes in GSAA and goalie point shares throughout his career, Anderson is third in the NHL in GSAA this season and sixth in PSg this season.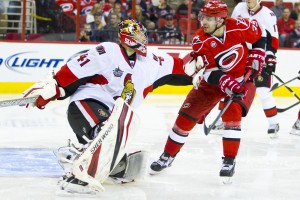 Anderson's advanced performance in advanced statistics reveals that he is an elite NHL 'tender.
For the Ottawa Senators, it is time to cut the timeshare in the crease, reduce Robin Lehner to a proper backup's role, and lean heavily on Craig Anderson instead.
What do you think, Ottawa Senators fans? Is Craig Anderson truly elite? Or, should the Sens turn to Robin Lehner more to develop their future starter?