It comes as no surprise that Toronto Marlies coach Dallas Eakins will taking over behind the bench in Edmonton. Twitter has been ablaze since Ralph Krueger's firing that Eakins was the guy the Oilers wanted. Elliotte Friedman of CBC's Hockey Night in Canada reported that Eakins preferred teams were either Colorado or Edmonton. He wanted to work and grow with a young roster. When Patrick Roy got the job with the Avlanche, the writing was pretty much on the wall for Eakins in Edmonton.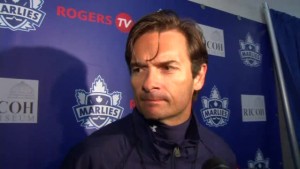 Going to a young team makes perfect sense for a rookie coach like Eakins. He won't have the pressure of trying to fix a contender, like Vancover or the Rangers, and he won't have any veteran egos to work with. It makes sense for him. But does it make sense for the Oilers?
General Manager Craig MacTavish felt that he and Krueger were not on the same page when it came to running the team, and after multiple meetings with Eakins, clearly he felt it was the right fit. The Oilers core is made up of young players, the oldest one being Sam Gagner, and he's 23! Would it have made more sense to bring in an experienced older coach who could really show these young guys the ins and outs of the game?
Youth vs. Experience 
Perhaps only a diehard Oilers fan wearing blue and orange colored goggles would suggest Edmonton is a Cup contender right now. They have some prime pieces in place, but the first step is actually getting to the playoffs. If MacTavish can add some size and toughness to this team and shore up the goaltending, there's no reason why they won't be in the running for a postseason spot. So looking at the current situation, bringing in a guy like Lindy Ruff may not be the right answer. He's got so much experience, he might be best suited to give a Stanley Cup contender that extra push they need.
Look at a team like the Los Angeles Kings. They missed the playoffs in six straight seasons before being bounced in the first round two years in a row. Then, they hired the older experienced Darryl Sutter and boom. Stanley Cup. Now that doesn't always work out for every team, but the Kings needed time to grow, and it paid off.
This isn't to say that Dallas Eakins won't win the Cup with the Oilers. He very well may be able to do that in the next few years. Eakins understands young players. He's used to working with them. But with the exception of Barry Trotz in Nashville, coaches have a shelf life. There is no indication what kind of leader Eakins will be. He got a lot out of the young players on the Marlies, in particular Nazem Kadri and James Reimer. He coaches a defense first style and the systematic play of this team is likely going to look quite different. Will he get the most of out the young Oilers? Craig MacTavish certainly hopes so.
*Click here for an in depth analysis on Dallas Eakins as the Oilers head coach.  
Marcy, a former hockey player, is a hockey correspondent on CTV News and TSN radio. She began her career as a Sports Journalist in 2009 and has been part of The Hockey Writers since 2010, where she is currently a senior writer and editor.