The Dallas Stars addressed both immediate and future needs at the 2015 NHL Draft this weekend. The immediate need was trading their seventh round pick for the rights to San Jose goalie Antti Niemi. The Stars now have exclusive negotiating rights until July 1 when Niemi will become a free agent. However, by all reports the Stars will have Niemi signed before that date.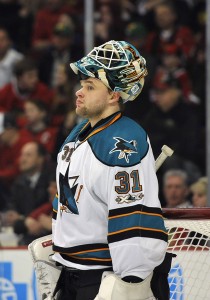 I'll have more to report on Niemi and his impact to the Stars once the news becomes official.  For now, I'll focus on the future Stars.
2015 Dallas Stars Draft Picks
As mentioned in Part I of my Stars Draft recap, Russian winger Denis Guryanov was the Stars first round pick (12th overall). It will be a year or possibly longer before Guryanov plays for Dallas but the thought is he will eventually fit in nicely with the Stars current stable of world-class forwards. Here he is against USA in the 2015 u18 tournament:
In the second round (49th overall), the Stars struck again with a bit of a surprise drafting Finnish forward Roope Hintz. The Stars actually projected Hintz, 6'3, 185, as 15th best player in the entire draft. Hintz, who turns 19 in November, is considered a high energy player and will be playing in Finland again in 2015-2016. Hintz has a little experience playing in North America already. He played briefly for the Bismark Bobcats of the NAHL in 2012-13. After the short stint with Bismark, Hintz returned to Finland to play for his hometown club Ilves Tampere in SM-liiga. He brings versatility as he can play both center and wing. His 2014-15 stats: 42g, 5g, 12a, 10pim, +10 plus/minus.
The Stars, without a third round pick this year, used their fourth round pick (103 overall) to select Chris Martenet a towering 6′ 7″ defenseman. He turns 19 in September and still needs some time to grow into his frame as he's only about 200 lbs. He hasn't played a lot of hockey but comes from an athletic family. Martenet, a left-handed shot, is from Wisconsin and played last season for the London Knights of the Ontario Hockey League. In 64 games he had 7 goals and 9 assists 49 pims and a +4 plus/minus.
London Knights Chris Martenet: 79 inches for height. 80 inch wingspan 205.15 for weight & 10.2 fat % #NHLDraft

— HockeyProspect.com (@ScoutingService) June 12, 2015
In the fifth round (133rd overall), the Stars selected Joseph Cecconi a right-handed shooting defenseman who played for the Muskegon Lumberjacks of the USHL for the past 2 seasons. Jim Nill's son, Trevor, actually coached Cecconi in the USHL. Cecconi impressed scouts as the season progressed and had a strong playoff performance, defeating Kyle Connor's Youngstown Phatoms in the USHL playoffs. He just turned 18 last month and is already 6′ 3" and 209 lbs. He will be heading to the university of Michigan in the fall. His 2014-15 stats: 60gp, 3g, 14a, 35pim and +10.
The Stars Director of European Scouting Kari Takko was the driving force behind the Stars' sixth round pick (163rd overall) Finnish goalie Markus Ruusu. One of the younger prospects in this year's draft, Ruusu 6′ 3″, 174 lbs, doesn't turn 18 until August. "Every draft you like to draft a goalie.  He's over there for four years" Jim Nill shared with Stars game day host Josh Bogorad in his recap of the Stars draft.
Bogorad went on to ask Nill for a realistic timeframe of when Stars fans could expect to see these players in the NHL.  Nill explained it should be 2-3 years for Guryanov and Lintz and about 3-5 years for the others. He confirmed fans will likely see them in Austin playing for the Texas Stars before they make it to the NHL club.  To see the entire discussion between Nill and Bogorad click here.
In conclusion, the Stars got the players they were targeting, and more importantly for the 2015-16 season, the Stars are well on their way to adding the NHL goalie they targeted.
I have a Bachelor of Arts Degree is Sociology from Bridgewater State College. I have covered amateur hockey prospects with Texas roots for the scoutingreport.org, and I am a Dallas Stars writer for The Hockey Writers. I can be reached via Twitter @EdTexmass09.