In what has to be the most ridiculous display of muscle flexing since Hulk Hogan body slammed Andre the Giant the NHL announced on Friday that Detroit Red Wings stars Pavel Datsyuk and Nicklas Lidstrom have been suspended and will not be allowed to compete on Tuesday against the Blue Jackets for not taking part in the All-Star Game hubbub this weekend. Datsyuk suffered a hip flexor late in last Tuesday's game against Phoenix and the latest word on Lidstrom is he's resting a sore elbow that has developed tendinitis. Said Wings GM Ken Holland in a spite-laced article in the Windsor Star:
"I'm not going to call Nick and tell him he's got to go to Montreal to sit and talk with the media for a day. Imagine me calling Nick, a six-time Norris Trophy winner, four-time Stanley Cup winner and someone who has gone to the last 10 all-star games and telling him he can't spend the time with his four boys and wife. I have too much respect for Nick because I know he's playing in pain. He's shown up at every NHL Awards show he's been nominated for. He's done everything the league has asked him to do. He's put in his time and he's paid his dues. I'm backing my player because I know he's hurt."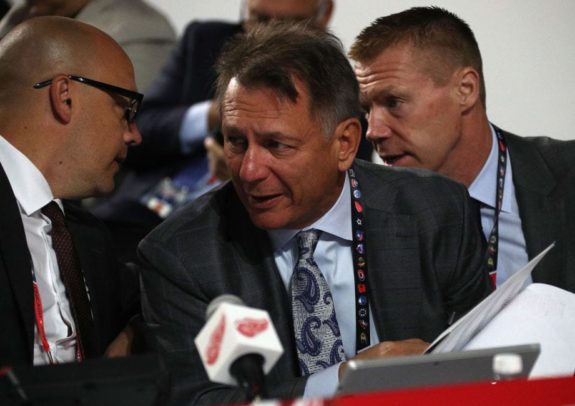 Holland had some choice words for NHL commissioner Gary Bettman as well, saying the Wings "played in the Winter Classic when asked even though there was some internal opposition" and that Detroit has "helped carry the flag for the league for more than a decade." Holland also stated that Lidstrom's elbow "has been an ongoing problem for a number of years, but it's only gotten worse as he's gotten older."
On the issue of Datsyuk being suspended Holland was just as adamant, acknowledging that with Johan Franzen already out after continuing to play with a sore hip the team simply doesn't want to take any chances.
"We're being cautious here because the last time I saw Franzen he couldn't play and wasn't walking well," Holland said. "There's a chance he (Datsyuk) might not play Tuesday (even if he's not suspended). We're fortunate to have some points in the bank and we're looking at the long term here."
"I understand the All-Star Game is important, but I'm not going to tell Nick and Pavel to go either," finished Holland.
Amen to that brother. The last thing Detroit needs is another jammed gun due to being forced to take place in a suit-aggrandizing shootout spectacle. Believe it or not the vast majority of the players taking place in the All-Star Game "festivities" could probably care less if they put forth the extra effort, but if they did that they'd probably get fined.
If the league really wants to enforce something why not start with the embarrassment that is the obstruction hooking call? Seriously fellas, either call it or don't.
But that's another story.