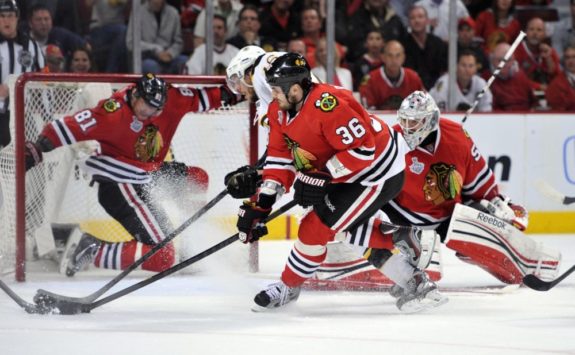 In 2010, Dave Bolland's antics helped the Chicago Blackhawks win the Stanley Cup.
1n 2013, Dave Bolland's antics might help them lose the Stanley Cup.
Dave Bolland's was at one point the Blackhawks most effective agitator. He would often do whatever was needed to get the opponent off of their game. Bolland was so good at it they he was aptly nicknamed "The rat." These days, Bolland's play has gone south at the worst possible time. In game three of the Stanley Cup Finals,Bolland's play led to the two goals in the game being scored. Also, he was 1-for-7 in the faceoffs and he also spent six minutes in the penalty box.
The Blackhawks can live without the penalties Bolland gets as long as he makes positive contributions to the team.
This isn't one of them:
Ever since Bolland was moved up to be the second line center, he has struggled. I'm not sure if that has something to do with raised expectations or injuries. Either way, Blackhawks fans would love to see the Bolland of old:
Most thought the Bolland was back to his normal self during the Red Wings series. The hit he put on the Los Angeles Kings' Mike Richards during the Western Conference finals was the stuff that put Bolland back into the good graces of Blackhawks fans. See here:
During game three, Bolland's less than stellar play led to two goals. One where the puck was taken from him and the second came via the power play on which he sent to the penalty box.
At this point, what can be done to right the ship? Holding on the puck and not taking foolish penalties that lead to scoring opportunities for the opponent to start. If Bolland can figure things out soon, that would go a long way into getting the Blackhawks back into this series. Tonight's game four is huge. The Blackhawks can either tie up the series heading back to Chicago or they could find themselves in a hole that would be difficult to climb out of.