It's a known fact the Nashville Predators have been the cream of the crop when it comes to drafting defenseman.  They've drafted the likes of Weber, Suter, Josi, Ellis, Klein, etc. and their uncanny ability to develop future defensive studs is unmatched in the NHL.  Their system is consistently jam-packed with high-level blueliners.  This offseason, having that many players on the backend can prove to be a luxury in the current "buyer's market".
The Philadelphia Flyers have been in the hockey news much of the past week or so with the acquisition of Mark Streit, the amnestying of Danny Briere, the fiasco that is Ilya Bryzgalov, and the possibility of acquiring players like Jonathan Bernier, Keith Yandle, and Bobby Ryan.  Paul Holmgren (I think) has finally realized that the problems on defense have to be fixed.  There aren't many key defenseman available in free agency, so the trade route is likely going to be the option for the Flyers.
In terms of trades, the Flyers and Predators have always seemed to be great trading partners.  Countless deals have been made between the two teams and, for all intents and purposes, they seem to be on good terms.  The whole "signing Shea Weber to an offer sheet" may have thrown a small wrench into the gearbox for a hot minute, but Nashville has what the Flyers want: DEFENSE!
One player who may be on the way out is Jonathon Blum.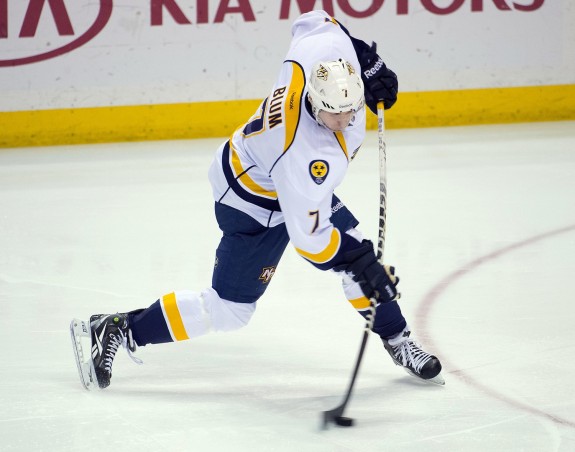 As THW's Brian Roe mentioned in his article on the acquisition of T.J. Brennan by the Predators:
"Personally, I think this deal is just another sign that the Predators are going to trade a young defenseman like Blum or Ellis.  Ellis will probably get another chance to prove himself at the NHL level.  Blum is a different story.  His contract is up and it may be time for both sides to move on.  The former first round pick still retains a high ceiling, but his value to the Predators dwindles a little more each year after spending significant time in coach Barry Trotz's doghouse.  It's easy to think Nashville may be shopping Blum and hoping to get back a draft choice or a young forward with a similar development path as Blum.  Teams are always looking for young, puck-moving defensemen so Nashville should find a market for Blum's services this off-season, if they decide to deal him."
Blum is a player I've liked since his draft year in 2007.  He was the player I thought the Flyers would select with their second 1st round selection until they traded it for the rights to Scott Hartnell and Kimmo Timonen who have become key players for the Flyers the past six seasons.  Blum has bided his time being shuffled between the NHL and AHL and it's finally time he makes an impact with a team that can use him full-time.
It isn't necessary for Holmgren to go all out to bring in a player like Keith Yandle.  Sure it would be nice, but a young, cheap defenseman like Blum – keyword being cheap – could do a lot for a team who is missing an all-around defenseman.  With Holmgren's cap woes at a premium, the Golden State native could provide much needed help at a fraction of the cost.
To acquire Blum, Holmgren may seriously consider trading Andrej Meszaros for a 3rd rounder.  Although he's had a nagging injury the past year, it isn't inconceivable to think Meszaros can fetch that high a draft pick, especially when healthy.  It would free up an extra $4 million in cap space and give the Flyers a pick that could be traded for a Blum – a reasonable asking price for a quality defenseman who still has a lot to prove in the NHL.
It's time for the Flyers to stop looking for the "shiny new toy" (ie. Yandle) that will cost a pretty penny and look for less costly ways to better their team.  Jonathon Blum is definitely a start.
Follow Shawn Reznik on Twitter: @ShawnTHW