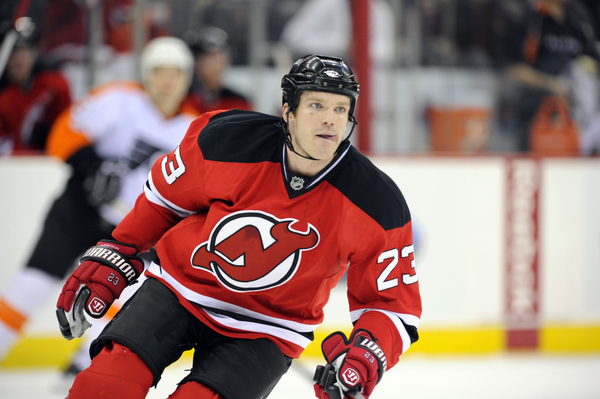 Through the first quarter of the 2013 season, there have been a number of factors that have played into the successful start the New Jersey Devils have had. The play of David Clarkson through those first 12 games has certainly grabbed the attention of many
This is David Clarkson's 7th season with the New Jersey Devils and it has the makings of being his biggest. That's saying a lot because the 2011/2012 season was a pretty remarkable one for the right winger as he reached that always impressive 30 goal mark, which was a career high along with a career high in assists.  Through 13 games this season, he leads the Devils in the goal category with 9 and is tied for the team lead in the points with 15. He's already had three multiple point games this season, including the Feb 5th matchup against the Rangers where he walked away with 2 goals and 1 assist.
Due to all his hard work over the last two seasons, his name is now being thrown in the conversation with guys like Milan Lucic, Ryane Clowe and David Backes when people talk about the best power forwards in the league today.  If you browse a number of fantasy hockey forums, you will see a lot of conversations about starting David Clarkson over guys like Vinny Lecavelier, Corey Perry and Jeff Carter to name a few.
I will admit, for years I would pick David Clarkson to be the Devils breakout star when training camp opened and by the time April would roll around, it was always very clear that he wasn't. After the 2010/2011 season, I gave up on the guy and wanted him shipped out of town because I felt that the Devils needed more scoring and he just wasn't up to the task. Up until that season, I had always looked at him as a player with Randy McKay type potential, but after the 2010/2011 season, I couldn't even compare him to Mike Danton.
Enter Peter DeBoer who had success with Clarkson while the two had been in Kitchener together. The best thing to happen to David Clarkson's career has been the hiring Peter DeBoer and some could argue that David Clarkson has been extremely important to DeBoer since his arrival in NJ. DeBoer came into NJ, knew they type of player Clarkson was and put him into a role that boosted his confidence levels. Clarkson has always worked hard and now with the right coach, it is starting to pay off. I feel a bit embarrassed for giving up on him a few seasons ago. Over the past two seasons, we've seen him score clutch goals, conduct himself with great leadership qualities during post-game interviews and he's even making a few funny commercials to entertain us during game stoppages. It's a great success story and a reminder that sometimes, we just need the right person in our lives who believes in us. As much as I wanted the Devils to get rid of him, I'm glad they didn't.
I do expect that David Clarkson will quiet down a bit at least on the goal scoring front. For the most part, his goals are coming from rebounds, redirections and bounces and those types of goal scorers tend to ebb and flow over time. He plays on a great line that consists of a great set-up man (Elias) and a great finisher (Henrique) so I don't see him completely dropping off the score sheet. We will see if the addition of Alexei Ponikarovsky will change the way the Devils utilize David Clarkson but I would be willing to bet that it doesn't.