One of the harsh realities of being a fan of a professional sports team is that sometimes, that team, your team, lets one of your favorite players go. Coming off an underwhelming season and with little available cap space to improve the roster, the expectation was that the Rangers would be active in the trade market to boost their chances of competing for a Cup in 2017. Assuming the team goes that route, it's inevitable the Blueshirts would have to deal away at least one of the fans' favorite players.
The Rumor
Larry Brooks of the New York Post reported, among several items, that it is believed the Minnesota Wild have strong interest in Rangers center Derek Stepan. This rumored interest makes sense on several levels. First, Stepan is a local boy, born in Hastings, Minnesota, and the Wild love to bring local boys home. In recent years the Wild have signed Zach Parise (Minneapolis) and Thomas Vanek (University of Minnesota) as free agents and are often linked to other players with Minnesota roots when they come available.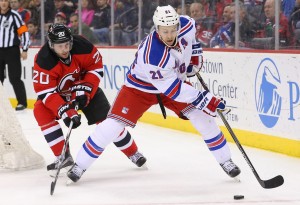 Second, the Wild were thought to be involved in the Ryan Johansen trade discussions last year before the pivot was dealt from Columbus to Nashville for D Seth Jones. That pursuit would at least suggest the team is interested in upgrading their center group. C Mikko Koivu led the Wild in scoring with 56 points in 82 contests (0.68 points-per-game) but is 33. Mikael Granlund ranked second among Wild centers with 44 points (0.54 points-per-game). There would seem to be room for improvement.
Of course what would make Stepan appealing to the Wild is also what makes him valuable to the Rangers. Over the last three seasons, Stepan ranks tied for 23rd among NHL centers who have appeared in at least 180 contests averaging 0.74 points-per-game. His 0.50 assists-per-game place him in a tie for 13th. While these numbers may not put Stepan into the upper tier of #1 centers it does qualify him as a solid #1B option. And that would be alright on its own but there's more to Stepan than solid point production.
The Rangers use Stepan as one of their top penalty-killing forwards; more so than most teams use their top centers. He saw the 55th most time of any pivot in shorthanded ice time over the last three seasons. Only six centers have seen more ice time killing penalties per game while also out-producing Stepan offensively (Anze Kopitar, Jeff Carter, Ryan O'Reilly, Ryan Getzlaf, Patrice Bergeron and Bryan Little).
Finally, Stepan contributes with his club a man up. Among centers who appeared in 60 games and averaged at least two minutes of man-advantage ice per game, Stepan ranked 16th tallying 5.09 pts/60.
The Rangers second-round draft pick in 2008 has developed into one of the league's steadiest pivots and being a homegrown Blueshirt enhances his status as a fan favorite.
The bottom line is if the Rangers end up dealing Stepan, whether to Minnesota or elsewhere, the return needs to be significant. In their pursuit of Johansen, it was said the Wild were willing to send defenseman Jonas Brodin and a forward to Columbus. It stands to reason that Minnesota would be amenable to a similar package in a hypothetical trade for Stepan.
The Hypothetical Return
Brodin, 22, just completed his fourth NHL season, all with Minnesota. He was the team's first-round pick, 11th overall, in 2011. Brodin is noted for his puck-moving ability but isn't known for his scoring prowess. In 263 career NHL games he's recorded just 54 points. Over the last three seasons his 0.52 pts/60 at even strength rate ranks 116th of 127 blue liners who have appeared in a minimum of 180 games during that span.
More troubling than the lack of offense has been Brodin's struggles in the puck possession department. In our three-season span, Brodin's SAT% is 47.71%. He still has five years remaining on a contract calling for a cap hit of $4.167MM per season (contract info courtesy of GeneralFanager.com). That's a solid price for a top-four defender but it's hard to consider Brodin a top-four given his poor possession numbers and lack of offense. A deal to pry Stepan from New York should realistically start elsewhere.
A More Palatable Option
A better blue line option would be Jared Spurgeon. He's produced points at nearly double Brodin's pace, tallying 1.01 pts/60 at even strength. That's good for 52nd among the 127 who have played in at least 180 games the last three seasons. Spurgeon's possession numbers are also significantly better. His SAT% at five-on-five over the last three campaigns is 51.79%. His $5.187 cap charge over the next four seasons might be a bit steep but he's a safer bet as a top-four defender than Brodin.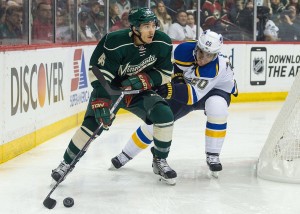 In terms of prospects and draft choices, the Wild's cupboard is a bit bare. The club only has four draft choices to make in the 2016 draft: their first, a fourth and two seventh-round picks. Their best prospect is likely F Joel Eriksson Ek of Sweden, the team's first-round pick last June. Scouting reports peg Eriksson Ek as an excellent two-way center with an elite shot, great vision and tremendous puck-handling ability.
Minimal Net Gain
Even if the Rangers decision-makers agree that this hypothetical iteration of a Stepan to Minnesota trade (Spurgeon and Eriksson Ek for Stepan) represents tremendous value for the Blueshirts, it's difficult to see how this helps the team for 2016-2017. While Spurgeon would help the puck-moving from the team's blue line, subtracting Stepan leaves the team thin at the pivot position. Derick Brassard is a solid enough #2, leading the Rangers in goals in 2015-2016, but he's not nearly the two-way player Stepan is. Kevin Hayes, who had a strong rookie campaign, took a step backwards in his development as a sophomore. Oscar Lindberg will miss the first six weeks of the upcoming season after hip surgery. The Rangers would have to make some sort of move to add another top-six center, assuming they move Stepan in any deal.
Brassard a Better Trade Candidate
In fact, if I am the Rangers I'd be more willing to discuss a Brassard-for-Spurgeon swap than one centering around Stepan. The money essentially balances out with Brassard's $5MM cap charge canceling Spurgeon's $5.1875MM. The Wild get a solid center and the Rangers add more puck-moving ability to their back-end. Sure, it still weakens the Blueshirts at the center spot but Stepan's all-around game makes him harder to replace than Brassard.
I'm a big believer that no player should be untouchable. Sure, it's harder to imagine a realistic scenario where certain players could be dealt than it is for others, but no player should be off the table in trade talks. That being said, envisioning a deal which makes the Rangers better in 2016 – 2017 while shipping Stepan out-of-town doesn't appear too realistic.
Native Southern Californian who somehow adopted the New York Rangers as my favorite team. I've written for quite a few websites during my days as a blogger including: Inside Hockey, Ranger Nation and SNY.tv. By day, I work as an operations manager.