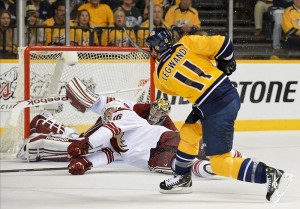 Everywhere you look, Nashville is blowing up. Whether it's The New York Times serving up the emerging cuisine of East Nashville or GQ renaming the city "Nowville," it's clear that Nashville is one hip place to live and work.
Bloomberg ranked Nashville 28th on its list of top 50 best places to live in the United States. Yet, it seems that NHL players aren't getting the memo as the top free agents continually choose other teams over the Predators.
With the recent news in the Tennessean that the Predators are on Shane Doan's short list, you have to wonder if this is just another chance for Nashville to finish in second place or will Doan blaze the trail that future free agents will follow? Shane Doan is arguably the best remaining free agent available and his situation is quite unique. Doan would prefer to stay in Phoenix, but the questions surrounding ownership and the future of the NHL in Phoenix may force his hand to sign with a new team.
Why is Nashville having such a hard time landing elite free agents? Our biggest signings and trades have almost exclusively been players past their primes looking for one last miraculous run to the Cup. I can't recall a single signing of a player that was in his prime or just on the cusp of it. I guess Matthew Lombardi would be closest thing to a top notch player that we have signed since the lockout.
Not even two games and one lingering concussion later, he was on his way out of town and many fans still wonder if the Lombardi experiment was just a dream or a bad trip of acid gone horribly wrong.
I think the problem is two-fold. There are (or were) certain conditions in place that made Nashville seem less desirable to elite free agents and I think the team is dropping the ball in selling guys on the team and the city. It's really just a matter of perception vs. reality.
The Trotz Factor
PERCEPTION: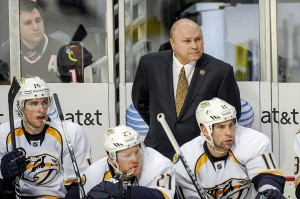 I would like to be clear about this right up front. I believe that Barry Trotz is a better than average NHL coach. That would put him in the top 15 of coaches in the league.
That being said, I think there are two perceptions tied to Trotz that sour free agents to Nashville. The first is his style of play. He demands that his players give 100% on each and every shift and that they must be defensively responsible if they want to earn ice time. Again, there's absolutely nothing wrong with this style of play or coaching strategy. All you have to do to measure its success is to look at the Predators' record since the Lockout.
The Predators have made the playoffs in each season since the lockout except for the 2008-09 season. That year, they finished in 10th place in the Western conference, only three points out of the last playoff spot.
The elite free agents, particularly those offensively-gifted ones that Nashville has sought unsuccessfully for years, aren't too keen on coming in and playing a defensive style of hockey and winning games 3-2 or 2-1. They want to play a more up tempo game where their skill set will be showcased night in and night out. To make an easy comparison to college basketball, the top high school prospects want to play at schools that feature up tempo playing styles like Kentucky so that they can showcase their skills to NBA scouts.
But, you don't always have to have the best offensive players to win. Just look at Butler University's men's basketball team. Their players bought into a playing style that one could argue mirrors Barry Trotz' style in the NHL and they were one shot and one half of better than abysmal shooting from winning back-to-back NCAA championships.
REALITY:
While Trotz is still the head coach and he will continue to demand defensive responsibility from his forwards, there are signs that his style of play might be evolving. In 2010-11, the Predators were 22nd in the league in goal scoring, averaging 2.60 goals for per game. Their power play was even worse, coming in 26th place in the league, scoring at a clip of 15.2 percent.
By contrast, Nashville was 8th in the league in goal scoring last season despite losing 47 goals from their lineup due to the departures of Joel Ward, Steve Sullivan, J.P. Dumont, Marcel Goc and Cody Franson. A big reason for this turnaround came on the power play where Nashville had the league's top power play, scoring on 21.6% of their man advantages.
What about the defense? In 2010-11, the Predators gave up 190 goals, good enough for the third fewest number of goals given up in the league. Last season, they were still better than average, but they slipped to 9th place giving up a total of 205 goals.
While some might say that last season's offensive outburst was an anomaly, I believe that it was an indicator of a shift in Trotz' style. The better performance on the power play last season can be directly attributed to Trotz taking over the coaching responsibility of that aspect of the special teams. It's reasonable to deduce that spending all of that extra time developing the power play carried over into Trotz' coaching strategies in other areas of the game.
SOLUTION:
The departure of Ryan Suter should help to accelerate the change in Trotz' style. While I will look at the overall impact of Suter's loss in another article, it's pretty safe to say that the Predators' overall defense will be weakened to some degree. To help offset that weakening, it will be critical for the Predators to generate more offense if they want to remain competitive.
Of course, perception always lags behind reality. Maintaining the higher offensive numbers from last season to this one will be crucial in proving to free agents that the culture has changed. And once the culture has changed, it will be up to GM David Poile to sell that to free agents. Sam Page from On The Forecheck wrote a wonderful article advocating that the Predators need to sell Nashville as a stage for stars and not necessarily as a great place to raise a family. I couldn't agree with him more.
Ownership Stability & Commitment
PERCEPTION:
It is no secret that the Nashville Predators have had their fair share of ownership issues over the years. The Summer of 2007 was certainly an interesting one for Preds fans. Owner Craig Leipold forever tarnished his reputation in Music City when he agreed to sell the Predators to Jim Balsillie, a Canadian businessman. Balsillie wasn't bashful in sharing his desire to move the Predators to Hamilton, Ontario. Famously, he even set up through Ticketmaster a place for fans in Southern Ontario to place season ticket deposits for the "Hamilton Predators."
Balsillie's actions solidified the resolve of the local hockey community in Nashville to fight to keep their Predators. As a result, a new ownership group made up of mostly local businessmen emerged. On November 29, 2007, the sale of the Predators to the local ownership group was finalized, but that didn't put an end to ownership questions.
The new, mostly local ownership group included William "Boots" Del Biaggio III, a venture capitalist from San Jose, who held a 27% stake in the Predators after the sale was completed. For the second consecutive off-season, the Predators faced ownership questions when Del Biaggio ran into a series of legal troubles that ended with him filing for bankruptcy and being sentenced to prison.
REALITY:
In the intervening four years, the ownership group has solidified and allowed the performance of the team on the ice to dominate the news out of Nashville. In 2010, the Predators made two front office hires that flew under the radar in Nashville, but they signaled a change in the team's mindset. They brought in Jeff Cogen as CEO, formerly of the Dallas Stars, and Sean Henry as President and COO, formerly of the Tampa Bay Lightning. Both men have had success in nontraditional hockey markets and they each have a Stanley Cup ring as part of their bling collection.
SOLUTION:
While the ownership issues were a real concern in the past, it would seem that the foundation is solid and the future looks bright. Again, it takes time for reality to destroy perceptions, but I think the ownership group made a pretty big statement when they matched Shea Weber's offer sheet last month. The owners have stated that they will spend to the salary cap to field a competitive team moving forward. They also claimed that they would match any offer sheet made on Shea Weber. So far, they have been true to their word. If they continue to be truthful, this concern will be a non-issue soon enough.
The Cupboard is Bare
PERCEPTION: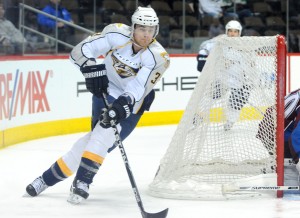 There are two main motivating factors that free agents look at when deciding where to play, money and the likelihood of winning the Stanley Cup. Sure, there are other factors that come into play such as opportunities for endorsements, playing in a traditional market or close to family and the overall quality of life of the team's city, but usually it all comes down to money or the chance to lift Lord Stanley's Cup.
Yes, there are exceptions to the rule such as what we saw this Summer when Ryan Suter and Zach Parise turned down more money from teams that were better positioned to win now in order to play close to home and with each other. However, there is something to learn from these signings. Parise said that one of the factors that he looked at when making the decision to sign for 13 years was the Wild's prospects. And why wouldn't he? If he's committing to be with a team for the next 13 years, it would be nice to know that there are some good young studs coming up through the system.
Despite having the 9th ranked pool of prospects according to HockeysFuture.com, it seems that the perception around the league is that Nashville's cupboard is bare. There are plenty of reasons for this perception, but I think a big reason for this fallacy is Alexander Radulov. With his defection to the KHL, he took more than his massive skill set to mother Russia. Barry Trotz has always preached that the road to Nashville is paved through Milwaukee, referring to its AHL affiliate. Alexander Radulov's stint in Milwaukee lasted precisely 11 games.
My memory is a bit foggy as I get older, so without tracking down each player on the Predators, I'm going to say that this the shortest stay before this past season since the early days of the franchise. If you look at our top line, only Martin Erat is an original Predator draftee. So, you can sort of see why some people hold this perception.
REALITY:
The reality is that there are two things that the Predators do really well: draft defensemen and goalies. When it comes to forwards, it seems that the franchise has taken a more conservative stance, drafting players that are defensively responsible and would fit well in Barry Trotz' style. The one time that they ventured outside of their comfort zone was the year that they took Radulov. After what happened, you can understand why they are a bit gun shy when it comes to rolling the dice at the draft.
Another factor to consider is that the Predators' continued success since the lockout means that they aren't drafting in the first half of each round. They are also trading away draft picks for veteran players to help the team win right now as they did in acquiring Paul Gaustad.
That being said, you are starting to see results with the Predators' draft choices. Last season, Craig Smith, a fourth round draft choice, skipped the Milwaukee route and started his professional career in Nashville. He had a fast start, but cooled off at the end of the season like many college players do, yet he still finished with 14 goals among 36 points. Colin Wilson set a new career high in points with 35, despite seeing his ice time drop dramatically once Andrei Kostitsyn and Alexander Radulov joined the team. Patric Hornqvist has developed in a solid 25-30 goal scorer and he's another late round gem, taken in the seventh round. And let's not forget about last year's playoffs darling, Gabriel Bourque. In his first NHL regular season action, the fifth round draft pick scored seven goals and 19 points in 43 games. In the playoffs, he elevated his game scoring three goals and five points in 10 games.
SOLUTION:
I subscribe to the theory that if it's not broken, don't fix it. The Predators will always draft better at the goaltender and defenseman positions. The nice thing is that the other teams pretty much suck at it. Moving forward, I would like to see GM David Poile leverage his assets better to balance out our prospect pool. A great example of this is the Anders Lindback trade in which the Predators were able to get two second round picks in 2012 and a third round pick in 2013. They were then able to use those 2012 picks to pick up forwards Pontus Aberg and Colton Sissons.
While it's nice to trade away assets for draft picks, I would like to see the Predators trade prospects for prospects to help even out their prospect pool. Trading a promising young defenseman for a promising young forward could help both teams get better in the end. The reality is that no, we don't have any future 50 goal scorers in our system, but the Predators have drafted quite well and have maximized the potential of their prospects. If they continue to do so, then their cupboard will be anything but bare.
The Owners have no Money
PERCEPTION: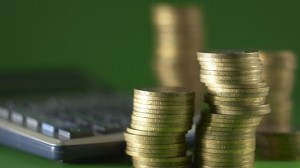 Maybe it's a hangover effect lingering from the whole Del Biaggio fiasco or just a general misconception that a local Nashville ownership group couldn't possibly have enough money in the bank to field a competitive team, but it seems that there's a prevalent perception around the league from fans, media and players alike that the Nashville owners are a bunch of country bumpkins. Granted, the Predators aren't owned by a single family with huge corporate pockets to fall back on like the Flyers with Comcast or the Red Wings with Little Caesar's, but the owners of the Predators are hardly on skid row either.
REALITY:
You would think that matching Shea Weber's offer sheet and committing $27 million to one player over the next 365 days would go a long way to silencing the critics, but it seems that haters will always find a way to hate. Before the Predators committed to the match, the general consensus outside of Nashville was that the Predators couldn't afford to match the high cost of Weber's contract. After the match, their opinion changed to one that the Predators couldn't compete because all of their money is tied up in Shea Weber.
The reality is that the Predators stated that they would match any offer sheet on Shea Weber and that they would spend to the cap this season. So far, they made good on the first declaration and there's no reason to doubt that they wouldn't be willing to follow through on the second.
The Predators ownership group is a group of wealthy individuals that, with the exception of W. Brett Wilson, have deep ties to Nashville. I could list every single member of the ownership group one by one and detail their personal worth, but I'll simply demonstrate the financial wherewithal of owner Herb Fritch.
Cigna bought Fritch's company HealthSpring for $3.8 Billion late last year. Fritch's personal score in the deal was said to be between $125 and $150 million. On top of that, a few weeks ago Herb Fritch donated $2.9 million to the Duluth Heritage Sports Center the day before Ryan Suter signed with the Wild. Given that two of his players were in line to earn massive deals approaching $100 million each, I hardly doubt that Fritch would have given away nearly $3 million if he were in dire straits.
SOLUTION:
Without the owners of the Predators fully disclosing their personal net worth, there will always be naysayers who will doubt their ability to afford a competitive team. Even if they did disclose their financial information, people will still continue to believe their misconception.
The only way to prove that they can afford to field a competitive team is to literally put their money where their mouths are. They have claimed that they are willing to spend to the salary cap. Of course, spending money simply to prove you can is pretty frivolous. I fully expect that if the Predators are in the hunt for a playoff spot next season at the trading deadline, they will once again give David Poile permission to add pieces to get the team over the hump.
On the flip side, if the Predators are not in position to compete for a playoff spot, I have faith that they won't simply spend money just to get to the cap. In other words, they will run the team with financial responsibility dictated by their on-ice play. If only more teams in the NHL followed this simple maxim.
Nashville is Hicksville
PERCEPTION: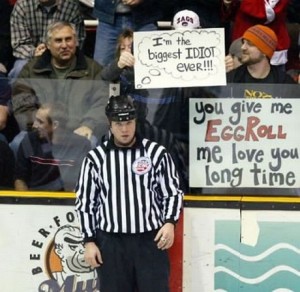 We have all heard the jokes. Do you all wear shoes in Tennessee? No one in Tennessee knows anything about hockey. They all marry their cousins. And so on and so on and so on.
Hockey is a sport with its richest history and traditions entrenched in Canada and the Northeast United States. It is also a sport that celebrates its decades old rivalries. It is the only sport that I know of that markets merchandise specifically for the "Original Six."
This mentality breeds an air of superiority in the fans of these clubs and they are unable to fathom a team outside of the Original Six having sustained success.
REALITY:
While it is true that our state government enacts some interesting laws, I think it's safe to say that most of these perceptions are way off base. Sure, we can carry a gun into a bar, our kids are not allowed to hold hands in school and our government is still working on making it illegal to say "gay," but I think as you can see above, the city is coming into its own and starting to get national recognition for its hipness.
Not only is Nashville a great place to live and raise a family as the Predators tout frequently, but it's also a place to maximize your high price contract. The one benefit of playing in Nashville that is not mentioned enough is the state's lack of income tax. Let's take Shea Weber's deal as an example. Over the course of the deal, Shea would have had to pay $3,377,000 in state income tax in Philadelphia. By contrast, Tennessee which doesn't have a state income tax does collect what is known as the Professional Privilege Tax for Professional Athletes. Each professional athlete has to pay a flat fee of $2,500 each time it plays in Tennessee up to three times a year. This tax covers both Predators players and visitors coming into Bridgestone Arena. So, over the course of the 14 year deal, Shea will pay a total of $105,000 in Professional Privilege Tax.
When the Predators matched the deal, Shea earned at least an additional $3,272,000 over what he would have made in Philadelphia. Actually, he would make a little bit more, because every time he played in Nashville as a Flyer, he would have had to pay $2,500. That's the equivalent of the Predators throwing in a free Belle Meade mansion in the deal.
SOLUTION:
This is yet again another case of perception lagging behind reality. Of course, in this case perception has been lagging behind reality for many decades. When I moved down here, I used to joke with my buddies up North that all of the stereotypes they heard about Nashville and Tennessee were completely true. After moving here, I discovered that Nashville is indeed a hidden gem and at the time, I wanted it all for myself.
I think the Predators players to a certain extent felt the same way. Maybe not in the keeping it to themselves way, but they discovered just how great it is to live and raise a family in Nashville. It explains why many of the Predators stay in town after they retire and why players like this year's free agent signee Chris Mason return for second (or third) stints with the Predators.
Naturally, moving forward, the onus is on the Predators front office and Shea Weber to help get the word out on Nashville as a destination. As Sam Page mentioned in his article, that means selling Nashville as a stage for the superstars of the league looking to head into their prime. But, it also means continuing to sell Nashville as a wonderful place to raise a family to those veterans who are looking for a shot to win the Cup and a place to settle down once their playing career is over.
The front office staff needs to be proactive in lobbying the league to host the All-Star game once the new convention center is completed. Even Gary Bettman has hinted that Nashville hosting an All-Star game is a distinct possibility after the convention center is finished. There really is no better way to sell the city to the league's biggest stars than a weekend-long party up and down the honky tonks of Broadway.
Here's a really unique idea that I would certainly be pursuing if I worked for the Predators. ABC has a new TV series debuting this Fall called, appropriately, "Nashville." The production is currently filming in Nashville and what better way to gain positive exposure than to feature the Predators or real players in the series. I'm not sure if there will be crossover with actual country music stars on the show, but if so, I would imagine that there would a great opportunity for Carrie Underwood and Mike Fisher to appear and help sell country music and the Predators, respectively. Or, how about a nice little story arc in which the lead character played by Hayden Panettiere has a steamy romance with Predators captain Shea Weber?
Regardless, I can't help but think that a successful show set in and about Nashville can only help to destroy these perceptions of the city and the region and make it a more attractive option for free agents.
Perceptions don't change overnight. It's a long and arduous process, but it seems that the Predators are on the right track. Moving forward, they now have their captain Shea Weber locked into a long-term deal, so he will become an even bigger cheerleader for Nashville and the Predators as he convinces his peers to come to town and help them to hoist Lord Stanley's Cup.