One of the more interesting decisions facing New Jersey Devils coach Pete DeBoer heading into next season will be which player will center his top gun Ilya Kovalchuk? The two likely candidates vying for the spot as the sniper's set-up man will be Adam Henrique and Travis Zajac. Each has spent almost a full season centering the Devils most explosive player and both were successful in doing so.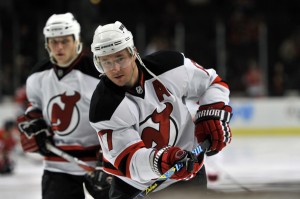 This past season Kovalchuk finished fifth in the NHL scoring race with 83 points in 77 games, the majority of those games were played with a rookie named Henrique as his center. Of the 37 goals Kovalchuk netted, Henrique assisted on 10 of them — 27%. That's not bad considering that they weren't together for all 82 games, it could be about 56-62 (Henrique played in 74 games).
Here is a look at one of Henrique's helpers, a quick pass to Kovalchuk for a snipe against Tampa at the end of last season:
The previous season aka the John MacLean failed experiment and the Jacques Lemaire salvage job, Kovalchuk had only 60 points in 81 games played. Zajac was his pivot for most of the season, especially after Zach Parise's season-ending injury and Lemaire's arrival. Of the 31 goals Kovalchuk potted, Zajac assisted on 12 of them — 38%.
Here's Zajac winning a face-off right to Kovalchuk for a go-ahead goal against San Jose during their miracle run in February of 2011:
It's likely that both will see time alongside Kovalchuk on the power play in 2012-13 because he usually plays the full two minutes at the point. Another option is also on the penalty kill, where Henrique excelled last year.
Heck maybe DeBoer throws everyone a curveball and pairs him with Jacob Josefson, who could be poised for a breakout year if he can stay healthy. Here's a look at Josefson's first NHL point, a nice drop pass to the waiting trigger-man Kovalchuk against the Islanders:
All three centers could see time with Kovalchuk next season, but the numbers back up my gut feeling that it should be Zajac centering the top line. Obviously the right winger on that line will be very important, but Zajac and Kovalchuk have shown enough chemistry over the past few years that the line should be successful no matter who else is on the line.
Dan Rice can be reached via Twitter: @DRdiablo321 or via email: drdiablo321@yahoo.com