Without a doubt, Seabrook is the anchor for the defensive core in Chicago. His all-around attributes give the Blackhawks stability in nearly every area of the game. He's physical, tough, heavy shot, moves the puck well, clears the crease, defends with authority, blocks shots, kills penalties, and plays on the power-play.
Playing an upwards of 25 minutes per night with Duncan Keith (The Odd Couple), possibly the best pairing in the entire world, gives Seabrook an advantage due to the impeccable chemistry they have developed over the years. Even as he has shuffled around Joel Quenneville's line-up (finding himself with Niklas Hjalmarrson at times) he has continued to lead the defense flawlessly. For the most part, it's rare that you'll see Brent make too mistakes through-out a game, and just as rare to see him skate a bad shift.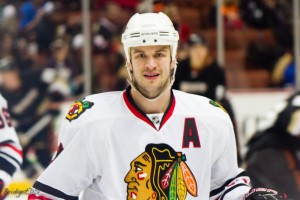 Brent Seabrook isn't the type of guy that is going to end up on the scoresheet every night, at least as far as points, he could but that's not what he's there for. Instead, he will have several hits per game, coupled with a few blocked shots, solid defensive play, etc… but most importantly, of those 25 minutes, he will play against the most quality of competition in the NHL each and every second. In the last two years, Seabrook has led the entire NHL defense in QC, which is the average relative plus-minus of opposing players, weighted by head-to-head ice time. This is not a general stat kept by the NHL. However, it is still useful in determining the worth of minutes a particular player is playing.
Of course, QC doesn't necessarily show how well Seabrook has played against his competition, only the quality of his opponent, but plus-minus does help determine how well he played. Among the top 10 defenseman in QC, Brent Seabrook came out as 4th best in plus-minus. After Brent, the drop off is considerably worse and he was more comparable to Zdeno Chara, Johnny Boychuk, and Ryan McDonagh but just fell short of overtaking them.
QUALITY OF COMPETITION (QC)
TOP 10 DEFENSEMAN
Zdeno Chara +33 (8.9)
Johnny Boychuk +27 (7.9)
Ryan McDonagh +25 (8.6)
Brent Seabrook +21 (9.3)
Josh Gorges +14 (9.8)
Dan Girardi +13 (8.6)
Karl Alzner +12 (8.3)
PK Subban +9 (8.2)
Carlo Colaiacovo +7 (7.8)
Dion Phaneuf -10 (9.0)
*Sidenote… looking at that list is funny considering Phaneuf is at the bottom of the pack. In Seabrook's rookie year, many touted him as the "poor mans" Phaneuf since Dion was considered the much better rookie. Who's poor now?
The higher the number, the harder their competition was. As said before, Seabrook was 2nd in terms of difficulty (behind Gorges) but comes in 4th in terms of plus-minus. Take into consideration that Chara, Boychuk, and McDonagh all were at least 0.4-1.4 points off in terms of QC, which can translate into a lot more difficult situations throughout an 82 game season and maybe even hurt his plus-minus enough to keep him out of the top-3. Throw in the effect that the QT (Quality of Teammates) for Seabrook was far worse (-9.3) than anyone in the top 10, just goes to show how much Seabrook contributes to Chicago and should give an idea of what his true worth is in the NHL today compared to other top defenseman.
Personally, I believe Brent Seabrook should deserve some consideration as a Norris candidate at some point soon in his career, but his offensive numbers will have to climb to new heights which will be difficult with Duncan Keith leading the rush on his pairing. Regardless of his ability to contribute average offensive output, Seabrook could very well be the best all-around defenseman in the entire NHL outside of Zdeno Chara and arguably Shea Weber (who does not make this list as he was 16th in QC). He is cut from the same mold and quite honestly, outside of Jonathan Toews, Seabrook is the most important Blackhawk on the ice every game.
If Duncan Keith can elevate his game to the level he is capable of playing, in turn it will help Seabrook immensely. I don't want to say Keith has been an anchor that has held Seabrook back, but Duncan certainly hasn't performed to the level that he can in the last two seasons. If Keith does return to that level, it will help Brent push his potential even higher and maybe even give him a nod for the Norris.
PREDICTION:  80 GAMES | 13 GOALS | 36 ASSISTS | 49 POINTS | PLUS-31
I started covering the Chicago Blackhawks in 2007 for IndianHeadNation.com and eventually on Twitter and now The Hockey Writers. Although I've never played at a professional level, I have followed the NHL religiously, analytically, and statistically since 1999, and a born fan since 1989. I have one true passion: HOCKEY.