With the Detroit Red Wings earning their 24th consecutive post-season appearance, there are plenty of question marks surrounding the team as they head into their series against the Tampa Bay Lightning. Let's take a look at some of the more interesting storylines for the Red Wings prior to game one of the series.
Mrazek Starts in Game One
Mike Babcock has always maintained that the best players will play in Detroit's lineup. At the same time, he has also stated that the "tie goes to the veteran". That must mean that Petr Mrazek has the edge on Jimmy Howard, at least in Babcock's mind.
Babcock makes it official: Mrazek starting game 1

— Ansar Khan (@AnsarKhanMLive) April 13, 2015
It's a pretty bold move – starting a 23-year-old goaltender in his first playoff game against one of the most potent offensive teams in the league. While neither goaltender has been great down the stretch, Mrazek posted a 2-0 shutout in the last game of the regular season. One thing you can certainly say about Mrazek is that he is a mentally tough goaltender. You can also say that he has shown some issues with consistency. THW's Prashanth Iyer goes great into detail about the situation in his article regarding Detroit's goaltending controversy.
Brendan Smith: On the Outside Looking In?
Brendan Smith had… well, let's say it was not his finest moment in a Red Wings uniform. Babcock benched the 26-year-old defender in the last game of the regular season against Carolina, presumably because of a mental error he made during a 4-3 overtime loss to the Montreal Canadiens on Thursday. While sitting on the bench, Smith swatted at a puck considered in-play, landing the Red Wings a minor penalty. When asked about the play, Babcock simply stated, "Everything's a reflection of everything you do," Babcock said. "That's just life."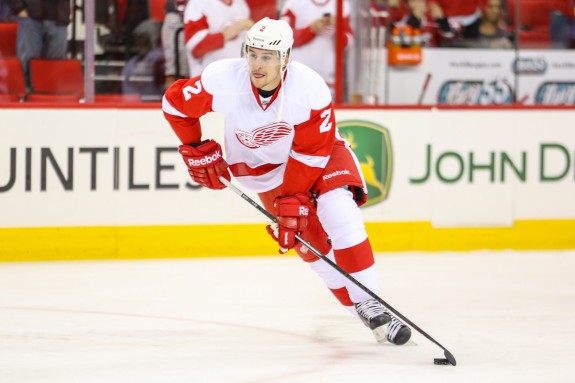 [RELATED: Time to Part Ways With Brendan Smith?]
Heading into Thursday's matchup versus Tampa Bay, Babcock has stated that Alexei Marchenko will be in the lineup, though he was not clear on who will be sitting. Presumably, it will be Smith, though Babcock also mentioned that he wanted to check up on the health of his other defensemen. During the team's practice on Monday, Babcock went with Ericsson-Kronwall, DeKeyser-Marchenko and Quincey-Zidlicky, leaving Smith on the outside looking in. Should Marchenko falter, I imagine that Smith could find his way back into the lineup.
Lack of Big Bodies Up Front
Another storyline heading into the Detroit-Tampa Bay series is the lack of size up front for the Red Wings. Erik Cole is out for the remainder of the season with a spinal cord contusion. Johan Franzen appears as if he will remain sidelined with concussion symptoms. It's an unfortunate blow for the team, as they could use those players against the Lightning. Playoff hockey is often a grind – ugly goals can win you a series.
"Obviously we've got a ton out of our lineup right now (Johan Franzen and Erik Cole, both of whom won't return for the playoffs, and Tomas Jurco) and the size really affects us, but maybe we can get some guys back here."
Jurco, however, will be in the lineup for game one against the Bolts, slated to play on the third line with Joakim Andersson and Riley Sheahan. The move knocks Teemu Pulkkinen out of the lineup for now, with Babcock looking to getting bigger up front. Justin Abdelkader is questionable for game one against Tampa Bay. If he is healthy enough to return, it will be a huge boost for the Red Wings.
Mike Babcock's Future in Detroit
Of course, the storyline looming in the background is whether Mike Babcock will return to coach the Red Wings next season. Since early September, the 10-year bench boss of Detroit has maintained that he would not sign a new deal during the season.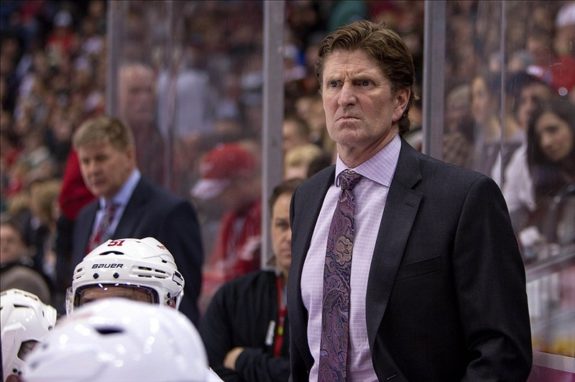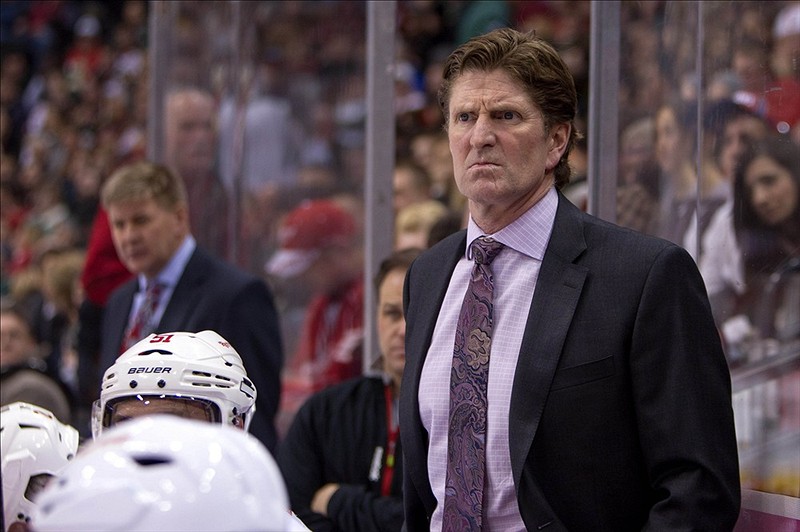 Only Babcock knows if he has already made up his mind about his future in Detroit. If he has not, a healthy post-season run by the team could go a long way in convincing him to come back. By his own admission, the team has already exceeded Babcock's expectations, so anything else is just icing on the cake, right? It is difficult to say whether the coaching situation will directly affect the Wings' game, though the result could certainly play a part in Babcock's decision at the end of the year.
Subscribe to our Red Wings stories to get email updates every time a new story is published
I am a writer from Windsor, Ontario who has covered the Detroit Red Wings for The Hockey Writers. I have had the pleasure of doing so since February of 2015. Previously, I have written about Red Wings prospects for Hockey's Future. I am always up for chatting about the Red Wings and hockey in general, so leave me your comment and/or tweets. Follow me on Twitter at @BrandonPeleshok.