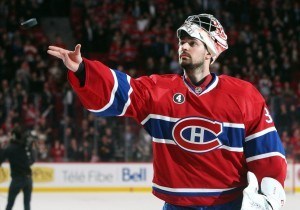 Welcome all to my last edition of Fantasy Hockey: Studs and Duds for the 2014-2015 season! Just so we can go all the way back, my early pre-season predictions of Studs and Duds can be found here. Needless to say, but I was pretty spot on with those choices.
For the here and now though, I'll be giving my MVP's out for each position for the players I thought had the best fantasy production throughout the season. Naturally I will also go in-depth with the players who disappointed fantasy owners alike, and propelled them to the bottom of the standings.
Some these selections may seem obvious, however, they had such good seasons that it's hard to ignore the value they brought to not only to your fantasy squad, but their real team in the process.
Also congrats to anyone who won their fantasy leagues, and with that said, let's get started.
Studs:
Forward: Jamie Benn, Dallas Stars
After last season, we all knew that Jamie Benn was good, but what he did to win the scoring title is absolutely unbelievable. Also mind you that he won it while playing with a hip injury throughout the season.
The Stars captain finished with an impressive 87 points in a season where scoring has gone down tremendously. What made Benn such a stud is his ability to do everything on the ice. Benn had 253 shots, 120 hits, 64 penalty minutes, 50 blocks, six game-winning goals, two hat tricks, two short-handed goals, I mean the list just goes on forever.
It's too bad that the goaltending and defense didn't hold up for the Stars. Even though they lost to the Ducks in six-games last playoffs, they were a force, and with the addition of Jason Spezza, looked to really compete this season. Obviously the loss of running mate Tyler Seguin didn't help, but Benn has proved that he deserves your first round pick next season.
Honorable Mentions: Alex Ovechkin, Washington Capitals. John Tavares, New York Islanders. Rick Nash, New York Rangers
Defensemen: Erik Karlsson, Ottawa Senators
24-4-4… the clock never stuck midnight for the Sens; a fantastic call courtesy of Chris Cuthbert.
While this unbelievable story would have never occurred without the heroics of Andrew "Hamburglar" Hammond, or potential rookie of the year Marc Stone, it definitely wouldn't have happened if not for the revitalized play of Senators captain Erik Karlsson.
Strictly fantasy purposes, Karlsson racked up 66 points, and a massive 292 shots, which for a defenseman is crazy. Karlsson also had 93 hits, 89 blocks, 42 penalty minutes, and for deeper leagues 30 power play points.
We're all aware of the skill level the former Norris Trophy winner possesses; however, Karlsson has proven that he, like Jamie Benn, needs a running mate. Marc Methot has proven to be the player that's allowed Karlsson the ability to make more offensive plays without having to worry about his own end. It's almost uncanny how much of an increase Karlsson's corsi is with Methot as his defensive partner.
Honorable Mentions: Roman Josi, Nashville Predators. P.K. Subban, Montreal Canadians. John Carlson, Washington Capitals.
Goaltender: Carey Price, Montreal Canadians
Speaking of Montreal. There's a certain goaltender by the name of Carey Price who has proved to not only be the most valuable goaltender this season, but arguably the most valuable player period.
This is easily the most obvious choice out there, but Price led the NHL in almost every significant goaltending statistic except for shutouts, which Marc-Andre Fleury secured on the last day of the season in a 2-0 win over the Buffalo Sabers. This season Price had a Sv% of .933, which is a career high, a 1.96 GAA, which is a career high, and he amassed 44 wins, which is you guessed it, a career high.
Now it's not like Price got the Canadians in the playoffs all by himself. However, Price carried everything he dealt with in the season before with winning gold in Sochi for Team Canada, carrying Montreal through the playoffs, and possibly to the finals if not for his infamous injury against the New York Rangers.
He's 27 years old, he plays on a great team, and he's entering the prime of his career. Regardless of how these playoffs unfold, we may only have seen the beginning of something special north of the border.
Honorable Mentions: Braden Holtby, Washington Capitals. Pekka Rinne, Nashville Predators. Devan Dubnyk, Minnesota Wild.
Duds:
Forward: Nathan Mackinnon, Colorado Avalanche
In a season where all the advanced stats finally came back to bite the Avalanche, none can say has struggled more than budding superstar, and former number one overall selection Nathan Mackinnon.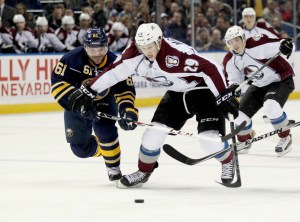 After Mackinnon's rookie season where he played in all 82 games, produced 63 points, and was a plus 20, Mackinnon came down to earth hard this season. He only garnered 38 points in 64 games, and was a minus 7. Part of the problem could be that his shooting percentage dropped from 10% to 7.3%.
Whatever the problem is, one fact can be derived from this; Nathan Mackinnon suffered from the terrible sophomore slump. Lets face it here, other teams around the league adjusted to Mackinnon's game, and not only his, but the entire Avalanche squad. The Avalanche is a team built on speed. So after a season where they won the central division, teams knew what to expect from them, and adjusted accordingly.
While this is was absolutely a down season, I'm positive Mackinnon will be back. He's too good a talent to keep down. However, for the present time, he's a dud.
Not-so-Honorable Mentions: David Krejci, Boston Bruins. Phil Kessel, Toronto Maple Leafs. Alexander Semin, Carolina Hurricanes
Defensemen: Zdeno Chara, Boston Bruins
Zdeno Chara has been one of the best defensemen in this generation for the longest time. We have all known him for his devastatingly hard slap shot, which he still holds the record for by the way. However, what happened in last year's playoffs against the Montreal Canadians was no illusion, and unfortunately for him and the Bruins, his poor play carried over into this season.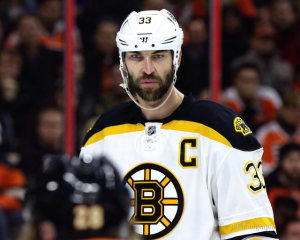 Chara played in only 63 games, which is 14 less than last season. His point total was also halved from 40 to 20. The most glaring statistic, which Chara has been known for years for is his plus-minus, which dropped from plus 25 to even. Chara is a shutdown defensemen, and he one of the best at his job, but it's clear that Dougie Hamilton has taken the reins as the Bruins number one defensemen.
What will help Chara, and I say the same thing for the Los Angeles Kings is not making the playoffs. Now it obviously sucks to not make the playoffs, but now Chara will get an entire off-season to rest for next season. Besides, it's not like Chara's getting any younger here at the ripe old age of 38, so some time off will definitely do him some good.
Chara is one of the most exciting, and recognizable defensive players in the NHL. He also does a ton for the community, and he's a great captain. With four months to rest, there's no doubt Big Z will be back in spades.
Not-so-Honorable Mentions: Jake Gardiner, Toronto Maple Leafs. Justin Schultz, Edmonton Oilers. Cody Franson, Nashville Predators
Goaltender: Jimmy Howard, Detroit Red Wings
Let this sink in; Mike Babcock has officially elected to start Petr Mrazek over two-time all-star Jimmy Howard in-game one of their series against the Tampa Bay Lightning. Keep in mind here that Howard basically had identical stats as last season with having the same Sv% at .910. Also his 2.42 GAA this season is almost the same as his 2.44 GAA from last season.
Howard also started two more games this season, but it seems like Mike Babcock isn't content with mediocrity, and wants to test the waters with his 23-year-old goaltender. This isn't anything on Mrazek as he has shown he can play in this league by posting a .918 Sv%, and a 2.38 GAA.
Focusing on Howard though; he simply hasn't had the same presence in net that he used to. Only having a .910 Sv% is backup goalie numbers, and he's becoming a guy that, rightfully so, is becoming less of a thought when it comes to premier fantasy goaltenders.
It has come to the point that these next couple games may decide his fantasy value next season. If Mrazek falters, and Howard comes in and plays to his potential, he'll have value next season. However, if Mrazek plays well and keeps the Red Wings in the series, or even wins it for that matter; we may be looking at a new goaltender in the Motor City come September.
Not-so-Honorable Mentions: Kari Lehtonen, Dallas Stars. Antti Niemi, San Jose Sharks. Mike Smith, Arizona Coyotes.
Let me know which Studs or Duds I didn't mention! I'd also like to thank anyone who has read this series, and I look forward to continuing this next season!
Corey Spina lives in Wayne, New Jersey. He is a senior at Centenary College, and is majoring in Communications/Journalism. Corey is in his second season covering the New Jersey Devils for The Hockey Writers, he completed a sports journalism internship with TAPinto, and he is the Host/Producer of the Sports Buzz on WNTI.org.