Unbeknownst to many Detroit fans, the Red Wings have been in full development mode since 2014. Until recently, the dirty "rebuild" word was never thrown around as much as it currently is. Rebuilding is not uncommon to any sports franchise but the Red Wings fandom today doesn't remember (or were not alive) for the last rebuild. I wasn't and I highly doubt many others were. Consequently, we can't grasp the magnitude of the process going on behind the scenes.
Ken Holland's plan has been unfolding these last four seasons, slowly but surely. Where are we now though? The question is a common one among the Holland-themed slander and frustrated fans. Well, we're in phase two. Approaching the 2018-19 season, Holland's rebuild plan will be reaching nearly full maturation in hopes of creating another record-setting franchise culture in Detroit. So strap in and allow me to elaborate.
A Little Red Wings' Backstory
This may come as a shock to some, but the Wings have been struggling for a few seasons now. In case you missed it, we broke our playoff streak in the 2016-17 season. Fans were pampered with one of the longest playoff streaks in sports history and thankfully, didn't flip over any cars as a result of their upset. The team was clearly struggling to make an impact on the ice and were consistently outskated.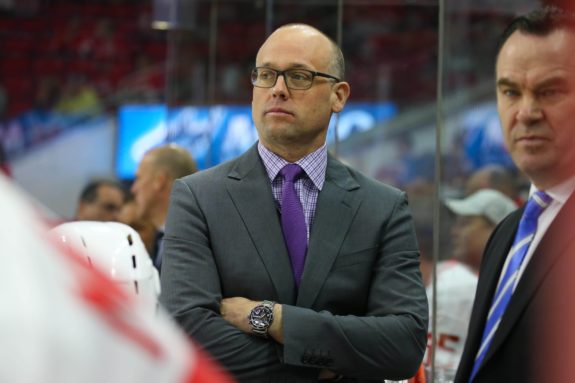 It was a known issue to the Wings' upper management prior to that unfortunate elimination. Since 2014, Ken Holland and the loyal Red Wings staff have been assessing the situation. We had aging players, some of the 2008 victors had retired, and many were ravaged by injuries all season long. The writing was on the wall and an under-the-table type development plan was implemented. That plan called for patience and draft picks, "We need to draft. We need to develop. We need to have patience," Holland told The Detroit News. Simple and to the point, that plan went into full swing during the 2014 summer.
Phase One – Unload Bad Contracts
A well-known and frustrating fact is that Detroit has signed some less than cap-friendly long-term contracts. After extending Franzen's contract, "The Mule" became a member of the Long Term Injury Reserve club and will remain so until his contract expires after the 2020-21 season. Many questioned the long-term extension of Justin Abdelkader as well, coming in at a cap hit of $4.25 million until 2022-23. Henrik Zetterberg, current Wings' Captain, is a hit of almost $7 million annually until 2020-21 – or until his back gives out completely. Last but not least, Danny DeKeyser has about $5 million tied up until 2021-22.
Clearly, the first step of the process back in 2014 until now, was to unload those bad contracts. Upon signing, of course, Holland and the team had the utmost faith in the vivacity and game of the players – but not all have measured up to their expectation. Unfortunately for the Red Wings, they're strapped in. Over the last four seasons, however, the contracts have been slowly dying out, leaving only the above mentioned retaining a stranglehold on team's pocketbook.
Detroit was unfortunate enough to retain Datsyuk's salary for a short time upon his return to Russia to play in the KHL. The Wings have since been released from that, leaving some breathing room – however little.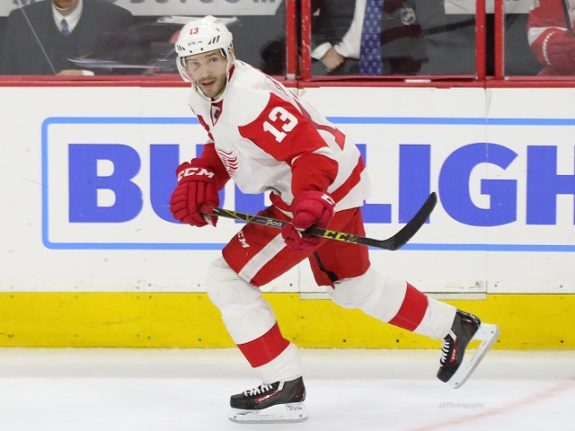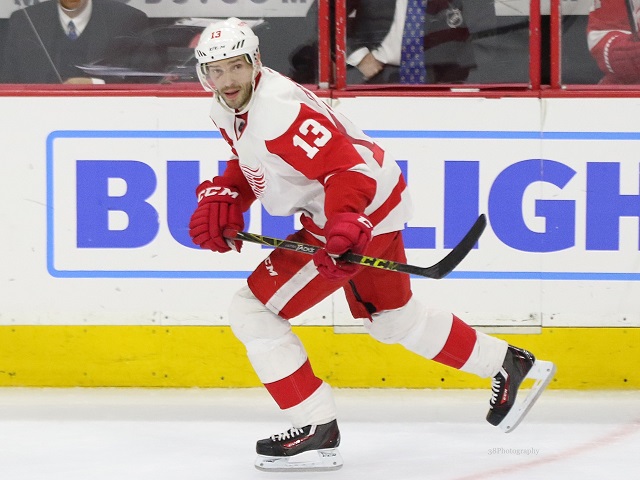 Phase One of this grand scheme has been happening over the last four seasons. Letting those contracts die-out and trying not to get tied up in additional bad contracts, the Wings have been quietly trying to accomplish the seemingly impossible – develop while being playoff contenders. Holland told the Detroit News, "We're trying to be a playoff team that competes with the best teams in the division and conference and at the same time behind the scenes were trying to draft and develop the next generation of Red Wings players who are going to help us be a playoff team every year going forward."
Entering Phase 1.5 – Draft Picks & Leadership
We're almost to Phase Two of Holland's grand plan for a rebuild. While waiting for that coveted cap space, the Wings have been negotiating the wallpaper off the walls for draft picks, contract extensions for the youngsters and developing their current talent for leadership.
The current roster has a good pool of affordable and talented youngsters who have been working hard to prove their worth. Holland and the coaching staff are ever attentive to these young-guns vying for the chance and are developing them under the veteran leadership. Forcing them to work for their spot on the line is something Holland and the rest of the staff have long held as a key factor in development, "I don't believe in entitlement," Holland told the Detroit FreePress, "I don't believe in handing young people jobs."
With the likes of Anthony Mantha and Andreas Anthanasiou being re-signed, and hopefully Dylan Larkin soon, Red Wings staff are working hard to ensure they are being properly trained by the hockey-smart minds of Vanek, Kronwall, Zetterberg and a host of others. In time, their jobs will belong to the young ones.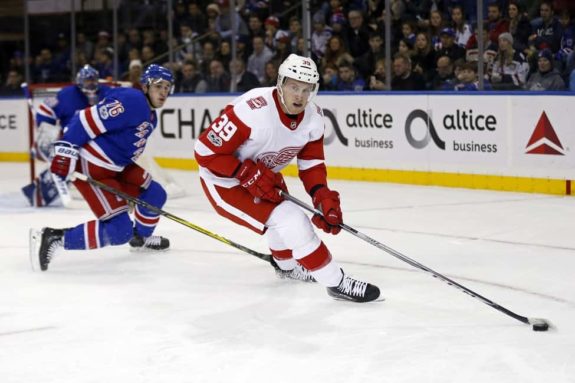 Phase Two – Draft, Develop & Draft Some More
Holland has become a wizard with draft negotiations over the last few decades. Talking and trading his way into ten picks this last season, and ten guaranteed for the 2019 draft, none can deny his way with the draft. Having served the Wings' organization for more than 20 years now, Holland has learned his way around the draft table and holds the same philosophy today as he did years ago, "I've been with the Red Wings…since 1983…and the work at the draft table, the work of developing players – set us up for the last decade."
Holland ruffled feathers when he swapped crowd-favorite Tomas Tatar for a first-round pick, but that pick resulted in the Wings acquiring potential-star, Joe Veleno. The decision to move Petr Mrazek was made in exchange for 2018 and 2019 conditional picks. The Wings also recently traded Grand Rapids' defenseman, Robbie Russo, for a 2019 conditional pick. Holland is continuing to stockpile picks – and that's the plan.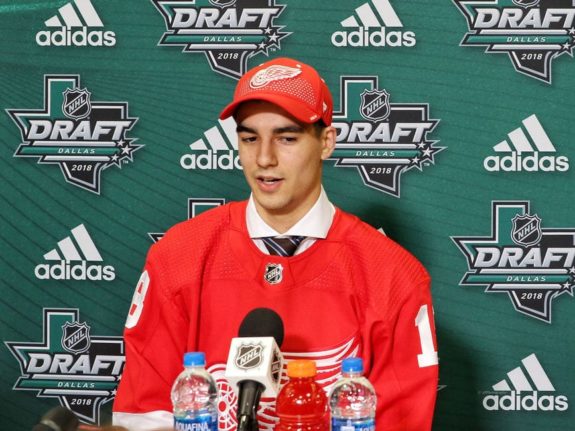 While accumulating hoards of picks, the new draftees have been spending periods of time in college, their prospective international leagues, or with the Grand Rapids Griffins (AHL). Depending on where they pull the prospects from, the Wings have bought themselves a few years of time to develop and monitor their growth. While a few will likely grace the halls of the Little Caesars Arena this coming season, several will remain in rigorous training to await their time.
Entering the 2019 NHL Entry Draft, Holland will once again, have a slew of picks to use and another overflowing talent pool to choose from. All the while, the previous draftees are getting set for the next move up the development ladder. This phase is designed to create a steady flow of talent for several seasons as the Wings hit their full stride ideally in the 2019-2020 season (respectively).
What Detroit Fans Should Expect in 2018-19 Season
In case the fans weren't really paying attention, this is a good point to start.
This season will be very hard. Yes, it's not going to be a cakewalk and our beloved Zadina won't carry us to a Stanley Cup quite yet. It will be productive, however. The conditioning is getting harder, the game is getting faster, and the competition is fiercer than ever. However, with the fine balance being created within the existing lines and young skaters being given more responsibility, this season will prove to be a fruitful one.
Fans should get ready for a bit of a bumpy ride but it will have a happy ending. We may not have a shot at the playoffs, however grand that would be, but our new draftees and an overwhelming amount of players in Grand Rapids will get their chance. There will be many new faces taking the ice throughout the year as guys play for their spot.
You may see Filip Hronek make an appearance or Joe Hicketts come back on the scene. Evgeny Svechnikov may get his chance at last if he improves his consistency. As the season progresses, there will be a rise in the youth – and that's a good thing.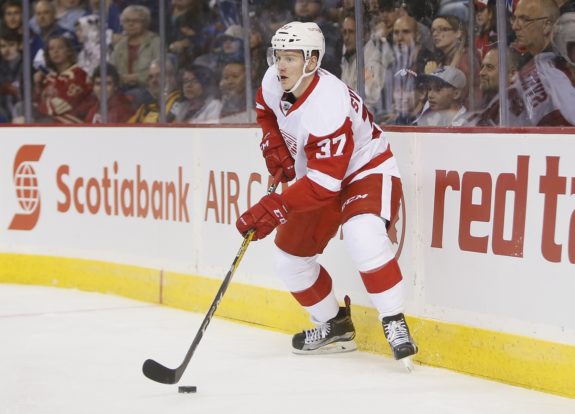 So when you're frustrated that Kenny doesn't seem to know what's doing or the lines are a little bizarre, just embrace it. The team has been in incognito development for longer than we've been aware and their plan will come to full fruition soon. In the meantime, support your team, follow the prospect's development, and get ready for a wild ride.
I am a Detroit Red Wings prospect journalist for Access Hockey MI covering the Grand Rapids Griffins and Toledo Walleye prospect development. Draft analyst for USHL hockey with the Muskegon Lumberjacks.