Detroit Red Wings prospect Filip Hronek has had an impressive rookie season with the AHL's Grand Rapids Griffins and should earn an NHL call-up for the Red Wings' down the stretch.
Detroit's already slim playoff chances are dwindling by the game and the team's youth has shown the future is now in Hockeytown. Like any [insert 'rebuilding' synonym here] team, the blue line will need significant attention.
Red Wings management has shown a heavy dedication to defense in recent drafts and hope the haul can produce an effective defenseman or two. Hronek, 20, is looking like one of a few that could become a key part of the Red Wings future.
Hronek Opens His Offense in North America
Adapting to the North American style of hockey isn't always an easy transition for an 18-year-old, which often entails learning a new language, new systems and playing a more physical game on a smaller ice surface.
But the Czech Republic native, drafted 53rd overall in 2016 by the Red Wings, transitioned fast, and following the draft, he played his way into being one of the final cuts in training camp back in 2016. The long look says a lot for a Red Wings organization that usually knows the final roster before camp begins.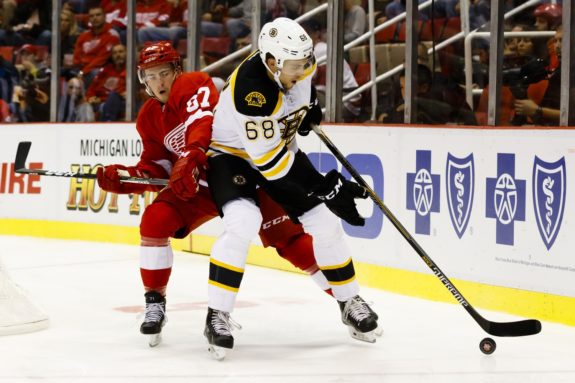 Listed at 6-foot and 178-pounds, Hronek played ahead of his years and continued to impress after joining the Ontario Hockey League's (OHL) Saginaw Spirit in 2016-17.
He led all defensive rookies with 14 goals, 47 assists and 61 points in 59 games. His numbers also held up against already established OHL defensemen and placed him fourth in points, fifth in assists and ninth in goals. The Spirit named him MVP at the conclusion of the season after finishing second on the team in scoring, as a defenseman.
Hronek's improvement earned him the captaincy for the Czech Republic team at the 2017 World Junior Championship, where he scored two goals and four points in five games. After the Spirit missed out on the playoffs, the organization moved Hronek to Grand Rapids where he proved to be more than just a Black Ace.
He played ten games, scoring a goal and an assist and played in two playoff games in the where the Griffins claimed the 2017 Calder Cup.
A Rookie in Grand Rapids
Hronek's 2017 training camp wasn't as impressive as the year prior, which could have been a combination of over-thinking about a spot out of camp, a championship hangover or just plain old poor play.
The slight fall off saw the organization give its attention to other defensive prospects Dennis Cholowski and Joe Hicketts, who remained in camp for the bulk of the preseason.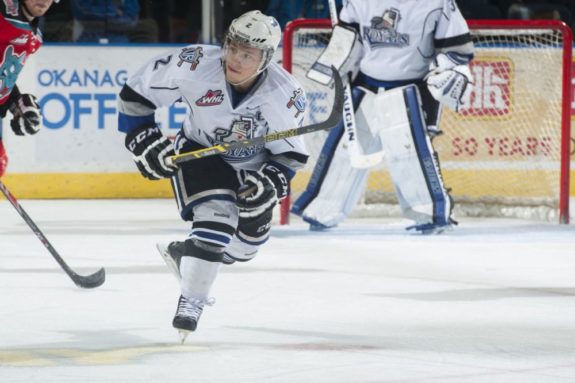 Cholowski has had an impressive season in the Western Hockey League (WHL) and became a hot commodity at the trade deadline. Hicketts' offense has taken a dip this season in Grand Rapids, but he landed a one-game call-up in January and brought a refreshing style to the Wings' backend.
Hronek's slow camp carried over into the start of his rookie season with the Griffins and he found himself a healthy scratch in four of the first five games. He returned to form as the season drew on, though, and is back to the MVP caliber he was in Saginaw.
He owns seven goals and 19 assists for 26 points in 43 games with the Griffins to go along with a team-leading plus-21 rating. He is seventh in team scoring and second among AHL rookie defensemen.
He has earned a lot of trust from head coach Todd Nelson, who was worried about Hronek's physicality, or lack thereof, last year in the AHL playoffs. But Nelson's doubts seemed to have been erased with Hronek's continually improved play.
The young defenseman is looking like an early steal of the 2016 draft and will benefit from the eventual Mike Green trade, which could put the AHL behind him soon.
I offer opinions and insight on the Detroit Red Wings organization and its prospects.