The 2016-17 season was a disappointing one for the Detroit Red Wings and their entire fan base. Finishing with a record of 33-36-13, the team missed the playoffs for the first time since 1989-90, ending their consecutive postseason appearance streak at 25 seasons.
Most fans could recognize the warning signs a few years ago – the team's aging core, and lack of high-end defensemen and prospects have contributed to their fall. There is no quick fix in Hockeytown this offseason, but there are some areas general manager Ken Holland and his staff can address to begin fixing this team.
1) Build Roster From Within
During the team's last offseason, Holland signed five players on July 1. Outside of signing defenseman Alexey Marchenko (who was lost on waivers) to a bridge deal, the other four signings were about filling his lineup with veteran talent. Frans Nielsen was a necessary signing to lessen the blow of Pavel Datsyuk's departure, but Darren Helm's five-year deal worth $3.85 million per season felt a bit like management rewarding a "homegrown" player.
The Thomas Vanek and Steve Ott contracts were only one year in length, but they represented Holland's desire to insulate his young players with experienced ones. Yes, Vanek worked out well in Detroit, scoring 38 points through 48 games with the Wings. The problem lies more in Holland's approach in making trades (or not), and signing veteran, reclamation projects.
Building from within includes giving ice time to the most deserving players, and lessening the ice time of struggling veterans. Head coach Jeff Blashill keeping Andreas Athanasiou on a short leash this year was a sore spot for the fan base. It was an issue raised throughout the season, one Holland addressed shortly after the new year:
"Jeff Blashill and I talk about this quite often — Henrik Zetterberg is an example. He's built up stock. It's like you're in a company," Holland explained. "When you build up stock and you have an off night, all the stock you've built up allows you to have those nights when, as a veteran player, you maybe have an off night."
While there's certainly merit to Holland's viewpoint, the stock of players like Justin Abdelkader and Helm dropped so much during the season that someone like Athanasiou deserved more opportunities to build up his own.
2) Shed Cap Space
This goes hand-in-hand with the last item on the wish list – the Red Wings have too many veteran players signed to pricey contracts. Through the next two seasons, the team has Henrik Zetterberg, Frans Nielsen, Abdelkader, Helm, Jonathan Ericsson signed, and considering their respective ages, it's more likely that they are going to regress in the coming seasons. The Red Wings also have another year of Jimmy Howard at $5.291 million and Niklas Kronwall at $4.75 million.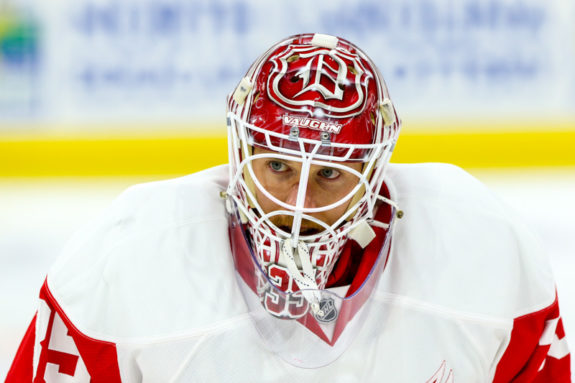 While difficult, Holland needs to attempt to free up some cap space somewhere. He is reportedly exploring the possibility of moving one of Howard or Petr Mrazek, which would give the Red Wings some wiggle room. Even if Holland needs to attach one of the team's draft picks in this year's entry draft, it might be worth it to shed one of their less desirable contracts.
At the very least, he needs to make sure he does not commit any more cap to veteran players. While the team appears set on defense (at least, in terms of bodies), there are only nine healthy forwards signed heading into next season. Pending free agents Tomas Tatar and Athanasiou and locks to return, so that leaves about three spots to fill up front. Instead of exploring the free agent market, the team should look to promote players like Tomas Nosek, Tyler Bertuzzi and/or Evgeny Svechnikov.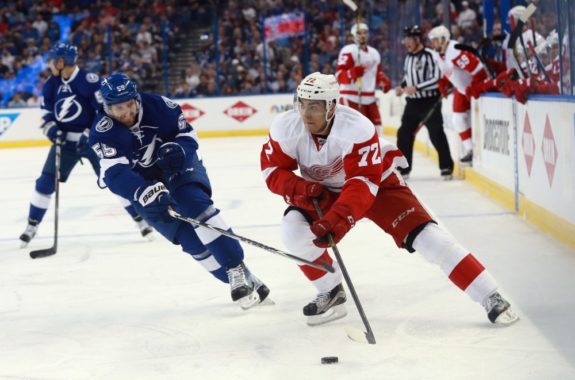 3) Find Legitimate Top-Pairing Defense
Sure, this is a pretty big "ask", but that's why it's a wish list. This goes against the former items on the list, but it's something Holland needed to address back when Brian Rafalski and Nicklas Lidstrom departed within the span of a year. A number of underwhelming free agents signings, paired with several defensive prospects failing to develop to their expected potential has left the Wings' defense corps in its current state.
Unfortunately, the cupboard for free agent defenders is looking bare this offseason. Kevin Shattenkirk is the most attractive pending UFA heading into July 1, but he isn't the piece the Red Wings need to turn around their blue line. Apparently, Holland made an offer in attempt to pry defenseman Jacob Trouba from the Winnipeg Jets last summer, but the price was too steep. However, if the Wings are going to overpay for anything this offseason, it should definitely come in the form of a high-end defender.