The future looks bright for the Detroit Red Wings—just not fluorescent, eye-squinting bright, though.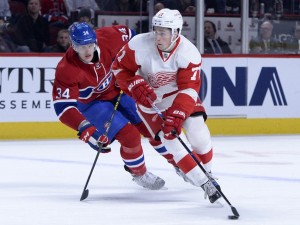 When evaluating draft and organizational needs, it is best to look at the current depth chart and project roles five years down the road. By then, players drafted in the 2016 NHL Entry Draft will have had the opportunity to mature in juniors, European leagues, and/or the AHL.
For the Detroit Red Wings, they have young talent up front, but not a lot of top-pairing defensive options. Perhaps they can turn a surplus of one position into a needed player of another position at the draft. Or they can address needs by drafting players at that position.
As the 2016 Draft approaches, let's take a look at Detroit's top 25 players under—or at—the age of 25. This list will be updated throughout the offseason:
After the 2016 NHL Entry Draft
After the Red Wings' Rookie Camp
After Detroit's Training Camp
Here are the Red Wings' top 25 players under 25:
25

C Zach Nastasiuk, 21 | Grand Rapids Griffins (AHL)
If Detroit loses Luke Glendening to Las Vegas in the expansion draft, they could replace him internally with Zach Nastasiuk. The six-foot-two forward captained the Owen Sound Attack in juniors and led by example on the ice. Nastasiuk can block shots effectively, play wing or center, and play on the penalty kill.
Potential: Bottom-six energy winger plus penalty kill
24

G Jared Coreau, 24 | Grand Rapids Griffins (AHL)
After signing with the Red Wings out of Northen Michigan University, Jared Coreau has had a few stints with the Red Wings as the emergency backup. His past two seasons in Grand Rapids suggest that Coreau may have a more permanent NHL future. Likely not a starter, Coreau could be a serviceable backup in the NHL.
Potential: Backup goalie/AHL starter
23

C Tomas Nosek, 23 | Grand Rapids Griffins (AHL)
Though not a highly ranked prospect, Tomas Nosek has the potential to start the upcoming season with the Red Wings. His ability to be physical, contribute some offense, play smart defensively as a center, and kill penalties makes Nosek valuable to the Red Wings in a bottom-six role.
Potential: Bottom-six energy winger plus penalty kill and some scoring ability
22

LW Adam Marsh, 18 | Saint John Sea Dogs (QMJHL)
For a sneaky 7th round pick in the 2015 draft, Adam Marsh put up some decent numbers in his second QMJHL season with Saint John. He was able to put up 42 points in 48 games this past season. But Marsh will have to add size to reach the NHL, as his 160-pound frame has already faced its fair share of injuries. And, of course, shed the problem player label.
Potential: Third line winger with scoring touch
21

C Christoffer Ehn, 20 | Frolunda HC (Sweden)
From all accounts overseas, Christoffer Ehn is a solid, two-way player that could have an NHL future. He represented Sweden at last winter's World Junior Championships and has played effectively for Frolunda in a defensive role. It'll likely be a few more years before Ehn comes to North America to continue his hockey career.
Potential: Third line, two-way center
20

D Ryan Sproul, 23 | Grand Rapids Griffins (AHL)
It's do-or-die time for Ryan Sproul and the Detroit Red Wings. Sproul will require waivers to be assigned to the AHL this coming season. Sproul is still a valuable asset considering his right-handed shot and offensive touch. His defensive game still needs polishing, though.
Potential: 4/5-slot defenseman with power play time
19

RW Martin Frk, 22 | Grand Rapids Griffins (AHL)
In his first full season of exclusive duty with the Griffins, Martin Frk put up a notable 27 goals. But is he NHL-ready? Frk will be required to pass through waivers this upcoming season, so the Red Wings will have to carefully consider his value. Frk has a few advantages in his right-handed shot and relatively large frame (six-foot, 200lbs).
Potential: Third line winger with power play time
18

C Axel Holmstrom, 19 | Skelleftea AIK (Sweden)
It seems fitting that the Red Wings drafted a Swedish player with a knack for playoff scoring in the 7th round of the 2014 draft. Though not related to the Red Wings' former demolition man Tomas Holmstrom, Axel Holmstrom has excelled in Sweden's top league for a young player. He'll play one more year overseas before coming to turning pro in North America.
Potential: Second/third line winger
17

D Robbie Russo, 23 | Grand Rapids Griffins (AHL)
If Robbie Russo can follow up on a solid freshman season in the AHL, the Red Wings may have found another clutch college free agent signing. Russo was an astonishing plus-40 in his first AHL season and finished with 39 points in 71 games. His right-handed shot is also a luxury for the Red Wings.
Potential: Two-way, second pairing defenseman
16

C Dominic Turgeon, 20 | Portland Winterhawks (WHL)
Though only four years younger, Dominic Turgeon has the ability to turn into another Riley Sheahan. His numbers with Portland were not spectacular, but that's only because Turgeon was counted on to be defensively responsible. He's a coachable player that should get a lot of early playing time in Grand Rapids.
Potential: Two-way, third line center, penalty kill leader
15

LW Dylan Sadowy, 20 | Barrie Colts (OHL)
In a savvy move by Ken Holland, the Red Wings picked up former Sharks' prospect Dylan Sadowy this offseason. Sadowy plays an aggressive game up front and causes havoc in the corners and in front of the net. He'll likely start next season in Grand Rapids and could make an early impact alongside Evgeny Svechnikov.
Potential: Second/third line power forward-lite with power play time
14

D Xavier Ouellet, 22 | Grand Rapids Griffins (AHL)
Red Wings fans have been calling for Xavier Ouellet to join the team's defensive corps since his audition in the 2014 playoffs against Boston. After two years in the AHL and a handful of NHL games since, it's put up or shut up time for Ouellet. With Kyle Quincey likely gone, Ouellet will have the opportunity to earn playing time with the Red Wings.
Potential: Two-way, second pairing defenseman
13

RW Tyler Bertuzzi, 21 | Grand Rapids Griffins (AHL)
When the Red Wings drafted Todd Bertuzzi's nephew in 2013, they saw potential in the young forward. Some of that potential was realized when Tyler Bertuzzi exploded for 43 goals and 98 points in his final OHL season. To cap that off, Bertuzzi joined the Griffins' playoff run and contributed nearly a point per game. If someone from Detroit's bottom-six goes down this season, look for Bertuzzi to get into a few NHL games.
Potential: Second/third line pest with scoring ability
12

RW Teemu Pulkkinen, 24 | Detroit Red Wings (NHL)
There aren't many Red Wings with better shots than Teemu Pulkkinen. The only problem is that he hasn't found a way to consistently find space and get open looks. Once Pulkkinen learns the NHL game and finds time with quality linemates, look out. Expect Pulkkinen to get more power play time this upcoming season as a way to get more shot opportunities.
Potential: Second/third line sniper
11

LW Tomas Jurco, 23 | Detroit Red Wings (NHL)
It's hard to believe the Tomas Jurco is only 23. After probably being rushed to the NHL, Jurco has had two uneventful seasons with the Red Wings following his first full season with the team. In all fairness, Detroit's depth up front has pushed Jurco to the fourth line. With better linemates and more trust from his coach, Jurco still has some room to grow into a good NHL forward.
Potential: Second/third line winger with scoring ability
10

D Alexey Marchenko, 24 | Detroit Red Wings (NHL)
Though not lethal in the offensive zone, Alexey Marchenko is an effective puck mover for the Red Wings. He generally plays smart in his own end and makes the right, usually safe move. With more time at the NHL level, Marchenko can develop into a solid two-way defenseman. Perhaps new defensive coach Doug Houda will work to get Marchenko more open looks at the point in the offensive zone.
Potential: Effective second pairing defensive defenseman
9

D Joe Hicketts, 20 | Victoria Royals (WHL)
From undrafted free agent to mainstay on Canada's World Junior teams, Joe Hicketts has proved that small defensemen can succeed. His next test will be the AHL with the Griffins. Hicketts plays an intelligent defensive game to go along with his back-to-back 60-point seasons in the WHL.
Potential: Two-way, second pairing defenseman, power play quarterback
8

D Vili Saarijarvi, 19 | Grand Rapids Griffins (AHL)
Credit Vili Saarijarvi for making the most of a bad situation in Flint this season with the OHL's Firebirds. After moving up from the USHL, Saarijarvi led the Firebirds' defensemen in scoring before "graduating" to the pro game. He'll need to add some size to compete at the NHL level. However, Saarijarvi's offensive instincts are already at the pro level.
Potential: Offensive, playmaking, second pairing defenseman, power play quarterback
7

LW Evgeny Svechnikov, 19 | Cape Breton Screaming Eagles (QMJHL)
Is Evgeny Svechnikov a power forward or playmaker? Either way, Detroit has a big forward with the ability to set up teammates or score on his own. Once Svechnikov adapts to the pro game in Grand Rapids, Ken Holland and Ryan Martin will be looking to give him an opportunity at the NHL level.
Potential: Second line winger with strong offensive touch
6

C Riley Sheahan, 24 | Detroit Red Wings (NHL)
As one of Detroit's best all-around players, Riley Sheahan has the making of a Henrik Zetterberg-lite type. Not as dynamic, but he can contribute to special teams and play well in both ends at even strength. Once Sheahan improves his faceoff percentage, he'll see more opportunities in high impact situations.
Potential: Playmaking, two-way, second line center
5

C Andreas Athanasiou, 21 | Detroit Red Wings (NHL)
Did you know Andreas Athanasiou is a really, really fast skater? Apart from his turbo wheels, Athanasiou is an offensive sparkplug. His hustle makes defensemen rush decisions and create offensive opportunities for Athanasiou's line. Once he adapts to Detroit's penalty kill scheme, Athanasiou will be quite effective on Detroit's PK as well.
Potential: Two-way, second line winger with offensive touch and penalty kill ability
4

LW Tomas Tatar, 25 | Detroit Red Wings (NHL)
Apart from Dylan Larkin, Tomas Tatar has the best shot release on the Red Wings roster. Add in his explosive skating and quick moves, and Tatar is not far off from becoming a widely recognized name in the NHL. Tatar's only knocks are his size and past reliance on others to create offense. He's Detroit's purest finisher.
Potential: First/second line sniper
3

LW Anthony Mantha, 21 | Grand Rapids Griffins (AHL)
Who was the last physical goal scorer for the Red Wings? Johan Franzen in his prime? Brendan Shanahan? Anthony Mantha's combination of moderate speed, offensive instincts, and physical nature will allow him to succeed in the NHL. He just needs to learn Detroit's two-way game first.
Potential: First line power forward
2

G Petr Mrazek, 24 | Detroit Red Wings (NHL)
In Petr Mrazek, the Red Wings have a true number one goaltender. His excellent lateral movement, save efficiency, and crease confidence will also Mrazek to become a superstar in the NHL and on the global stage. Consistency is the key to Mrazek's success, as with most goaltenders.
Potential: All-Star starting goaltender
1

C Dylan Larkin, 19 | Detroit Red Wings (NHL)
He may not be Steve Yzerman, but Dylan Larkin has the potential to be a franchise centerpiece for the Red Wings. His lightning-quick speed and deceptive release make him dangerous in the offensive zone and in transition. Larkin also has keen awareness on the penalty kill and in his own zone.
Potential: #1 franchise center
Just missed: Louis-Marc Aubry, C; Mitch Callahan, RW; Colin Campbell, C; Alexander Kadeykin, C; Hampus Melen, RW; Chase Pearson, C; David Pope, LW; Julius Vahatalo, LW; Patrick Holway, D; Nick Jensen, D; Mike McKee, LW/D; Dan Renouf, D; James de Haas, D; Jake Paterson, G; Joren von Pottelberghe, G; Chase Perry, G.
What are your thoughts on the rankings? Are some players valued too high? Too low? Should some players who were left off the list be included in the top 25? Comment below to share your opinion.