The 2016 NHL Entry Draft is slated to be held June 24-25th, 2016, and for the first time since 1985 the Toronto Maple Leafs hold the first overall pick.
Back in 1985, Toronto selected Wendel Clark first overall, who went on to become one of the most beloved and highly respected Maple Leafs in franchise history. A franchise corner-stone, Clark spent parts of 13 NHL seasons with the Buds and brought immediate relevance back to Toronto through his skilled yet rugged style of play.
Come 2016, the Leafs once again have the ability to draft a franchise altering forward, this time in centre-man Auston Matthews, who has long been the consensus first overall selection as the top player available.
Drafting Matthews is a no doubter for Maple Leafs General Manager Lou Lamoriello, who surely will not hesitate to add a future first line centre-man to his roster. However, it is the wide-ranging implications of adding Matthews which Lamoriello will need to spend considerable time addressing, most notable of which being the case of Tyler Bozak, who has long been the Leafs' indefinite first line centre.
The Perfect Problem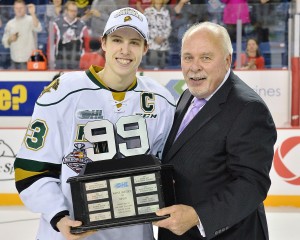 In the midst of a comprehensive rebuild, the Maple Leafs happen to find themselves facing an ideal issue: too many centres.
For many NHL teams, one of the most important, if not elusive factors of the rebuilding process is the search for not only a first line centre, but general depth at the centre-ice position.
In Toronto, the Maple Leafs appear poised to retain a wealth of competent young centre-men of incredible potential. Given they will likely add Matthews, the Leafs also have the likes of Mitch Marner, William Nylander and Nazem Kadri within their organization. Nylander, who can play either wing or centre, made his Leafs debut in 2015-16, while Marner, fresh off of a Memorial Cup Championship with the London Knights, will likely see NHL ice in 2016-17. Further, the ink has barely dried on Kadri's new six-year, $27 Million deal which will keep him in town through 2021-22.
Given the Leafs will have four budding young NHL centre's in Matthews, Nylander, Marner and Kadri, this begs the question: where does Tyler Bozak fit into the equation?
A Foggy Future
Whether or not Bozak has a long future ahead of himself with the Maple Leafs is a question which has yet to be answered, but one which will surely be solved sooner rather than later.
In July of 2013, Bozak signed a five-year contract worth $21 Million, a deal which is set to expire following the 2017-18 season. The contract carries an annual cap hit of $4.2 Million, which is a reasonable amount. In fact, over the past three seasons, Bozak's Points Per Game rate of 0.68 is equal to players such as Derick Brassard and Andrew Ladd, who are both highly valued but better paid skaters.
As such, Bozak's contract is a desirable one considering his production, and one which the Leafs surely do not wish to simply give away. However, given the Leafs' incredible crop of young centres, where exactly Bozak will fit into the Toronto's roster is a question in and of itself.
Chomping at the Bit
In 2015-16, Bozak among others fell victim to injury, providing the Leafs young prospects an opportunity to gain NHL experience.
In particular was Nylander, who was able to display his elite skill while playing both the centre-ice and wing positions. He did take a considerable numbers of face-offs in his 22 games played – 291 to be exact – winning 49.1%, in no way disappointing for an NHL rookie.
Further, Mitch Marner will surely be heading to the NHL in 2016-17. He was recently named the OHL's Most Outstanding Player of the Year, as well as MVP of the Memorial Cup. He can't be assigned to the American Hockey League, and another year spent in the OHL would do nothing but stagnate his development. He has been groomed to be a centre-ice man by London Knights Head Coach Dale Hunter, and that is exactly what the Leafs anticipate he will become.
Lastly, there is Matthews, who, pending a monumental trade, will be the Leafs latest centre-ice prospect. He has game-changing potential and projects to be a franchise centre-man.
And then there is Kadri. That makes four potentially elite young centre-men for the Leafs, not including Bozak, Frederick Gauthier, Byron Froese, Leo Komarov and Brooks Laich, players all under contract who also saw time in 2015-16 at the centre-ice position.
Options Aplenty
As a result, the best option for the Leafs moving forward could be to move on from Bozak, and the sooner the better.
Sure, many are thinking that Marner, Nylander and Matthews won't be able to immediately step into the lineup and make a distinct difference, however, Leafs management is not at all worried about the outcome of games this early in the rebuilding process, nor about the years remaining on entry-level contracts (as we saw late in 2015-16 with Nylander, Hyman etc).
What truly matters in Toronto's approach is that the Maple Leafs' top prospects are given every opportunity to develop their respective games, and that means ice time, something Bozak surely would see less and less of as a Leaf in the near future.
Trade Bozak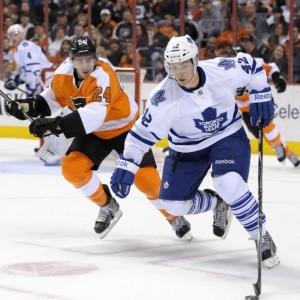 The first and most realistic option is for the Leafs to trade Bozak.
Given the logjam the Maple Leafs will soon have at the centre-ice position, and the fact that Leafs management is more than willing to provide its prospects with ample playing time, Bozak will find himself playing second, likely third-line minutes this coming season in a highly diminished role. In the prime of his career, this situation is undoubtedly one Bozak would prefer to avoid.
With a reasonable $4.2 Million annual cap hit, as previously mentioned, Bozak would be a solid fit as a second line centre virtually anywhere in the NHL. Further, his contract does not expire until the conclusion of the 2017-18 season, making him an even more valuable option via trade.
Keep Bozak
If the Leafs are unable, or unwilling to move on from Bozak, it certainly wouldn't hurt them moving forward.
As the longest-serving member of the Maple Leafs, Bozak not only possesses a great attitude, but also has over seven years of experience in one of the NHL's most demanding hockey markets. As such, he would be a fantastic presence and role model both in the locker room and on the ice for Toronto's young prospects to follow.
At only 30 years-old, Bozak could certainly be a valuable member of the Leafs moving forwards. Maybe he fills the third line centre-ice role, or maybe he shifts to the wing. Whichever the case, Bozak still has a ton of ability to bring to an NHL club, whether it be with Toronto or elsewhere.
What to Expect
Surely the Maple Leafs are well aware of this pending logjam, and undoubtedly are contemplating all possible options in order to help ice the best possible roster in Toronto.
When it comes to Bozak and his future in blue and white, if he was to be traded, it would likely come prior to or during the NHL Entry Draft. The Leafs have a mass collection of picks available which they could move alongside Bozak, and definitely aren't shy about moving them in the right deal (see Frederick Anderson).
If Toronto is unable to move Bozak by the beginning of free agency come July 1st, chances are he won't be moved. The Leafs have roughly $2 Million in cap space heading into the 2016-17 season, and with little interest in free agents, moving Bozak in order to free up cap space would make very little sense.
Whichever the case, the 2016 off-season will surely be an important, if not entertaining one for the Maple Leafs, whose rebuild relies heavily on making sensible and calculated decisions.