"Timo's going to play. He feels good. Looking forward to seeing him play."

Timo Meier stepped off the bus with his teammates on Sunday afternoon donning a grey tie with a blue suit and white shirt. He walked through the doors of Mullett Arena and got ready for his New Jersey Devils debut versus the Arizona Coyotes. It marked his first game since Feb. 18.
As the Devils and Coyotes skated onto the ice, a chant of "Let's Go Devils!" broke out among the 4,600 fans in attendance in Tempe, Arizona. Those chants would eventually be replaced with "Ti-mo Mei-er!" as he prepared for his first shift as a Devil.
On Ice Report From Mullett Arena
At 7:12 PM Meier jumped over the boards for his first shift with linemates Jack Hughes and Jesper Bratt. The trio had one practice together on Saturday, March 4, and apparently, that was enough as Meier scored his first as a Devil in his third shift, only nine minutes and nine seconds into the game.
Meier stuck to his game against the Coyotes and did what he does best. In addition to lighting the lamp, fans saw him throw his body around in both the offensive and defensive zone, and get to the net in front of Connor Ingram. Knowing the former San Jose Sharks forward has been sidelined for the past couple of weeks, it was a respectable outing where Meier showcased all the various elements of his game. Below is a breakdown of his first performance in a Devils' uniform.
| | | | | | | | | | | |
| --- | --- | --- | --- | --- | --- | --- | --- | --- | --- | --- |
| Goals | Assists | Points | Plus/Minus | Shots on Goal | Hits | Blocks | PIM | Takeaways | Time on Ice | Power Play Time on Ice |
| 1 | 0 | 1 | minus-1 | 3 | 3 | 1 | 2 | 1 | 15:57 | 0:52 |
Players and coaches say it takes a new player 10-20 games to acclimate to a new team. In addition to learning a new system and building chemistry with new linemates, Meier is working his way back from an injury. It will take time for everything to fully click together for the 6-foot-1 forward, but the good news is there is plenty of time to allow this to happen as the Devils have 20 games left until the postseason begins.

It's worth noting the Devils will be off today, March 6, which means Meier will not have any additional practices ahead of his next outing in New Jersey on March 7.
Post-Game Reaction From the Devils' Locker Room
The Coyotes gave it their all and tied the game with two minutes left in regulation. Eventually, Meier's fellow countryman, Nico Hisichier, would get the puck past Ingram to secure an overtime victory. Devils' senior producer Sam Kasan spoke with Meier after the team's win and the newest winger couldn't help but smile when talking about his first goal in his new sweater.
Related: Devils Land Timo Meier: What's Next?
---
Latest News & Highlights
---
"Very exciting. Gives you a lot of energy to go out there and play," Meier said of his return. "I haven't played in a bit so I tried to go out there and keep it simple and with some good players out there, the puck just found me in front of the net and I got a rebound."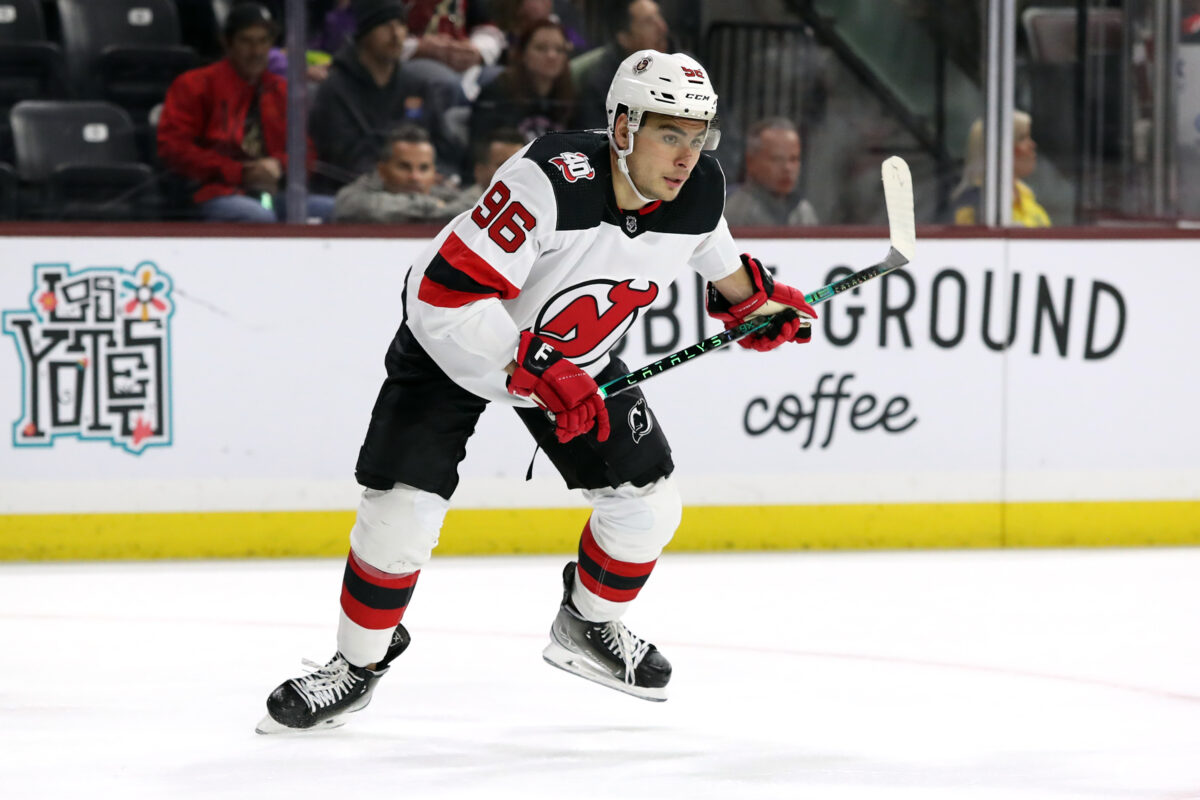 Meier told the attending media members that he still needs to work on his game and adapt to the system in New Jersey. All of that will of course take time, and his teammates recognize that.
"It's not easy for him to come in here, different system and he's been out a couple of games," Hischier said of Meier. "He did really well. Scored a goal, exactly what he does. It was good to see him with the New Jersey jersey on."
Meier will make his Prudential Center debut on March 7 when the Devils host the Toronto Maple Leafs. Fans have brought their passion and enthusiasm to Newark all season long, but something tells me the atmosphere on Tuesday will be something fans haven't seen since the team made the postseason in the 2017-18 season. This will be one game fans will not want to miss.