Welcome to New Jersey Devils News & Rumors, a weekly segment that will be released every Friday this season. Since our last edition, the team has continued to struggle and is 1-1-1 to start the 2023 calendar year.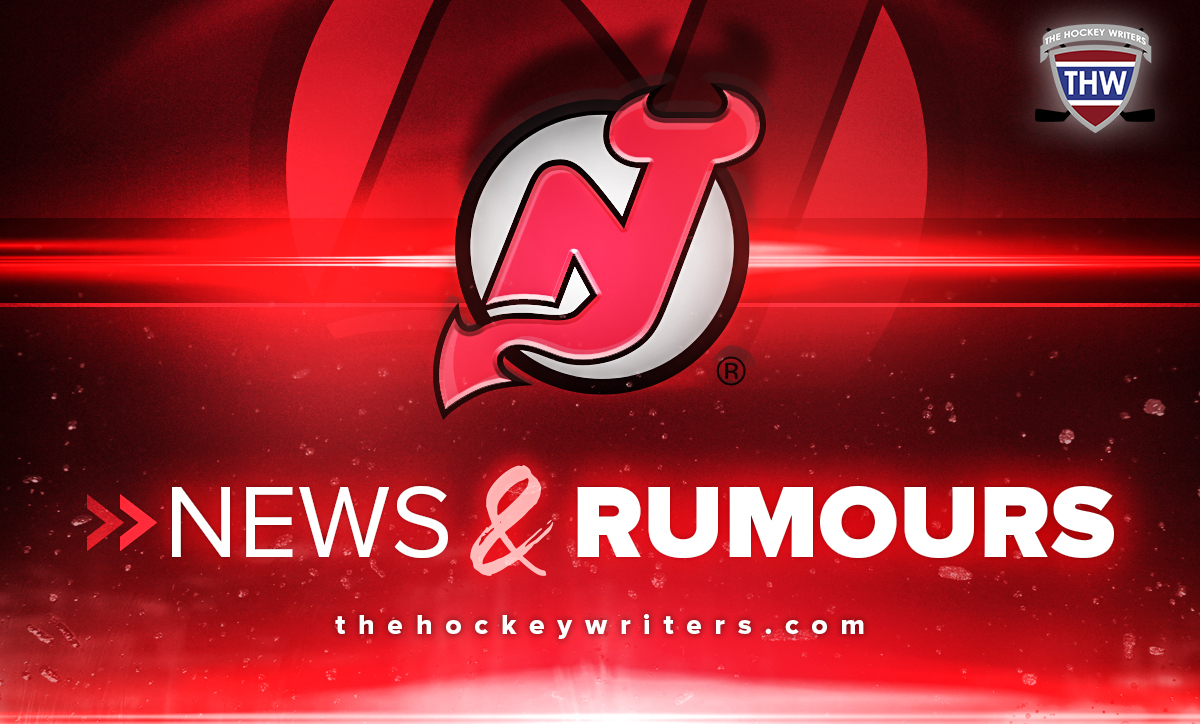 The good news is reinforcements are coming, as the club got two key pieces of their roster back, but more on that in a minute. The Devils have an overall record of 24-12-3, good for second in the Metropolitan Divison. They have been an excellent road team, but their play at Prudential Center has been a different story as have they dropped eight consecutive contests at home.
Related: Devils' 3 Up, 3 Down: Ondrej Palat, Jack Hughes & More
---
Latest News & Highlights
---
On Jan. 4, Michael McLeod appeared in his 200th career NHL game against the Detroit Red Wings and scored the team's third goal of the night. After the club's 5-1 victory, he told the media, "(I'm) pretty happy about it. It's awesome. I just want to keep going and keep getting better. I love this organization. It's been awesome."
What You Need to Know
Ahead of the team's Jan. 5 contest against the St. Louis Blues, the club announced that goaltender Akira Schmid was recalled from the Utica Comets because Mackenzie Blackwood took a shot off the hand during the club's morning skate in Detroit and was held out for precautionary reasons. Ahead of the team's practice on Jan. 6, the team announced Schmid would return to the Comets.
Additionally, Tyce Thompson was returned to the Comets. He appeared in two games, averaging 8:39 of ice time.
New Jersey got two key players back from injury this past week. Defenseman Ryan Graves was activated off of injured reserve ahead of the team's matchup against the Carolina Hurricanes on Jan. 1. Two games later, the team welcomed back forward Ondrej Palat, who made his return against the St. Louis Blues after undergoing groin surgery on Nov. 1.
Hey Now, He's An All-Star
The least surprising news of the week was announced during the Devils' game against the Blues. For a second consecutive year, Jack Hughes will represent the Devils at the NHL All-Star Game.

The 21-year-old leads the team with 24 goals and 46 points in 39 games. On Nov. 26, against the Washington Capitals, he recorded his first career NHL hat trick. On Dec. 23, he appeared in his 200th career game and became the 12th player in franchise history to score a goal in the milestone game.
Devils head coach Lindy Ruff recently talked about Hughes' development.
"He has come a long ways, and he puts the work in," Ruff said. "You know, he's a guy that every day is going to practice, he's there for the extra work, he's working on his shot. He's been working around the net more. I think if you want to be a true goal scorer, you've got to be around the net more. You have to score the type of goal he scored (against the Blues)."
Ruff Continues to Hold Players Accountable
 Speaking of Ruff, he did not hold back during his Thursday (Jan. 5) post game press conference.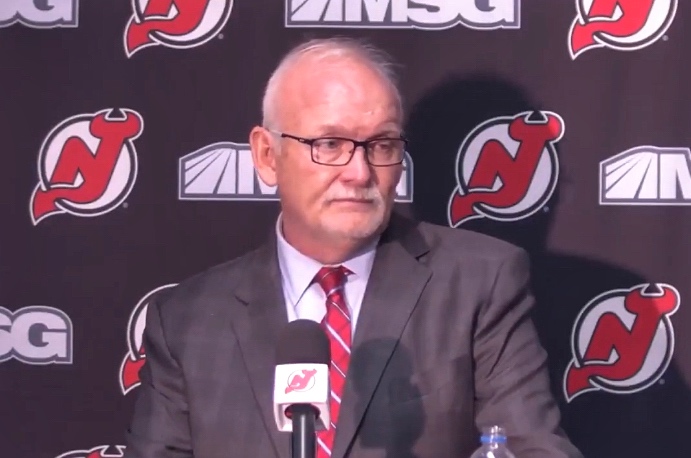 When asked about scratching forward Fabian Zetterlund, who has appeared in 33 games this season, the veteran coach spoke freely:
"Either you've got to produce, or you've got to be a guy that the other team hates playing against," he said. "Let's just look at the numbers. It's got to be better than that. If you're not producing, then you better be hitting. If you're not doing either one, you've got to bring something else to the table."
The 23-year-old has 14 points (five goals, nine assists) but has not scored a goal since Dec. 3 and has one point in his last 13 games.
Related: Devils' Fabian Zetterlund Proving He Belongs in Lineup
There have been times this season when Ruff has told the media he did not want to talk about individual players but the team as a whole. On Thursday night, he was asked about Dougie Hamilton, who struggled against the Blues.

"I didn't like his game," he said bluntly. "It's not good enough for our team to win…I keep telling them if you want to play more, you can't get scored against…I thought he could have been better."

Hamilton finished the game against St. Louis with a minus-3 rating and took two penalties in the game. Offensively, he's had a strong 2022-23 campaign and leads all blueliners with nine goals and 34 points in 39 games. The 6-foot-6 defenseman is on a four-game point streak dating back to the team's Dec. 30 game versus the Pittsburgh Penguins.
That's all for this week's News & Rumors. Be sure to check back next week to find out the latest happenings surrounding the Devils.
---
---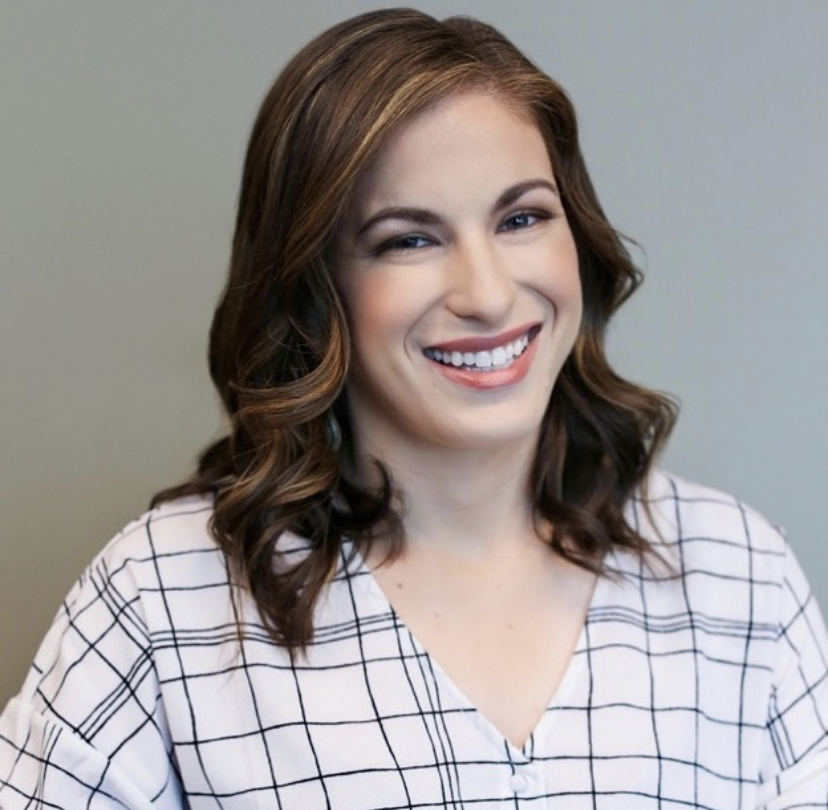 Kristy has been contributing to The Hockey Writers since March of 2021. She is thrilled to be putting her journalism degree to use and is a credentialed correspondent covering the New Jersey Devils. Kristy is also a member of the Professional Hockey Writers Association. You can follow her journey on Twitter @InStilettos_NHL and Instagram SkatingInStilettos.