Welcome to the New Jersey Devils 3 Up, 3 Down for the 2022-23 season. Moving forward, this will be a monthly column chronicling the highs and lows from the previous month of action.
---
---
The New Jersey Devils wrapped up a difficult month of December and have an overall record of 23-11-2. There were tough stretches, including a six-game skid from Dec. 9 – Dec. 20. The team was hit with a few key injuries over the past few weeks, including Nathan Bastian, Ryan Graves, and John Marino, who are all missed time.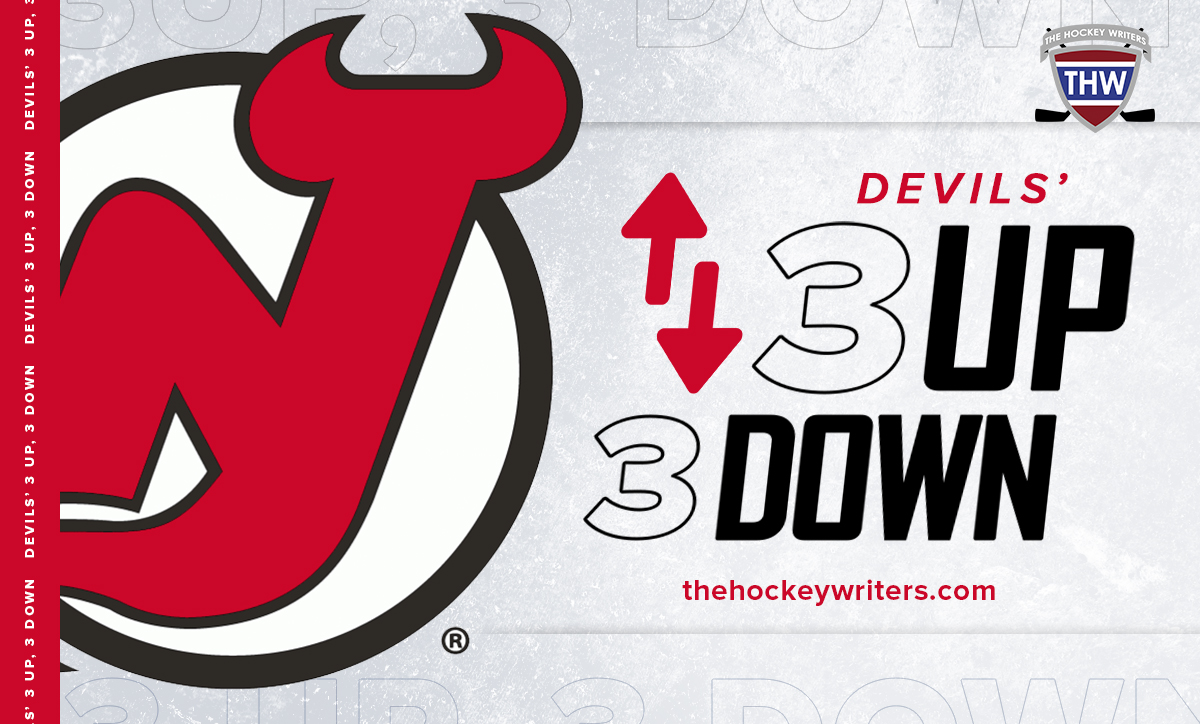 Here's a look at some of the good and bad from the past month for the Devils.
Plus 1: The Imminent Return of Ondrej Palat
Devils fans have not seen forward Ondrej Palat since Oct. 24, as he has been sidelined with a groin injury. The 31-year-old made his triumphant return to the ice on Dec. 27, practicing with his team for the first time since October. The former Stanley Cup champion is getting closer, and after the team's practice, head coach Lindy Ruff said that he was day-to-day and that it will be a short period until he is back with the team.
Reporters asked Nico Hischier what Palat brings to the group.
"He brings a lot. He's won it all so he knows exactly what you need to do in certain games and certain stretches. He's definitely a big part of our group and we're happy to have him back because a lot of people look up to and what he says. That's why we brought him in, and he is obviously a great leader for us."
Minus 1: Their 4-7-2 Record in December
It was certainly not the most wonderful time of year for the Devils. After a historic run in November the team came back down to earth in December earning only four wins in 13 games. It did not help that the club was without forward Nathan Bastian who has been sidelined with an injury since Nov. 26.
Related: Devils' Highs & Lows From the Start of the 2022-23 Season
---
Latest News & Highlights
---
Overall the Devils did not play as poorly as their record suggested. Five games were decided by one goal, and it was individual mistakes that cost them a handful of wins. While frustrating for fans and players alike, the Devils have plenty of positives to improve upon, as they look to right the ship in January.
Plus 2: 15 Points in 13 Games for Jack Hughes
Jack Hughes has appeared in all 37 games for the Devils this season. He was an over point per game player in December collecting 15 in 13 games. He had four multi-point nights against the Nashville Predators, Chicago Blackhawks, New York Islanders, and Pittsburgh Penguins respectively. Additionally, the 21-year-old had two five-game point streaks and was arguably the team's most consistent forward.
Minus 2: The Loss of Ryan Graves & John Marino
The Devils suffered a devastating blow in December losing both Ryan Graves and John Marino. The duo have been paired together for a majority of the season and have been New Jersey's most reliable defensive pair.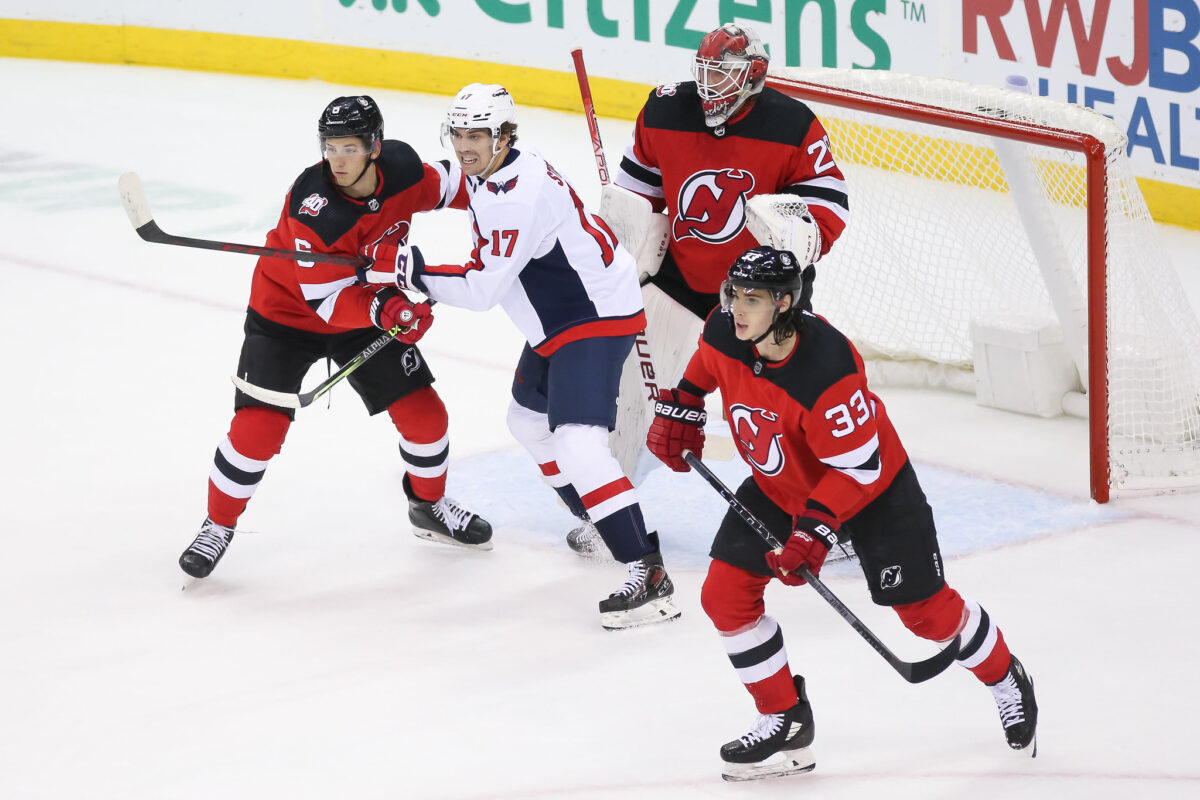 Graves is in his second season with the club after being acquired via trade on July 15, 2021. Through 34 games, he has collected 10 points (three goals, seven assists) and has 56 blocks which is second-best behind Jonas Siegenthaler. His plus/minus of plus-20 is also currently second-best in the league. Marino has been a pleasant surprise since he joined the team this past offseason. Over the past few months fans have seen the 6-foot-1 blueliner go up against the league's best, including Auston Matthews and Connor McDavid. In 32 games, he has nine points (three goals and six assists).
Plus 3: The Annual Dad and Mentor Trip
The Devils hosted their Devils Dad and Mentor trip to close out the 2022 calendar year. It is a trip that everyone looks forward to as the players get to enjoy time with their families and fans get to enjoy some hilarious stories about their favorite players.
Some highlights included Dawson Mercer's dad, Craig, announcing the team's starting lineup ahead of their matchup against the Pittsburgh Penguins, and John Marino's father calling him a slob when asked the question, "what annoys you about him?" Miles Wood's father Randy also provided this gem of a quote to team reporters, "He's always, been a little bit of reckless abandon, a little bit of chaos out there. He's always had that."
Minus 3: The Devils' Inability to Finish Their Chances
If there was one thing Lindy Ruff consistently talked about at his post game press conferences, it was the need to capitalize on opportunities. The team had minimal puck luck in December, and the fact that they were unable to take advantage of their chances hurt them on almost a nightly basis.
Ruff addressed the media after the team's 3-1 loss to the Boston Bruins on Dec. 28, and his quote summing up that specific game could have been applied to most games the Devils played in December.
"I thought we heavily out-chanced them with our quality chances. You look at the couple of breakaways, Miles Wood in alone, Jesper Bratt in alone, Jack Hughes in alone, 2-on-1 in the first period, we didn't capitalize on (…) I thought we did a lot of good stuff in the game."
That does it for this edition of the Devils' 3 Up, 3 Down. The Devils will look to recapture the magic they had in November as the race for the playoffs intensifies in an extremely competitive Metropolitan Division.