The New Jersey Devils' blue line will probably look a bit different for the 2023-24 season. Ryan Graves and Damon Severson are both unrestricted free agents and will likely price themselves out of a range general manager Tom Fitzgerald would be willing to go. Per Elliotte Friedman, the Devils could even trade Severson's negotiating rights ahead of July 1. 

With Graves and Severson heading toward signing elsewhere in free agency, Luke Hughes and Kevin Bahl should have more significant roles next season. There's also the possibility of Šimon Nemec, the second overall pick in the 2022 draft, making the team. But that would leave the Devils with a relatively inexperienced group on the back end. 
That means Fitzgerald could look for some stopgap options for a year until Nemec, who's only 19 years old, is ready for a full-time role. There aren't many enticing choices in free agency who'd be willing to take one-year contracts, meaning heading to the trade market is the next best bet. Let's look at some potential fits. 
Matt Grzelcyk
I already went in-depth on Grzelcyk in a piece about trade targets from the Boston Bruins, so I won't spend too much time on him here. Though his usage fell under new head coach Jim Montgomery this past season, Grzelcyk has a solid track record as a top-four defenseman. His even-strength defense has been worth an average expected goals above replacement (xGAR) of 3.6 over the last three seasons, so he's solid defensively. 
Related: Devils Could Target Bruins' Cap Problems in a Trade
---
Latest News & Highlight
---
Not only can Grzelcyk defend well, but he's a high-end puck-mover. He excels at exiting the defensive zone cleanly with puck possession, which would work well in a system like Lindy Ruff's. He has a cap hit of $3,687,500 for the final year of his contract, something the Devils should be able to afford. The only issue I can see coming up is he measures 5-foot-10, 175 pounds. The Devils had a blue line with defensemen all 6-foot-2 or taller this past season, so having a big, mobile defense is something Fitzgerald clearly values. 
Mike Reilly
One player I didn't mention in the Bruins trade targets piece is Grzelcyk's teammate Mike Reilly. Due to their cap crunch and logjam on the back end, the Bruins essentially buried Reilly and his $3 million cap hit in the AHL for the entire season. It's hard to take anything away from his 10-game sample in 2022-23, but he's had success in the past.
Reilly played 70 games during the 2021-22 season and put up four goals and 17 points, not numbers you'd exactly expect from a more offensive-minded defenseman, but he can move the puck. When looking at his microstats card from a year ago, he excelled in all facets of the game. He was a contributor offensively, was solid defending the rush and exiting the defensive zone with puck possession, and he could help his team gain the offensive zone with his passing and mobility: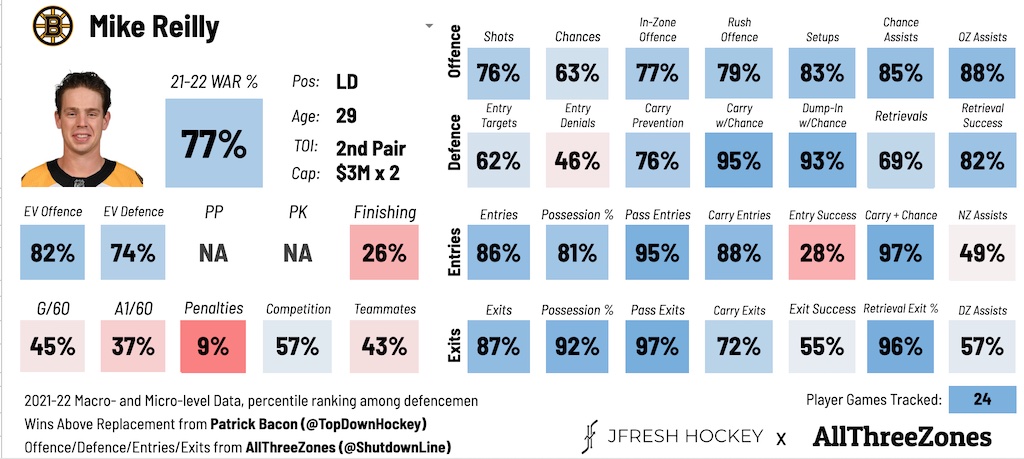 The Bruins' cap crunch hasn't gone away this summer. They'll need to clear money, and Reilly is one of their top trade candidates. They won't get anything of value for him, and they'd likely have to throw in a sweetener to move his contract, which is why he could make more sense for the Devils since they seem to be looking for more draft picks. They'd be taking a gamble on him bouncing back, but it's unlikely he forgot how to play hockey overnight. If the Bruins can't find a trade suitor, they could buy him out, making him a UFA on July 1. So the Devils could wait to see how that situation plays out. 
Chris Tanev
My colleague Rob Couch, who covers the Edmonton Oilers and Calgary Flames for THW, wrote about the possibility of the Flames trading Chris Tanev come draft day, and the Devils were one of his potential suitors. I see the fit as well, as Tanev has had a resurgence during his time with the Flames. 
No one will mistake what type of defenseman he is at this point in his career. The 33-year-old is a stay-at-home defender, but one who actually excels at the defensive part of the game. His even-strength defense has been worth an xGAR of 24.1 over the last three seasons, ranked first among all NHL defensemen. 
With Severson likely on the way out, the Devils would get one year of Dougie Hamilton, John Marino and Tanev on the right side. Marino and Tanev could log the difficult defensive minutes, freeing up Hamilton to continue producing offensively. In Tanev, the Devils would get a veteran defenseman who could help bring along Luke Hughes and Bahl while Nemec continues to develop with the Utica Comets in the AHL.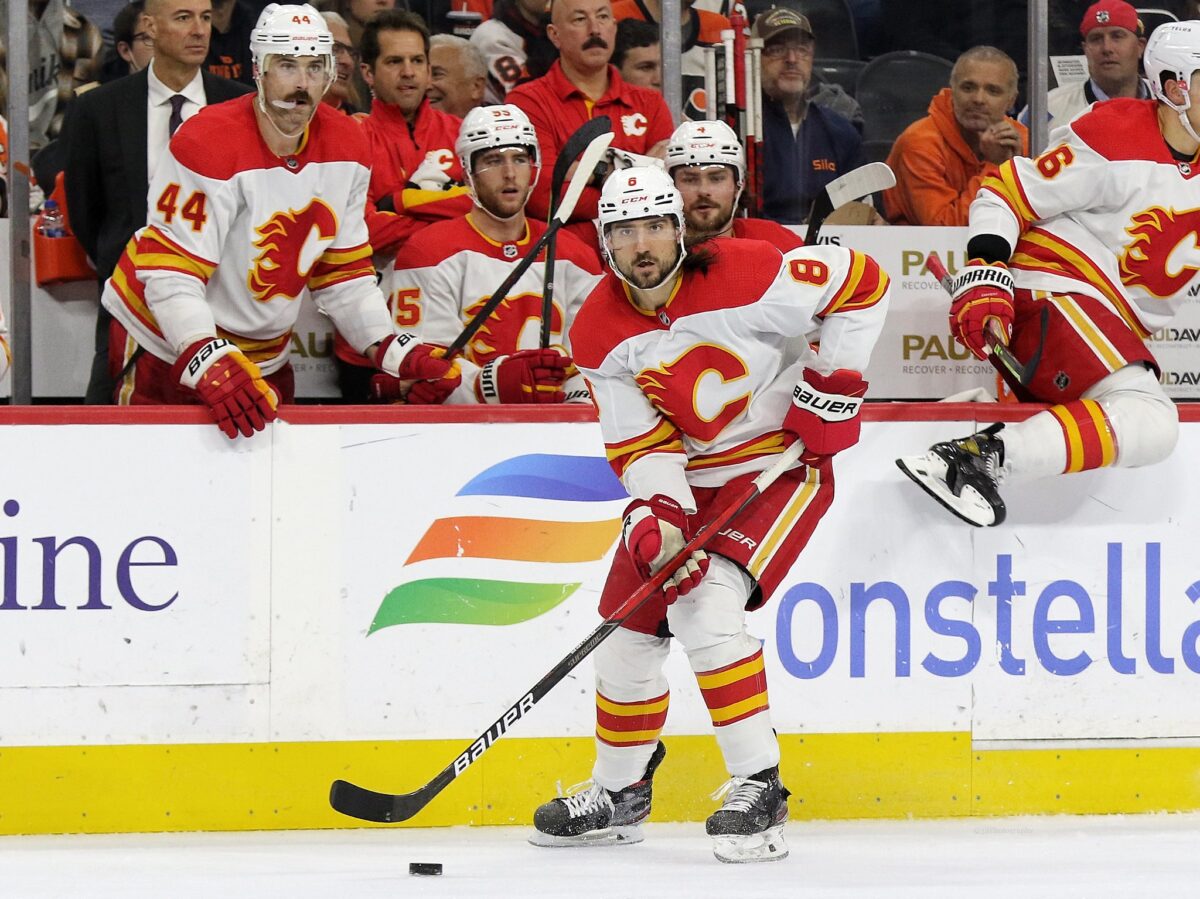 There are a couple of issues that arise, though. Tanev has a 10-team no-trade list, so it's not a guarantee he'd OK a trade to the Devils. His cap hit of $4.5 million is reasonable, but Fitzgerald may not want to add that kind of money on defense with Jesper Bratt and Timo Meier in need of new contracts as restricted free agents. 
And even though the Flames would be trading Tanev to free up cap space, he could cost a second-round pick at a minimum. With the Devils not having their first because of the Meier trade, that could be a problem. But for what they could use on the back end for one year, Tanev is a good fit. 
Alex Goligoski
Per The Athletic, Alex Goligoski was unhappy about being a healthy scratch for the Minnesota Wild during this season's playoffs. That's why he popped up at No. 19 on their initial trade board for this summer (From 'NHL offseason trade board: What we're hearing about Jets stars, Leafs' Core 4 and other targets' – The Athletic, 5/15/2023). 
Though Goligoski's offensive production fell off this season, it wasn't because he played poorly; his even-strength offense was worth an xGAR of 3.7. It's because the Wild shot 5.44 percent when he was on the ice at five-on-five. Only Marco Rossi had a lower on-ice shooting percentage for the Wild this season. And when looking at Goligoski's impacts, he still seems to have some gas left in the tank, especially offensively: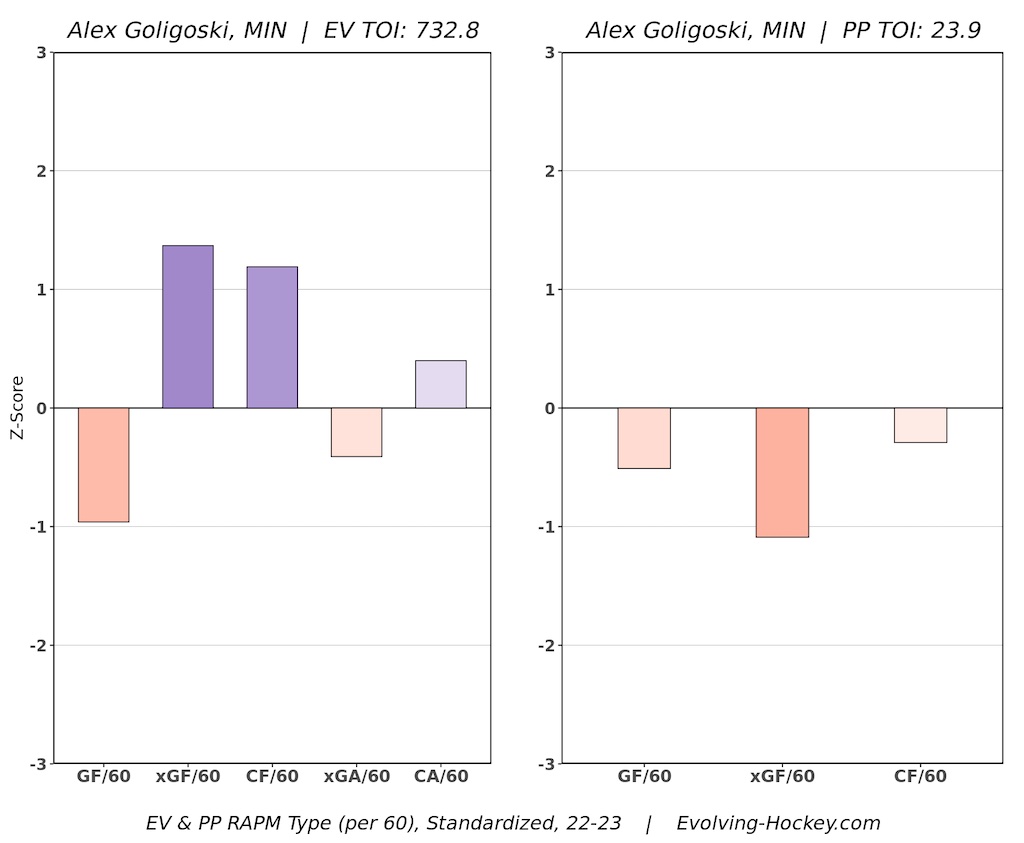 It's no guarantee the 37-year-old Goligoski will rebound next season, but there's reason to believe he can. He shouldn't cost much in a trade and has a manageable cap hit of $2 million. He's a veteran who's been on rebuilding teams, playoff contenders, and Stanley Cup champions via the Pittsburgh Penguins in 2009. He'd be a good veteran to have around with Bahl and Hughes, and he could rotate in and out of the lineup with Brendan Smith depending on what type of defender Ruff feels he needs on a given night. 
UFA Market Has Limited Options
Ideally, the Devils would sign some in free agency to a cheap deal and not have to give up assets to add some experience and depth on defense. There just aren't many enticing options. Dmitry Kulikov could be one, as he's familiar with Ruff's system, having played for him during the 2020-21 season in New Jersey. But he struggled with the Anaheim Ducks in 2022-23. 
Players like Radko Gudas, Carson Soucy or Scott Mayfield, who could be of interest, will get term and relatively pricey cap hits as UFAs. One UFA that makes sense is Connor Clifton, a New Jersey native, but Evolving-Hockey projects him for a three-year deal at a cap hit of $3.144 million. Maybe he'd be willing to take a bit less on a two-year contract to play closer to home, but I wouldn't say the chances of that are great. 
There's no doubting Nemec's upside, but the Devils shouldn't rush him into the NHL. Add in the fact that a blue line with Luke Hughes, Bahl and Nemec would be inexperienced (they'd have 82 games of NHL experience combined), then finding a veteran stopgap option should be something Fitzgerald and his front office consider this summer. 
* * *
Advanced stats from Evolving-Hockey; microstats data from Corey Sznjader/JFresh Hockey