If the Calgary Flames and the Arizona Coyotes were able to strike a deal involving Jonathan Huberdeau, I am sure that shockwaves would reverberate throughout the hockey world. This deal would promise to reshape the rosters of both squads, captivating fans and analysts alike. The real benefits of a blockbuster trade of this nature would be momentous to the hometowns of Calgary and Arizona.

Both the Coyotes and the Flames are looking for new homes and both need to show their fans that they are prepared to put a competitive lineup on the ice. With the 2023 NHL Entry Draft looming and time running out on the Flames' ability to even make a Huberdeau trade, as his no-move clause (NMC) kicks in on July 1, time is of the essence.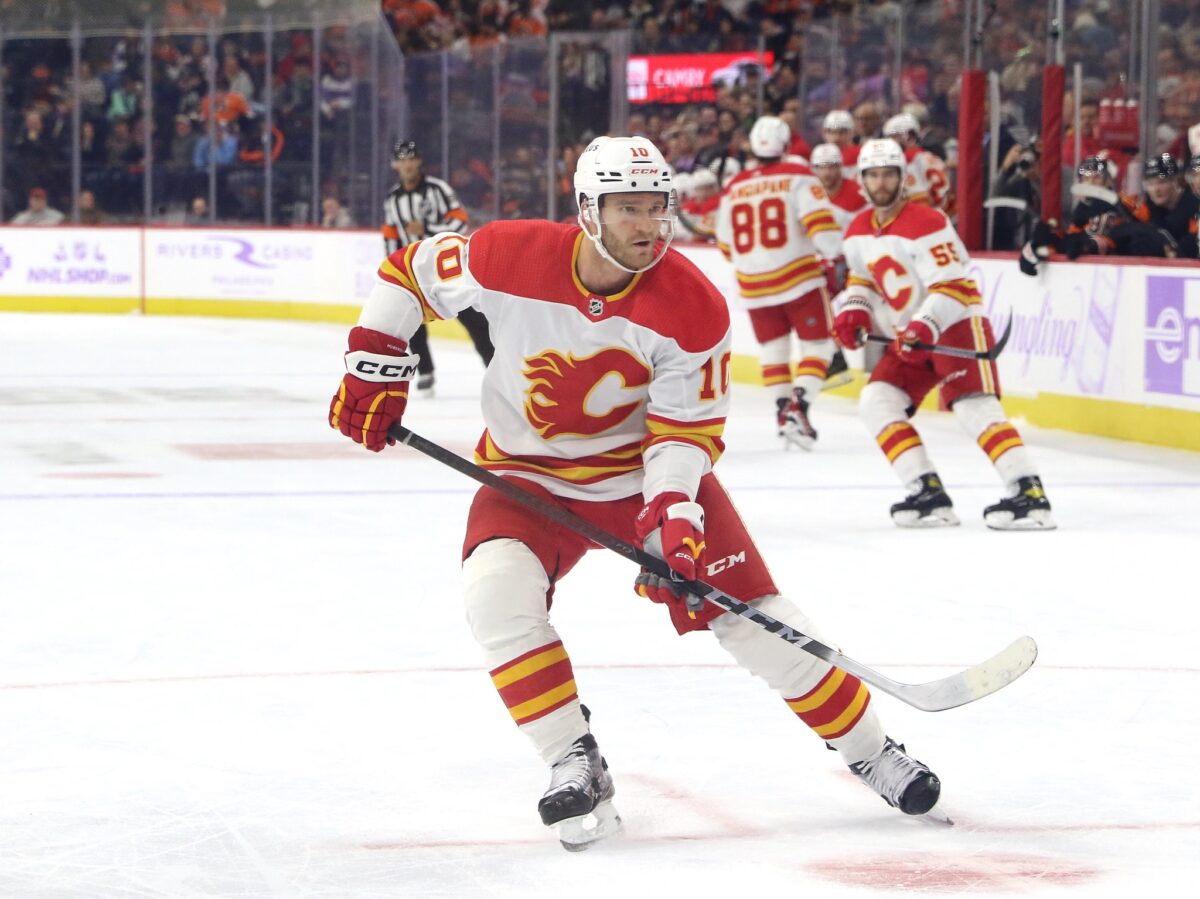 The Coyotes are also faced with the problem of reaching the cap floor while bolstering their roster with young and exciting players. The problem that the Flames are looking to solve is to make salary cap space so they can re-sign their glut of upcoming unrestricted free agents (UFAs) as well as add depth to their prospect pool. A player exchange involving Huberdeau, draft picks and prospects will require imagination and creativity.
Related: 3 Potential Trade Destination for Jonathan Huberdeau
As far as the Flames would be concerned, the main thrust of a dynamic trade involving Huberdeau would be to add prospects and move up in the order at the upcoming NHL Entry Draft. In order to accomplish this, the Flames may be willing to swap their 16th overall pick plus the following three players in exchange for the Coyotes' 2023 12th overall pick and their third-round pick.
Jonathan Huberdeau
Huberdeau was born on June 4, 1993, and was drafted third overall by the Florida Panthers in 2011, where he played 10 seasons before the big trade to the Flames in the summer of 2022. During his NHL tenure with the Panthers and the Flames, he has established himself as one of the league's most skilled and electrifying players. His exceptional vision, swift skating, and impeccable puck-handling abilities make him a constant threat in the offensive zone. With a knack for finding open teammates and a lethal scoring touch of his own, he has cemented his status as a true playmaker, racking up points and creating scoring opportunities with finesse.
Over the course of his 750 NHL games, Huberdeau has accumulated 668 points, almost a point-per-game pace. Coming off a down year in 2022-23 and admittedly a "tad" overpaid with an eight-year contract worth an average annual value (AAV) of $10.5 million which kicks in this July 1, at 30 years of age he should have a good five or six years left before his production begins to tail off. The Flames may also have to retain up to 20 percent of his salary.
Oliver Kylington
Oliver Kylington brings a unique blend of skill and speed to the blue line. Born in Stockholm, Sweden, the 26-year-old defenseman was drafted by the Flames in the second round of the 2015 NHL Entry Draft, and since then, he has shown tremendous potential. Standing at 6 feet tall, he possesses exceptional skating ability which allows him to join the rush and contribute offensively while still being responsible in his defensive duties. With his smooth stride and quick acceleration, he is a threat to opponents in transition.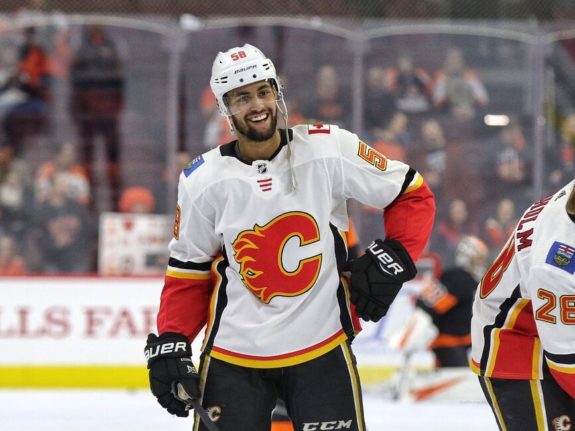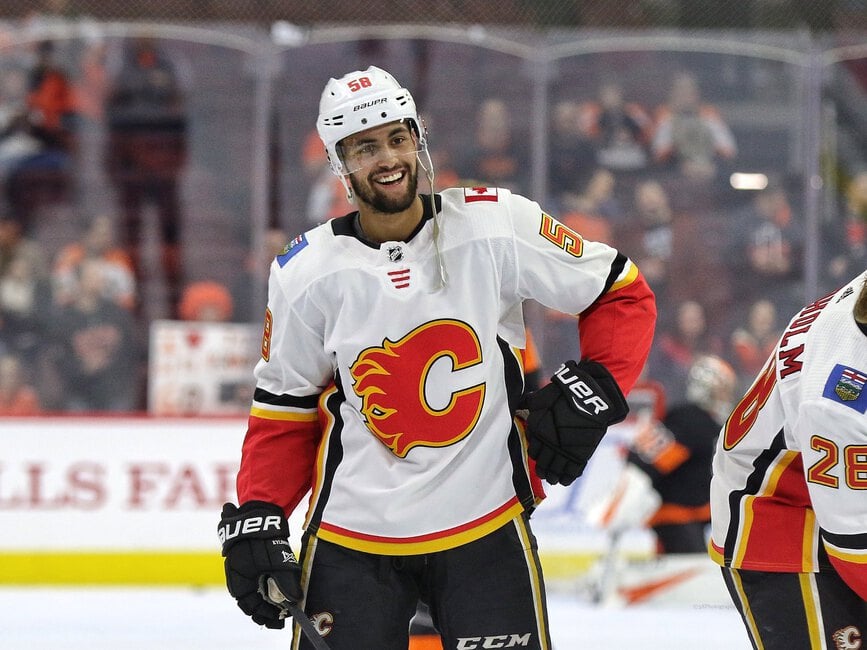 His offensive instincts are complemented by his strong puck-moving skills and accurate shot from the point. Although he is still refining his game, the young defenseman has already exhibited flashes of brilliance, demonstrating his ability to make impactful plays at both ends of the ice. In his first full NHL season in 2021-22, he contributed 31 points including nine goals before missing the entire 2022-23 season due to personal reasons.
Matthew Phillips
Drafted by the Flames in the sixth round of the 2016 NHL Entry Draft, Matthew Phillips has consistently proven at all levels that size is not a hindrance to success. Despite standing at just 5-foot-7 and weighing only 140 pounds, he showcases an unmatched level of skill and determination on the ice. Known for his blazing speed, exceptional puck-handling, and deceptive playmaking abilities, he possesses a knack for creating scoring opportunities out of thin air. Even though he has more than excelled at the American Hockey League (AHL) level for five seasons the Flames have granted this diminutive right-shot forward virtually no chance to make the jump to the NHL. A change of scenery and a second chance would definitely be welcomed by the player as an opportunity to prove himself at the highest level.
Related: 3 Potential Landing Spots for Matthew Phillips
---
Latest News & Highlights
---
If this monumental trade between the Flames and Coyotes could be consummated it would be beneficial to both clubs. The exchange of players, prospects, and draft picks will set in motion a series of dominoes that will undoubtedly reshape the fortunes of both franchises. The Coyotes would instantly improve both their offence and defence and demonstrate to their fans in Arizona that they are serious about building a competitive team in the desert. For the Flames, they would improve their organizational depth while at the same time creating cap space to re-sign some of their important UFAs. Only time would reveal the true impact of this blockbuster deal, as players settle into their new surroundings and teams adjust their strategies.
---
---