It comes as no surprise that the Calgary Flames have chosen to promote from within by appointing Craig Conroy as the organization's eighth general manager (GM) since 1973. Only time will tell if this is the correct decision as it does very little to address the culture of mediocrity surrounding the club. However, it doesn't change that the first order of business for the rookie GM should be to solve the salary cap dilemma he has inherited. The Flames have limited cap space with five unrestricted free agents (UFAs) this year and seven next year. It will take some magic on Conroy's part to solve this predicament. Somehow he must shed some salary to create the much-needed wiggle room. The only way to do this is to get rid of one large contract or two or three smaller ones.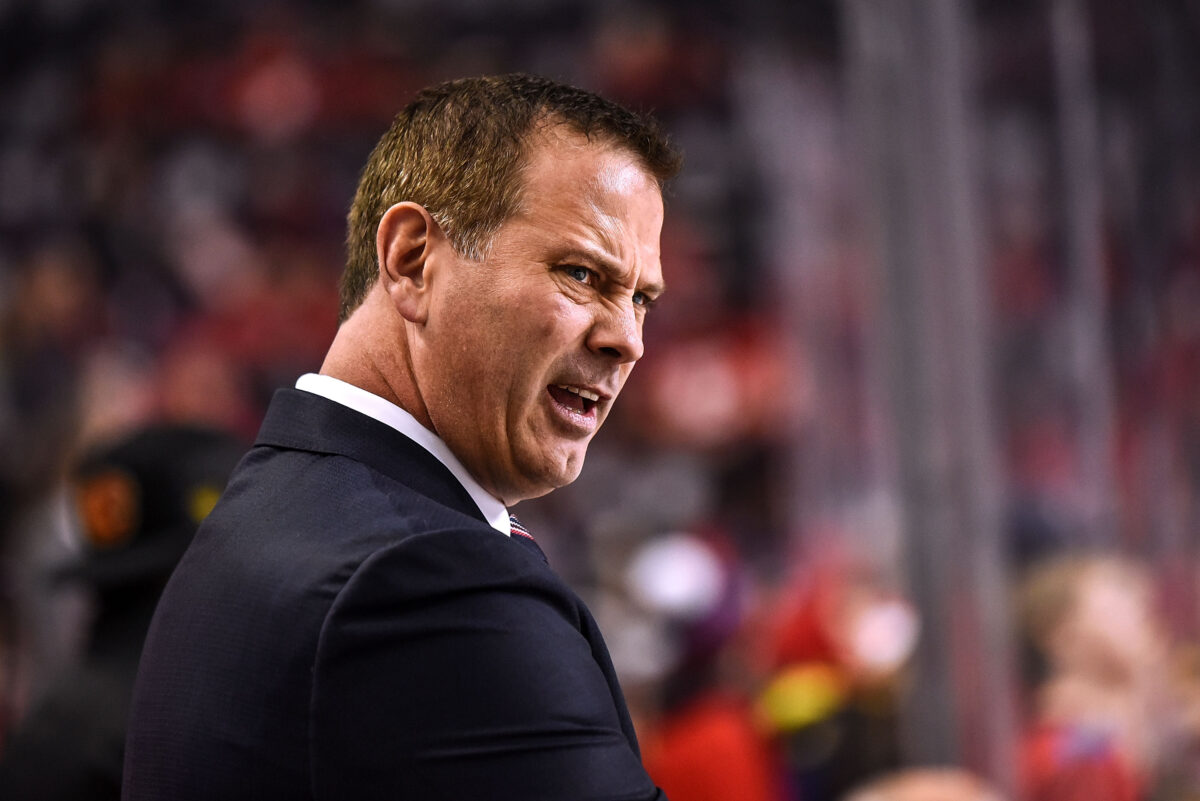 As president Don Maloney is unwilling to break up the core of the team, then Conroy only has the option to get rid of one contract. The largest on the team is Jonathan Huberdeau's eight-year, $10.5 million average annual value (AAV) contract which begins July 1, 2023, and includes a no-move clause (NMC). Also, I believe that Huberdeau's reluctance to play the Flames' system was not only responsible, at least in part, for the Flames missing the playoffs but also for the departures of both GM Brad Treliving and coach Darryl Sutter. The cost of a buyout at this stage is completely prohibitive and not worth considering so a trade is the only option. As Huberdeau turns 30 in June and is unlikely to provide full value for his contract over eight years, any trade will be a challenge but not an impossibility to consummate.
Related: Iginla gives ringing endorsement for Conroy
The purpose of any sports trade is to improve a team's performance and ability to win championships, both in the present and in the future. That ability to win could include different factors or a combination of those factors. Ideally, the trade would be beneficial to both trading partners. Favourable factors could include an immediate roster improvement, salary cap compliance issues, creating space for younger players, or adding depth to the prospect pool. As Huberdeau only has a modified NMC until July 1, now is the time to bite the bullet and make the trade. Many teams are looking to improve their top-six scoring and this is where Huberdeau will add value. Not all teams are capable of absorbing his contract so concessions may have to be made. The most important objective for the Flames in any Huberdeau trade is to create cap space while also improving prospect depth. The following are three possible destinations for Huberdeau.
Chicago Blackhawks
The Chicago Blackhawks have a plethora of draft picks but they also need to add salary to become cap compliant. A player of Huberdeau's skill set could provide leadership and help to stabilize what will be a very young team for the 2023-24 season. During the past year, it has been the Blackhawks' goal to unload anyone at all in favour of draft picks, but when is enough, enough? Eventually, you have to put a team on the ice. If the Flames are willing to accept a discount on Huberdeau then maybe a deal could be made that satisfies both parties. I think that the Tampa Bay Lightning's first-round pick or Chicago's own second-rounder and a third might get the deal done.
Related: Chicago Blackhawks 2023 Trade Targets
---
Latest News & Highlights
---
Benefit for the Blackhawks – cap compliance and leadership for what will be a young and inexperienced team.
Benefit for the Flames – $10.5 million in cap space and added prospects.
Montreal Canadiens
The Montreal Canadiens are further along in their rebuild than Chicago but they still struggle to score goals and haven't had a point-per-game player in over 25 years. As a French Canadian, Huberdeau may just be a big hit for the Canadiens and their fans. He could definitely be a nice complement on the right side with exciting young forwards Cole Caufield and Nick Suzuki. He also brings a level of truculence to open up space for the youngsters. The Flames might be willing to accept Montreal's 2023 second and third-round picks in exchange for Huberdeau. To facilitate the deal they may also be willing to retain 30 percent of his AAV for another pick.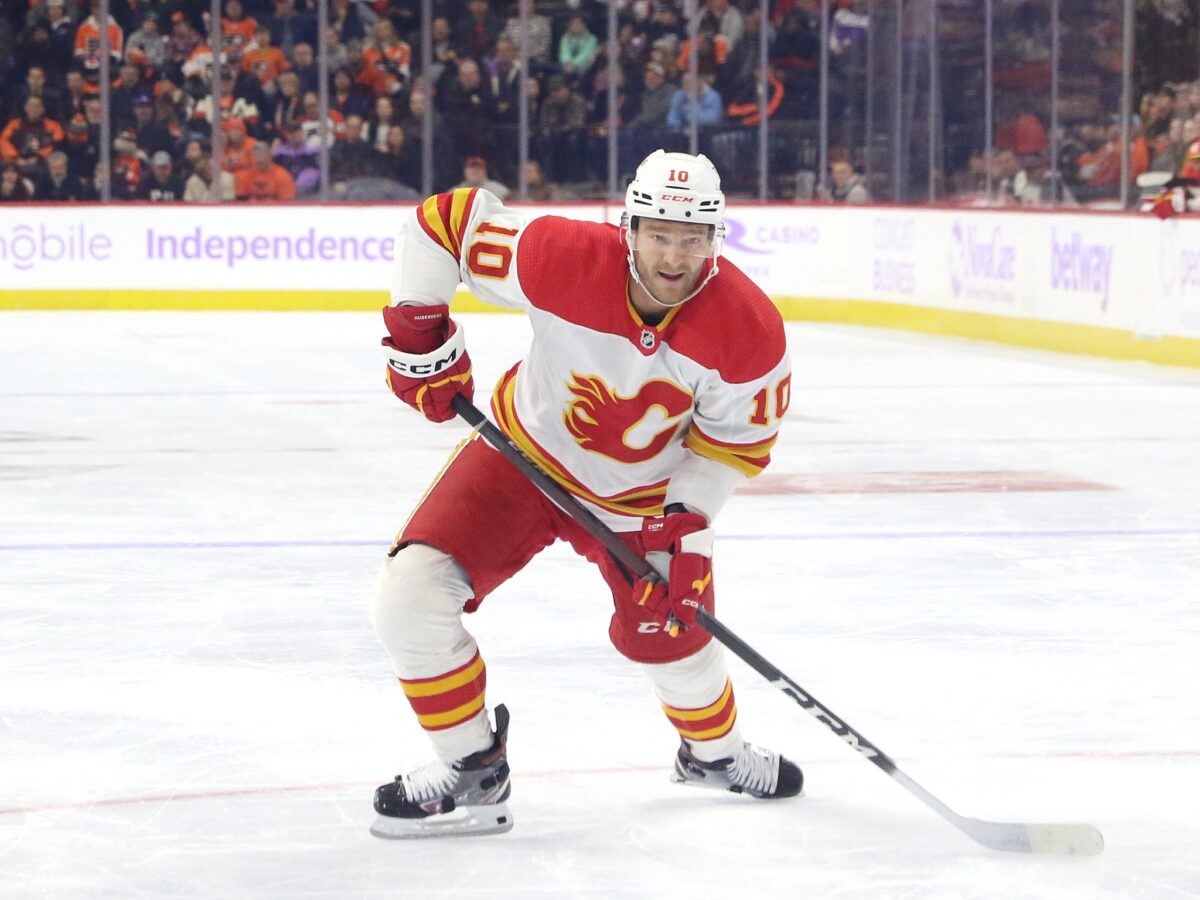 Benefit for the Canadiens – a proven top-six forward with point-per-game potential.
Benefit for the Flames – Up to $10.5 million in cap space and added prospects.
Ottawa Senators
The Ottawa Senators may be the perfect landing spot for Huberdeau. It brings him close to his home in Saint-Jérôme, Quebec, which is less than a two-hour drive from Ottawa. He would also fit in nicely with the Sens' forward group, especially if they are unable to come to terms with Alex DeBrincat. While they do not have a lot of draft picks at this year's entry draft, they do have prospects Ridly Greig and Zach Ostapchuk. These two should be enough to entice Calgary. The Flames may have to sweeten the deal by retaining some salary, though.
---
---
Benefit for the Senators – a proven top-six forward with point-per-game potential who also provides leadership.
Benefit for the Flames – Up to $10.5 million in cap space and added prospects.
Final Thoughts
As the Flames contemplate potential trade destinations for Huberdeau, Conroy faces a pivotal decision. He must weigh the immediate impact of losing a high-end talent but gaining long-term prospects for the franchise. Whichever path he chooses, it is clear that Huberdeau's skill set and leadership qualities make him a highly sought-after asset in the NHL trade market.
---