Welcome to the New Jersey Devils 3 Up, 3 Down for the 2022-23 season. Moving forward, this will be a monthly column chronicling the highs and lows from the previous month of action.
The New Jersey Devils' most challenging month of the 2022-23 campaign is behind them. The club is in the final stretch as only seven games remain before the 2023 Stanley Cup Playoffs begin. Nico Hischier's team earned a record of 8-5-3 including a 3-0 victory over the Carolina Hurricanes and scoring seven goals against the defending Stanley Cup champions.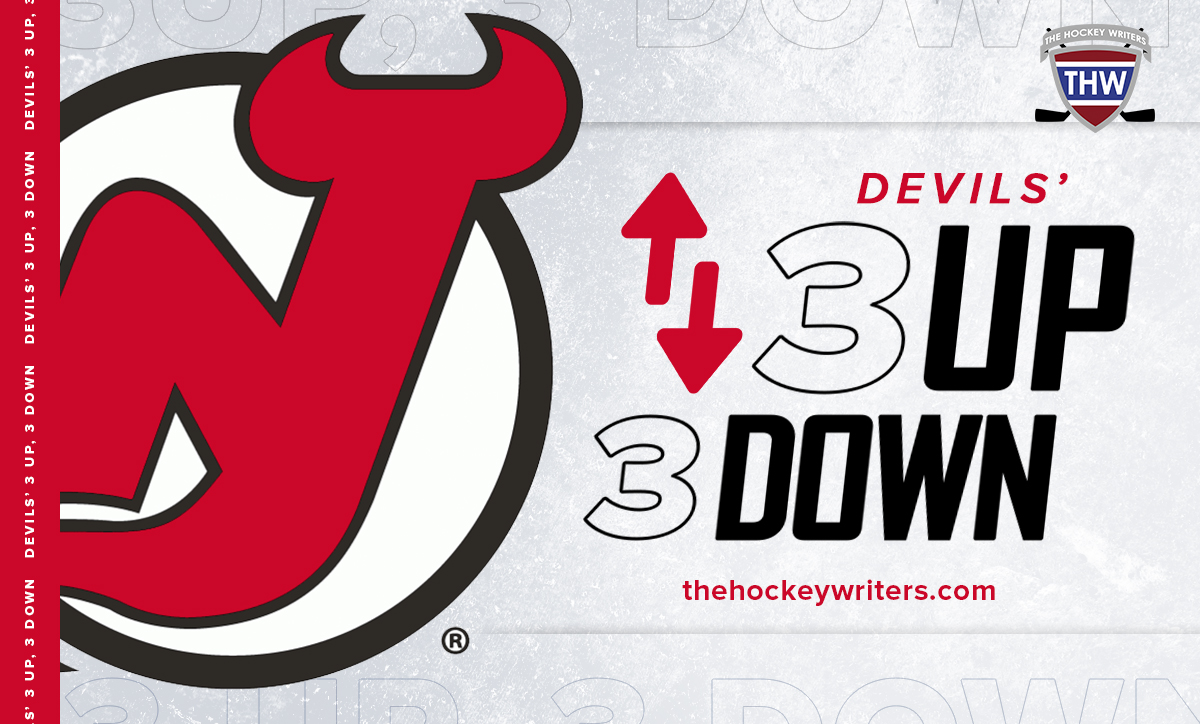 Here's a look at some of the good and bad from the past month for the Devils.
Plus 1: New Jersey Clinches Playoff Berth
New Jersey became the third team to punch their ticket to playoffs behind the Boston Bruins and Carolina Hurricanes. It is the first time since the 2017-18 campaign that the Devils will be part of the postseason. The only players who remain from the club's last appearance are Hischier, Miles Wood, Damon Severson, and Jesper Bratt.
Related: Devils' Window to Contend Is Open: How We Got Here
---
Latest News & Highlights
---
"It's weird because the only other time we were in the playoffs when I was on the team (it came down to) the last few games," said Severson. "We had to really earn our spot right at the end of the season, very, very end. So to have that, to clinch early, we earned it. We played really well all year and we set ourselves up early in the season to be successful."
Minus 1: Giving Up The First Goal
The Devils conceded the first goal of the game nine times in March. Slow starts have been something that has haunted the club throughout the season, but luckily they have been able to rally and record 24 comeback victories, which is a franchise record.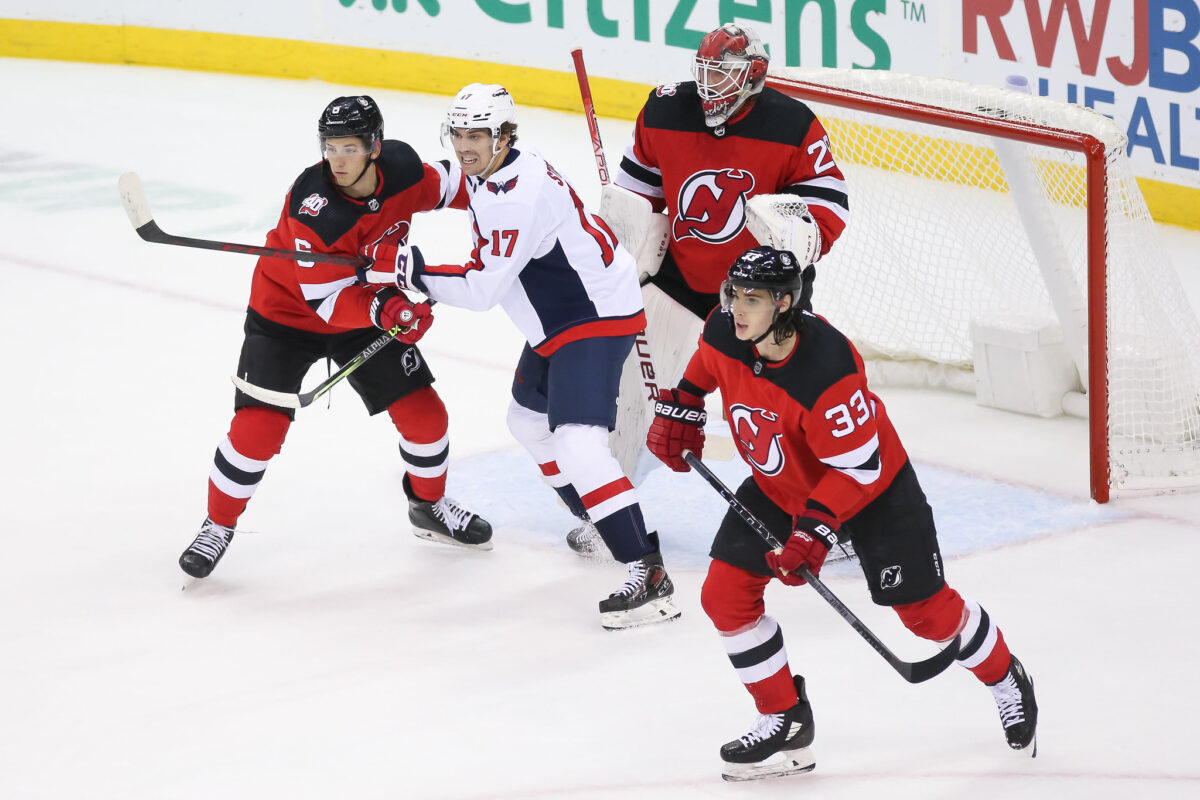 It is an area the Devils need to tighten up as the postseason nears, and one of the team's veterans knows how important it is to start on time once the playoffs begin in a few weeks.
"Obviously, in the playoffs starts are imperative," said Brendan Smith. "I know that if you score the first goal in a playoff game, it's like 60 percent or something crazy that the first team who scores wins. That's a huge impact. I've always known that starts are very big."
Plus 2: Vanecek Joins Elite Company
On March 30, goaltender Vitek Vanecek skated onto the ice at Prudential Center with 29 wins. After a hard-fought 60 minutes, he skated off earning the third star of the game and his 30th win of the 2022-23 campaign. With that win, the 27-year-old became the second netminder in franchise history to earn 30 wins in a single season. Of course, Martin Brodeur earned 30-plus wins in a single season 14 times in New Jersey.
Related: Devils Finally Have a Number One Goaltender in Vitek Vanecek
"I'm really happy I have 30 wins but I have to give credit to my teammates," Vanecek said after the game. "They always play really good in front of me. So, that's a big credit for them."
Head coach Lindy Ruff provided the best postgame quote stating, "they're going to put a statue (of Vanecek) right next to (Brodeur)."
Minus 2: Team Loses Nathan Bastian
Nathan Bastian appeared in only seven of the team's 16 games last month. During an interview with Ryan Novozinsky of NJ.com, the 6-foot-4 winger shared that he is dealing with the same injury that he suffered on Nov. 26 versus the Washington Capitals.
"I've been dealing with the same thing since November. A ton of games down the stretch, I'm trying to make sure I'm in as good of shape as possible to play come playoff time. …It's been tough, I've never had something that's been in this tough of shape that's lingered for this long" (from 'Devils' Nathan Bastian played through injury this season, feels 'a little bit better' with 8 games remaining', NJ.com, 3/29/23).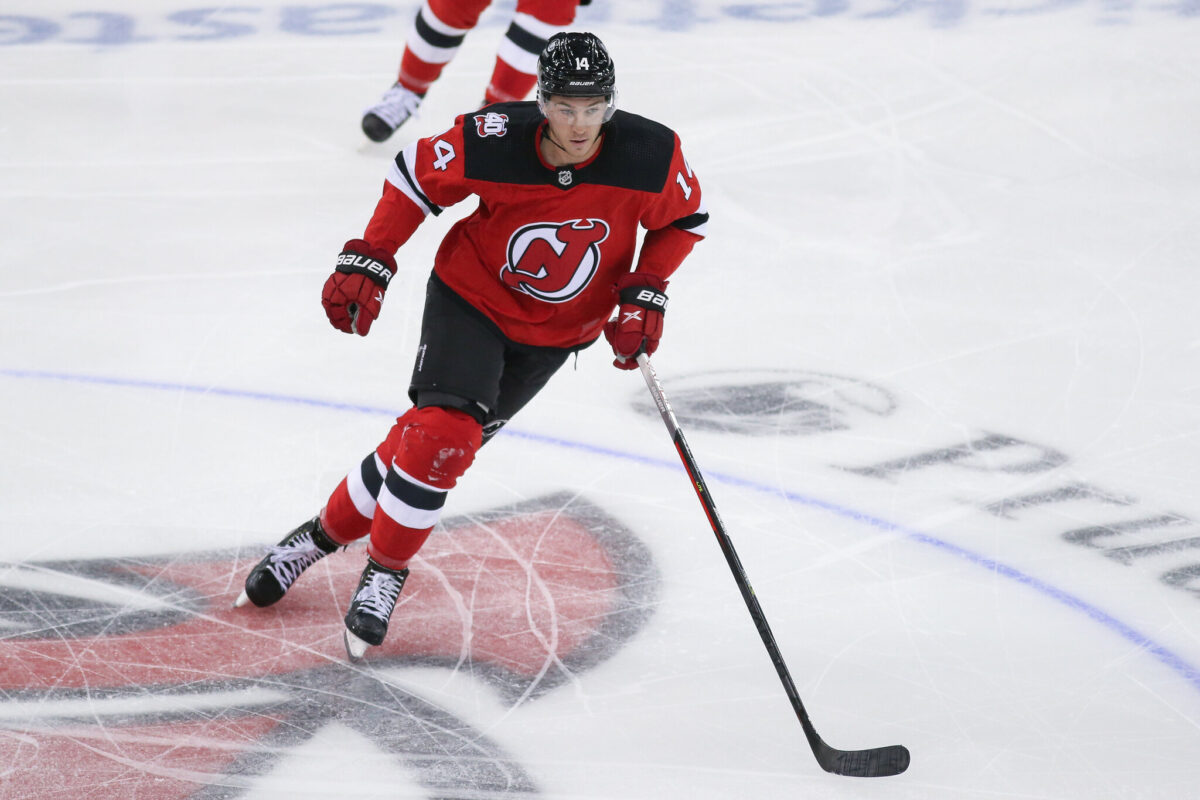 One of the more unconventional stats this season is that with Bastian in the lineup, the Devils' record is 30-6-3. Without the fourth-line grinder, their record is 16-14-5. Back in December, I wrote an article suggesting that he would be a big loss for his club, and the statistics have proved just that. The Kitchener, Ontario native has been participating in the team's practices and morning skates and will be back sooner rather than later.
Plus 3: Jack Hughes: 40 Goal Scorer
Scouting reports from 2019 referred to Jack Hughes as an outstanding playmaker who had the ability to make every player around him better. Not many people expected him to become the fifth player in the past 10 years to score 40 goals in a season at age 21 or younger joining Alex DeBrincat, Patrik Laine, Connor McDavid, and Auston Matthews.
The Orlando, Florida native celebrated his 40th goal of the 2022-23 season at Prudential Center when his team hosted the Ottawa Senators on March 25. He became the ninth player this season to reach this impressive milestone and the first Devils player to net 40 since Zach Parise in the 2008-09 season.
"My shot is something that I really focused on," Hughes said during training camp of his summer training. "I want to keep that scoring touch going and continue being a really big scoring threat. That was a big focus for me this summer."
Minus 3: A Struggling First Power Play Unit
On paper, a power play unit that consists of Dougie Hamilton, Jesper Bratt, Timo Meier, Hischier, and Hughes should be counted on to score a goal every opportunity they are on the ice. That has not been the case as the unit struggled more times than not last month. New Jersey's power play is ranked 16th in the league with a power play percentage of 21.4. The good news is that associate coach Andrew Brunette has been working hard to improve his team's five-on-four play and it has recently been paying off as they have scored three power-play goals over their last five games.
That does it for this edition of the Devils' 3 Up, 3 Down. The team will play the first half of their final back-to-back of the season when they battle the Chicago Blackhawks on April 1 at United Center when the puck drops at 8:00 P.M.
---
---