The New Jersey Devils made their first significant addition of the offseason last night, acquiring defenseman Ryan Murray from the Columbus Blue Jackets in exchange for a fifth-round pick. He played in just 27 games last season and has a history of injury problems. But when in the lineup, the former second overall pick is quite effective. 
Let's dive into the Devils' newest blueliner and why he'll improve their defense. 
Murray's Played Well Despite Injuries
Murray has not played a full 82 games since 2015-16. He's had a host of injury problems since then and has only played in 60 or more games once (2016-17). His counting totals may not suggest it — he's averaged 32 points per 82 games over the last three seasons — but he's been a solid two-way defender for some time. 
Related: Blue Jackets Trade Murray to Devils for 2021 5th Round Pick
Since 2017, Murray's overall play has been worth a goals above replacement (GAR) of 17.8. That ranks just outside the top 50 in the league for defensemen and is better than names such as Shea Theodore and Dmitry Orlov. That doesn't mean he's better than either, but it shows he's played well when healthy. 
And a big reason for that is because of his strong two-way play at even strength. Murray's even-strength defense has been worth a GAR of 7.9, while his even-strength offense has been worth a GAR of 7.2. And his RAPM Chart shows a positive impact on defense at even strength: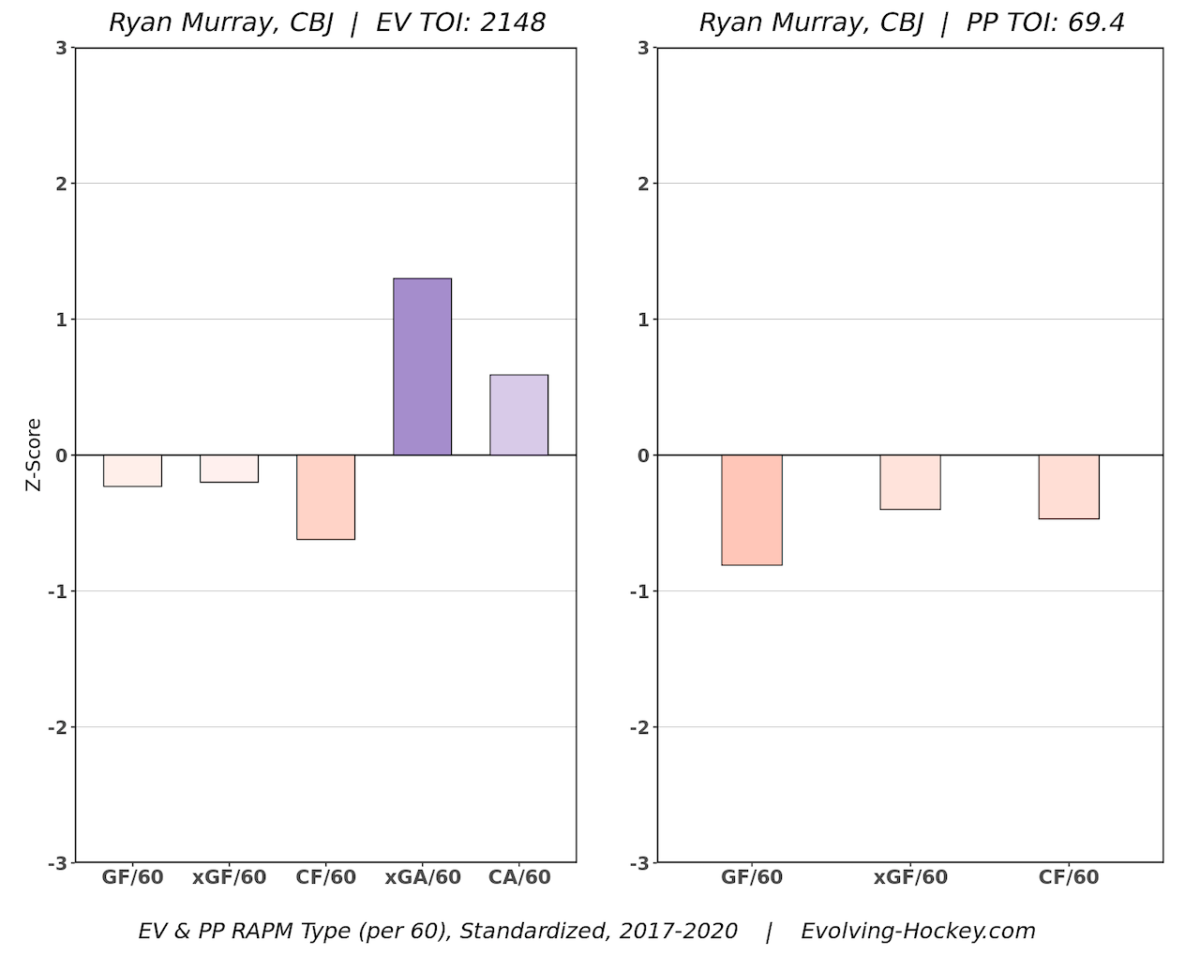 It's also worth noting Murray can play tough defensive minutes. When in the lineup, he logged top-four ice time, and he sometimes played on the Blue Jackets' top pair. And the chart above shows he's handled the minutes well. He's also a left-handed shot, which was a pressing need for the Devils.
Devils' GM Tom Fitzgerald, who the organization hired in July, noted he wanted to add size and puck-moving ability on their blue line. And he's getting a bit of both with Murray. He may not be the biggest defenseman out there — he's 6-foot-1, 206 pounds — but he does add some size while being quietly effective in transition: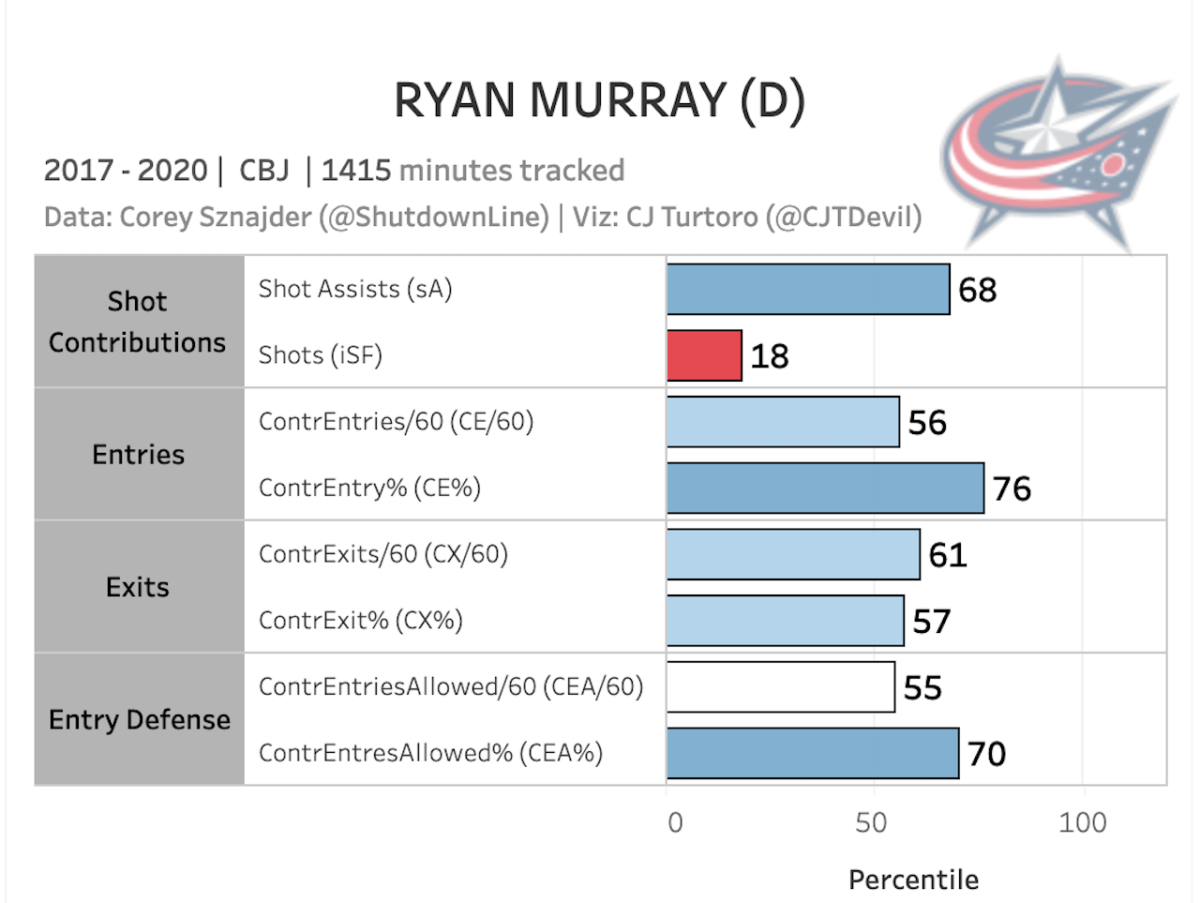 Aside from Will Butcher and Damon Severson, the Devils did not have enough defensemen who could move the puck out of the defensive zone cleanly. The result was them chipping the puck off the glass more often than not, and that led to them defending more than they should've been. So adding someone like Murray who can move the puck up the ice cleanly will help. 
Where Murray Fits With the Devils
That's enough of the nerd talk. Let's get into where Murray may fit into the Devils' lineup. The team never had a consistent top pair last season, but that should change now. P.K. Subban, who the Devils acquired at the 2019 Draft, played plenty of first-pair minutes last season. But he struggled mightily, so he'll likely play further down the lineup moving forward.  
The best option, as of now, would be pairing Murray alongside Severson. Severson has occasional mental lapses, but he's generally a solid two-way defender who skates well and excels in transition. He also seems capable of handling the minutes, as he had the best defensive impact of his career last season.
With Murray and Severson together, the Devils' top pair should see noticeable improvement moving forward. It also allows Subban to move into a more suitable second-pair role. That should lead to him getting softer minutes, and that'll benefit him at this stage of his career. After putting all of that together, the Devils' blue line could look something like this:
Murray – Severson
Butcher – Subban
Ty Smith – X
They still have an opening to fill on their third pair. But that will take care of itself in free agency or on the trade market in the coming days. Otherwise, that's a much-improved top four over last season.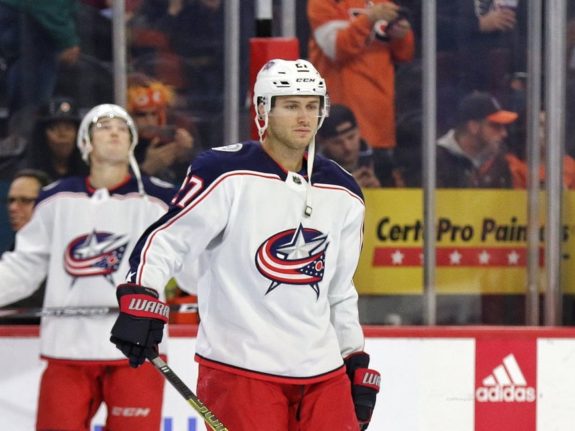 We also shouldn't forget to talk about what the Devils gave up to acquire Murray, and that's essentially nothing. His counting totals aren't anything special, but his play is a lot better than those would suggest. 
And if you need more examples of why the Devils made out well, the Ottawa Senators acquired defenseman Erik Gudbranson for a fifth-round pick too. He's no better than a no. 6 defenseman, and his defensive impacts are significantly worse than Murray's. Murray is easily a top-four defender when healthy, and he can play top-pair minutes when needed. 
Related: Devils News & Rumors: Holtz, Duclair, & More
All in all, this was a shrewd piece of work by Fitzgerald. He addressed a need and improved the top four of the Devils' blue line while giving up close to nothing. Murray will be a free agent after next season, but he just turned 27 years old less than two weeks ago. If he can stay healthy, I'd imagine they'll try and get him re-signed. But in the short-term, he'll provide a sizable boost to a Devils' defense in need of one. 
* * *
Advanced stats from Evolving Hockey
---
---