Every NHL team has now played about 10 games, giving us a sense of the direction they are heading in. A couple of teams that were expected to again be bottom dwellers have surprised with their great starts, like the Montreal Canadiens, Vancouver Canucks and Carolina Hurricanes. Then there are the teams that were expected to do great things or even improve but have come up short in disappointing fashion.
Based on the first 10 games, it looks like these teams are in for a rough year. In some cases, the problem is obvious. In others, it's their time to miss the playoffs. Here are five teams with the most disappointing starts to the new NHL season.
5) Vegas Golden Knights
The Vegas Golden Knights are the most out of place team on this list. After everyone outside of Vegas predicted a terrible inaugural season for the expansion team, they did the unthinkable: They made the Stanley Cup Final.
They lost to the Washington Capitals, but not without making everyone take notice. Now in their second season, the magic that they had, of every player having something to prove, has vanished, and with a mediocre record of 5-5-1 for 11 points in 11 games, the cracks have started to show in their armour.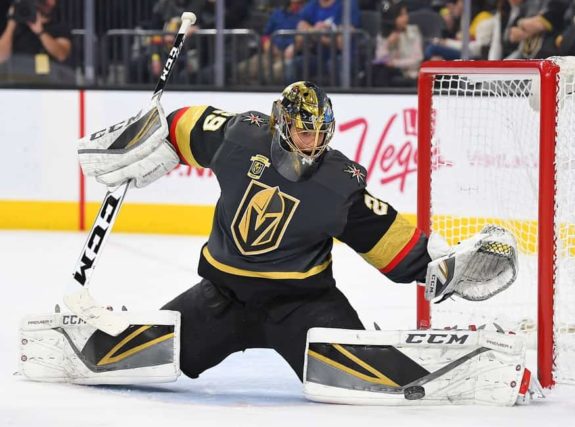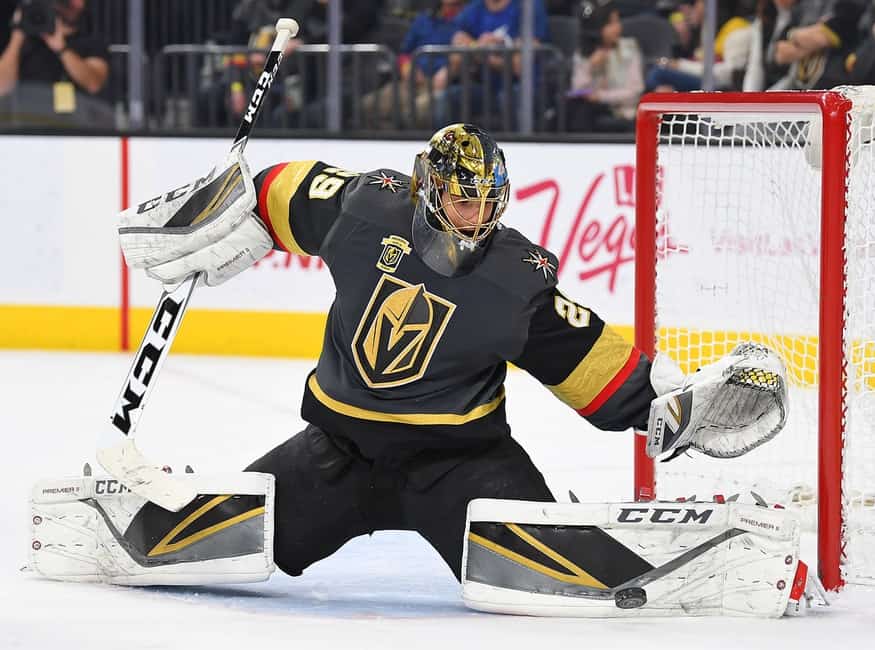 Marc-Andre Fleury is not playing to the standard he set last season when he had 29 wins in 46 games with a stellar .927 save percentage and 2.24 goals-against average. Through 10 games this season, Fleury has a .897 save percentage, a 2.49 goal against average and five wins. The Golden Knights are going to need Fleury to find his game if they hope to stay in the playoff hunt.
Max Pacioretty is another player that needs to step up for the Golden Knights. After being their big offseason acquisition, he has yet to put up the numbers they were expecting with just two goals in 10 games.
Related: Golden Knights Offense Will Dazzle With Pacioretty
Speaking of offseason acquisitions, Paul Stastny who was brought in to shore up Vegas' top six is injured and will miss to two to three months with a lower-body injury. To make matters worse, they are also without defenseman Nate Schmidt for another nine games after he was suspended for 20, for violating the NHL's performance-enhancing substances policy.
Everything that could go wrong has gone wrong for Vegas and the magic they had last season isn't helping them get past this early hurdle.
4) Los Angeles Kings
The ageing Los Angeles Kings have had a deadline looming for the last few seasons. Similar to the San Jose Sharks, in each new season the Kings have to answer the question of whether they can still keep up with all the fast, young teams.
Last season, the Kings made the playoffs by securing a Wild Card spot but were easily swept in the first round by the Golden Knights. This season has been similar to that series, where the Kings' age has finally caught up to them. Through 11 games they have a terrible 3-7-1 record for just seven points, which puts them last in the Western Conference and tied for last in the NHL.
Goaltender Jonathan Quick didn't have a good start with a .845 save percentage and no wins in four games and he will have to wait to fix his game as he is injured for the second time this season. Luckily, Jack Campbell has come in and given the Kings some much-needed help in net.
The real problem has been scoring goals. The Kings are last in the NHL in goals scored with 22 through 11 games. Their offseason addition of Ilya Kovalchuk has been a success so far as he leads the team with 8 points in 11 games, but there are a few players that need to step up to get the team back into fighting for a playoff spot.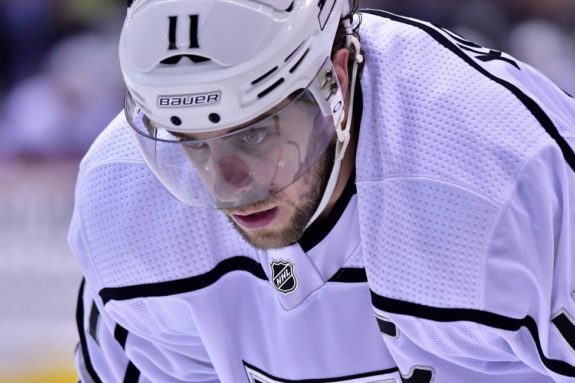 The most important player is Anze Kopitar who has just four points in 10 games, which isn't good enough for a player being paid an average of $10 million a season for six more seasons. Kopitar needs to be better, but coach John Stevens will likely be the one to pay for the team's bad start.
3) Florida Panthers
The Florida Panthers were again so close to making the playoffs last season when they missed the last Wild Card spot by one point. With the offseason addition of Mike Hoffman, it seemed they had enough to finally put Florida back into the postseason.
But an injury to Roberto Luongo in their first game put the team on a downward path. Although Luongo should be back in a few weeks, James Reimer and Michael Hutchinson have been terrible in Luongo's absence with neither goalie having a save percentage over .900.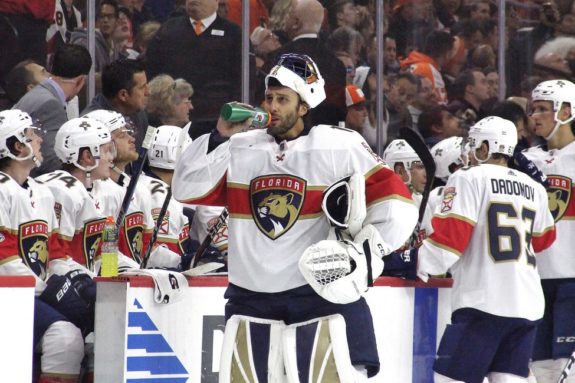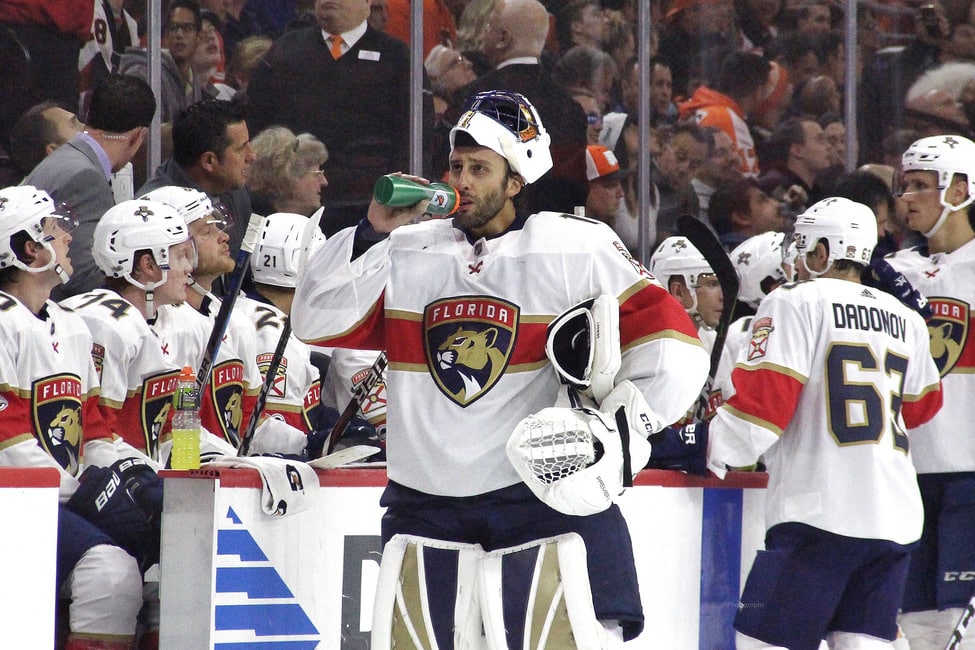 Getting Luongo back soon may give the Panthers enough time to salvage their season, but the rest of the team hasn't inspired any confidence, especially on their special teams: The power play is 10th-worst in the NHL while their penalty kill is the fourth worst. This has given them a poor record of 2-4-3 for seven points in nine games.
Related: Luongo's Injury Impacts Panthers Profoundly
Despite their talent, the Panthers live and die by their 39-year-old goalie and that doesn't bode well for this annually fringe playoff team.
2) Philadelphia Flyers
For years, the Philadelphia Flyers have had the same problem of finding good, consistent goaltending. The Flyers have a tremendously gifted roster and with Claude Giroux putting up a career high of 102 points last season, they were able to make the playoffs despite poor goaltending.
This season their goaltending has somehow been even worse. None of their three goalies has a save percentage over .900 and the Flyers have allowed the most goals in the NHL with 46. Their penalty kill is no better sitting at just 67.5 percentage, second-worst in the NHL.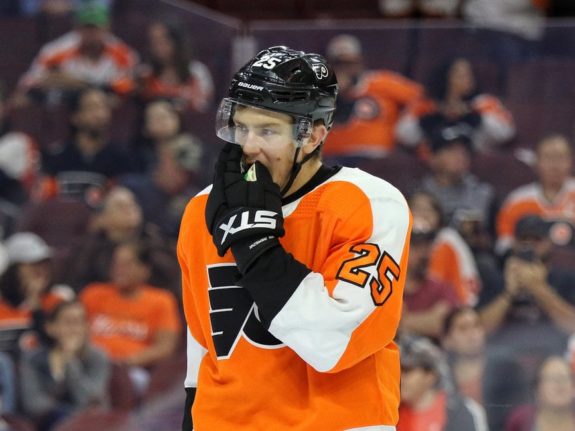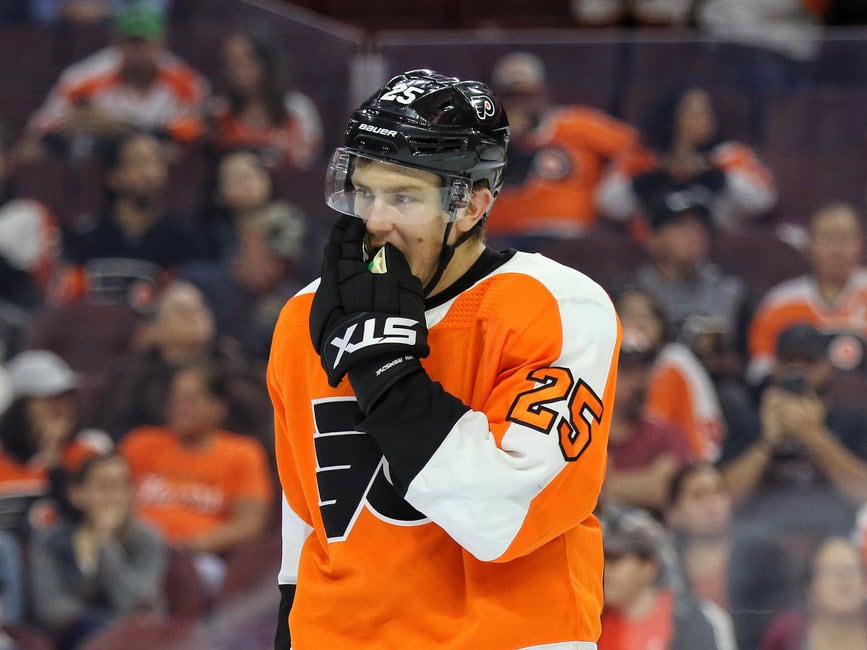 James van Riemsdyk hasn't been able to make an impact as he was injured at the start of the season with a lower-body injury. Van Riemsdyk should return from injury in a few weeks, which should give the Flyers some much-needed help.
Their record, although mediocre, doesn't look as bad as it seems at 5-7-0 for 10 points in 12 games. But the Flyers won't make any impact in the playoffs, despite Giroux's best efforts, if the goaltending issue isn't addressed. Change needs to happen soon for the Flyers if they want any hope of turning their season around. Looking at a coaching or management change would be the best place to start.
Related: Flyers' West Coast Trip Could Be Crucial
1) St. Louis Blues
The St. Louis Blues looked poised for a bounce-back year after missing the playoffs last season by one point. They picked up Tyler Bozak, David Perron and Patrick Maroon in free agency and also traded for Ryan O'Reilly. All of that should have been enough to put them back into the Central Division's postseason battle but through 10 games the Blues have a 3-4-3 record for nine points.
Sitting at the bottom of the league standings isn't where the team was expected to be in 2018-19. Part of the problem seems to be their poor defensive play to start the season which, when coupled with terrible goaltending, doesn't give the Blues much hope, regardless of their skilled roster.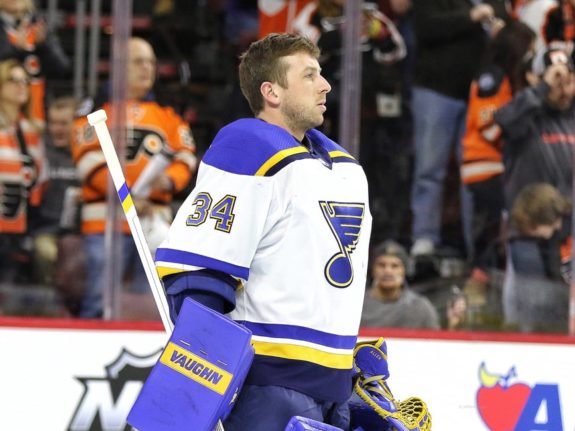 Jake Allen has been awful with a poor .874 save percentage. It's not a substantial drop considering that he finished last season with a .906 save percentage and 27 wins in 56 games. It was Carter Hutton that got the Blues within reach of the playoffs with 17 wins in 26 games and a .931 save percentage.
Hutton is now with the Buffalo Sabres, so Allen has had to stand on his own as the Blues' starting netminder. However, it's only shown that Allen isn't a good choice as an NHL starting goalie. As though he wanted to preempt the media questions, coach Mike Yeo talked about how his "job should be in question" after the team's poor start. If the Blues can't get it together then it might require a coaching change and someone other than Allen in nets.
Toronto Maple Leafs contributor for The Hockey Writers.
I've been a fan of the Toronto Maple Leafs since I was a kid and have always had an interest in writing. At The Hockey Writers, I get to enjoy both of my passions as well as writing about small convoluted details in player contracts and stats.