| | | | |
| --- | --- | --- | --- |
| Born: | October 23, 1925 | Draft: | Undrafted |
| Hometown: | Winnipeg, Manitoba | Position: | Defense |
| Known For: | Hall of Fame | Shoots: | Left |
| National Team: | N/A | Current Team: | |
Frederick Alexander Shero, nicknamed The Fog (October 23, 1925 – November 24, 1990) was a Canadian professional ice hockey player, coach, and general manager. He played for the New York Rangers of the National Hockey League (NHL). However, he spent most of his playing career in the minor leagues. Following his playing career, Shero went into coaching. He spent 13 years coaching in the minor leagues before making it to the NHL. As the head coach of the NHL's Philadelphia Flyers, Shero won the Stanley Cup in 1974 and 1975 and reached the Stanley Cup Finals a third time, in 1976. He also had four consecutive seasons of having a 0.700 or better winning percentage and remains the Flyers all-time leader in coaching victories.
Shero controversially left the Flyers following the 1977–78 season to become the head coach of the New York Rangers, whom he led to the Stanley Cup Finals in his first season. He resigned from the Rangers after coaching for less than three seasons. Shero had a unique style of coaching that led to several innovations that are still used today. He was the first coach to hire a full-time assistant coach, employ systems, have his players use in season strength training, study film, and he was one of the first coaches to utilize a morning skate. In 2013 Shero was recognized for his contributions when he was elected to the Hockey Hall of Fame as a builder.
He was known for his enigmatic and introverted personality often appearing or disappearing from a room unnoticed, or being completely lost in thought. He often left philosophical sayings on a chalkboard as a way of provoking thought or as a motivational tool. Prior to game six of the 1974 Stanley Cup Finals, Shero wrote his now famous quote "Win together today and we walk together forever" – a statement that continues to be quoted to this day.
Years as NHL Player: 1947-1950
Years as NHL Coach: 1971-1981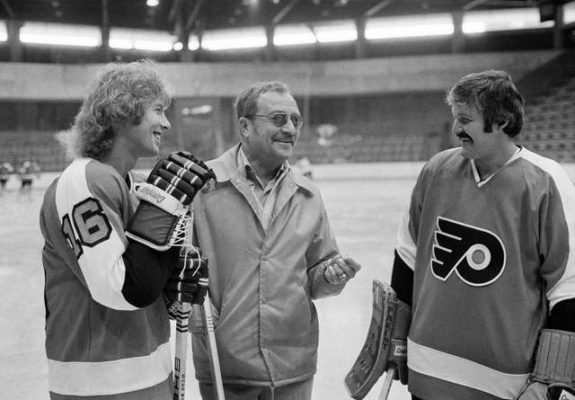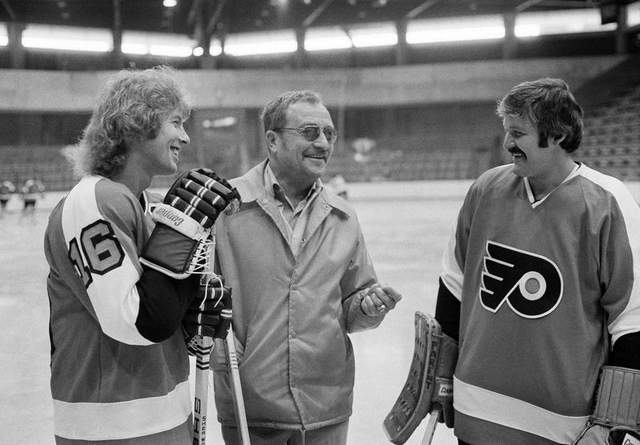 Fred Shero Statistics
Deeper Dive
Achievements
EAHL First Team All-Star (1947)
AHL Calder Cup Champion (1953, 1954, 1970)
AHL Second Team All-Star (1954)
WHL Champion (1956)
IHL Champion (1960, 1961)
AHL Coach of the Year (1970)
CHL Champion (1971)
Stanley Cup Champion (1974, 1975)
Jack Adams Award for NHL Coach of the Year (1974)
Lester Patrick Trophy (1980)
Inducted Into Manitoba Hockey Hall of Fame (1985)
Inducted Into Flyers Hall of Fame (1990)
Inducted Into Manitoba Sports Hall of Fame (1999)
Inducted Into Philadelphia Sports Hall of Fame (2008)
Inducted Into Hockey Hall of Fame (2013)
Sources