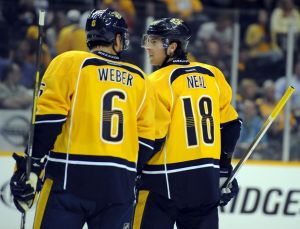 Prior to the opening puck drop of the 2014-15 season, the Nashville Predators announced the captain and assistant captains for the year. With little surprise, Shea Weber was named captain and Roman Josi will replace Mike Fisher as assistant captain until he returns from injury. However, the more surprising news was newly-acquired James Neal being named an assistant as well.
Neal, 27, enters his first season with the Nashville Predators after being acquired via trade during the NHL draft from the Pittsburgh Penguins. In the Steel City, the native of Whitby, Ontario was an offensive stud, but was deemed a 'dirty player' by many in the League. For Neal to show leadership, head hunting and embellishments will have to end. In March, former NHL referee Paul Stewart wrote a blog on HockeyBuzz.com bashing Neal's dirty play and comparing him to the infamous Sean Avery.
"James Neal is not my type of hockey player. He has been involved in multiple incidents, showing reckless disregard for the safety of fellow players. Furthermore, he's a player who has acquired the reputation for being a diver."
He scored 61 points (27 g, 34 a) in 59 games last season and is tied for 5th in the league in goals scored since the 2011-12 season with 88. Neal is an electric player on the ice with tremendous talent, but can he lead a team?
Shortly after being acquired by Nashville in June, Neal believed he was coming to the Music City to be a leader.
"I think that is why I came into Nashville," Neal said. "You see a team that missed the playoffs by three points in the tough Western Conference. They missed it by three points without their best player in Pekka. So everything is there, and I hope I can come in here and supply offense for a team that was lacking a little bit of offense. Nothing but a bright future ahead. That is something I'm looking forward to. I need to step up and be a top guy on this team and be a leader. I'm excited for that challenge."
He has lived up to the challenge so far, according to Peter Laviolette. The experience Neal brings will play a role in the success of the Predators.
"It's a good fit," Laviolette said. "I think training camp was a good chance for us to look internally at the locker room and see the leadership that we do have. We have excellent leaders already in place here and I think James really fits the bill. He brings a lot of successful experience to the table."
Naming Neal was a good decision because there is not another player on the roster as deserving. Josi, who is part-time assistant captain, is the only other player that comes to mind, but a training camp practice fight with Craig Smith may have eliminated him from full-time duties. Also, Josi does not have the experience Neal has. The decision of naming Neal will be a great idea based on his discipline. If he is more mature, then Laviolette made the correct choice.
Colin Fitts is a Nashville Predators staff writer and is a credentialed media member of the Chicago Wolves. From Nashville, Tennessee, Colin majors in journalism and public relations at Columbia College Chicago. Follow him on Twitter, @FittsTHW. Email: 22fitts [at] gmail [dot] com.