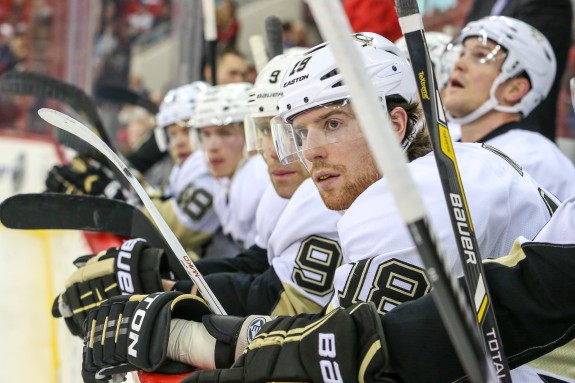 When James Neal returned to his Virginia hotel after attending teammate Matt Niskanen's wedding Friday, Pittsburgh Penguins GM Jim Rutherford broke the news that he was traded to the Nashville Predators.
"Anytime you're traded it always comes as a shock," Neal said. "I think even if you knew you were going to get traded it comes as a shock. I'd like to thank the Penguins organization for the past three years. Coming over from Dallas and playing in Pittsburgh was an unbelievable opportunity for me. Right now, I'm at a new chapter in my career and couldn't be more excited to be with the Nashville Predators and get things going. To come in as a top guy and take on a lot of responsibility is something I'm looked forward to."
Nashville acquired Neal in exchange for forwards Patric Hornqvist and Nick Spaling. Neal will be the go-to guy for scoring in the Music City, unlike in Pittsburgh and Dallas, giving him a new challenge in his NHL career.
Neal scored 61 points (27 g, 34 a) in 59 games last season and is tied for 5th in the league in goals scored since the 2011-12 season with 88. His natural scoring touch will be something different for Nashville up front and could push them into the playoffs for the first time in three seasons.
"I think that is why I came into Nashville," Neal said. "You see a team that missed the playoffs by three points in the tough Western Conference. They missed it by three points without their best player in Pekka. So everything is there, and I hope I can come in here and supply offense for a team that was lacking a little bit of offense. Nothing but a bright future ahead. That is something I'm looking forward to. I need to step up and be a top guy on this team and be a leader. I'm excited for that challenge."
Becoming a leader will be a challenge for Neal, who already has a mild reputation throughout the league for his numerous head hunting moments and embellishments. In March earlier this year, former NHL referee Paul Stewart wrote a blog on HockeyBuzz.com bashing Neal's dirty play and comparing him to Sean Avery.
"James Neal is not my type of hockey player. He has been involved in multiple incidents, showing reckless disregard for the safety of fellow players. Furthermore, he's a player who has acquired the reputation for being a diver."
"Sometimes your emotions get the better of you," Neal said. "There are obviously things that have happened in my game that I regret. I've grown as a player. I'm still young, I have a very long way to go. Mistakes happen and I'm going to be better for it and move forward and not let that stuff happen again. I have to concentrate on being a leader on this team and taking my game to the next level."
The purpose of acquiring Neal was not only to bring in additional scoring and grit, but to perhaps lure Ottawa Senators center Jason Spezza into town. Acquiring Spezza would have addressed the team's needs all in one day at the draft. An upset Poile addressed the media after the draft and said there was a deal in place to acquire Spezza, but he did not agree to waive his no-trade clause.
While it seemed to have hurt the desires to play in Nashville, it truly did not. With Neal in the fold, it could attract UFA center-men Paul Stastny or former Dallas Stars teammate Brad Richards on July 1. Neal understands that, and he wants the same thing.
"We've started that, obviously it started with me, and with myself coming here. Hopefully other guys will want to come to Nashville. We have great goaltending, great defense and now we're starting to build our offense to be a more powerful team. That's a great start."
News: Nashville gave qualifying offers to Ryan Ellis, Mattias Ekholm, Taylor Beck, Simon Moser, Joonas Jarvinen, Anthony Bitetto and Scott Valentine. They did not qualify Michael Del Zotto, Joonas Rask and Charles Roussel.
Colin Fitts is a Nashville Predators staff writer and is a credentialed media member of the Chicago Wolves. From Nashville, Tennessee, Colin majors in journalism and public relations at Columbia College Chicago. Follow him on Twitter, @FittsTHW. Email: 22fitts [at] gmail [dot] com.