You know what would make preseason predictions even better? Turning them into a contest to see who's the best at it. So that's what we did.
Seventeen THW writers participated, and only one will survive. Awaiting him will be bragging rights. And maybe a trinket or homemade trophy (or cookies!) of some kind. We'll see.
Who Ya Got

The great Bill Schoeninger already broke down our standings predictions.
Great Minds?
There are only two things we really, really agree on: Boston and Pittsburgh will win their divisions. That's it.
Many teams, though, have definite advantages over the runner-up:
Chicago (8) over Anaheim (4) for the President's Trophy
Chicago, if healthy and rolling, is a beast. But Bruce Brudreau knows how to coach a high-scoring, points-generating monster in the regular season, and Anaheim got better after adding Ryan Kesler.
Chicago (10) over St. Louis (6) in the Central
Anaheim (10) over Los Angeles (6) in the Pacific
Islanders (9) over Florida (5) for the Biggest Rise in Team Points
A healthy John Tavares, a competent starting goaltender, a couple solid new forwards, and an upgraded defense. Things are looking good for the Islanders. Florida is the little advanced stats darling that could.
Colorado (7) over a bunch of teams for Biggest Drop in Team Points
Colorado is a house of cards just waiting for a gust of wind.
The rest of the categories are complete toss-ups:
Calgary (5), Buffalo (3), Winnipeg (3), or Carolina (2) for the Worst Team
Anaheim (5), Chicago (4), or Dallas (3) for the Most Goals For
What happened to the East? Surprising.
Los Angeles (7) or Boston (6) for Fewest Goals Against
Edmonton's Craig MacTavish (6), Toronto's Randy Carlyle (4), or Calgary's Bob Hartley (3) for the First Coach Fired
Eek, sorry, Canada. Craig MacTavish's Oilers have not only stunk, but they have had absolutely no identity to speak of. That is all on the Head Coach. If the Oilers come out of the gate still sucking, he needs to go.
Chicago (5), St. Louis (4), or Boston (4) for the Stanley Cup
Figured to be a contentious category. I have no problem with these being the top 3. I tried not to be too much of a homer for St. Louis, so I picked Boston. That way, even if I'm wrong, I STILL WIN. Not a lot of love for LA to repeat. Good.
The Rules of the Game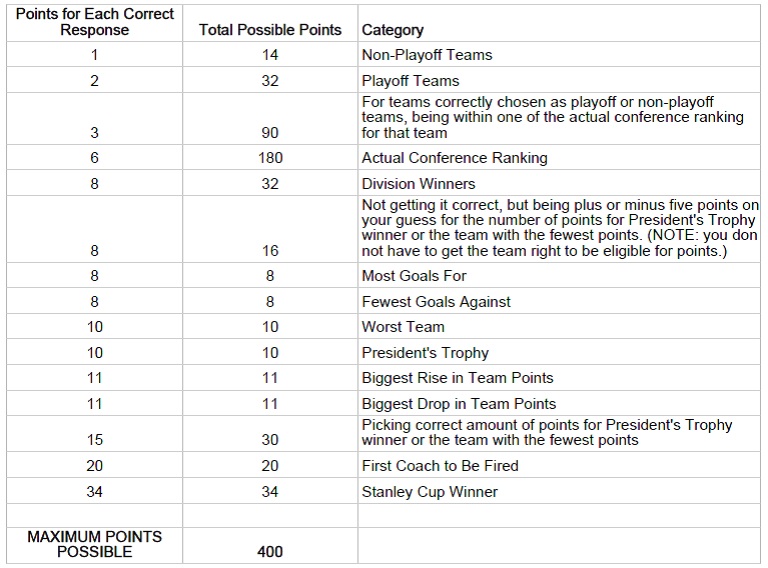 Notes:
It is a work-in-progress.We've never done this before.
Generally, the harder it is to get right, the more points you get when it is.
I don't think anyone will come close to 300 points. A few might break 200 points.
But what if no one even gets 100? That would be hysterical. We'd have to make the game easier.
Bulk of points should be won in standings predictions.
But if you screw up your standings predictions, you can make up for a lot of lost ground on the bigger categories, which are far more difficult to guess right.
I will come to regret changing my picks at the last second to put Columbus in the playoffs. Stupid peer pressure.