Every summer for the past three years, Jim Nill has seemingly done the impossible. Tyler Seguin and Jason Spezza were acquired by trade during the first two July's of Nill's career as he set out to fortify the middle of the ice. Both of those moves happened quickly after free agency opened up on July 1st. Last year, he took his time. A couple of weeks went by and not much had happened deep in the heart of Texas. Then out of nowhere, in the middle of July, Nill made a move and acquired Patrick Sharp from a division rival. Each offseason, Nill has made a move to throw the Stars several steps forward.
So far, this summer has been different.
While he did sign Dan Hamhuis to a reasonable two-year deal, not much noise has been made in Dallas this go around. Alex Goligoski, Jason Demers, Colton Sceviour and Vernon Fiddler were all lost to other teams in free agency. It doesn't appear as though deadline-acquisition Kris Russell will be returning to Dallas either. Many players from the playoff run of 2016 are gone, without much to say in terms of replacements.
Does Nill have another big move up his sleeve? Unless the Stars are looking to take a step backwards this upcoming season, he may want to be looking around.
The Past
For the past three off seasons, Nill has consistently made the Stars a significantly better team. This has not been without some sacrifice, as he has had to let go of some good players in the process. Loui Eriksson, Trevor Daley, Ryan Garbutt, Reilly Smith, Alex Chiasson, Brenden Dillon and some promising young prospects have all been traded to acquire the difference-makers the Stars have. With that said, Nill has always done an excellent job in getting more than he has let go.
This past season, Nill's acquisitions through the draft, free agency and trades have significantly out-performed the players he has traded away. His acquisitions scored at a primary points-per-60 rate that was .43 higher than the players he has traded away. Of the players who played at least 100 minutes of 5-on-5 hockey this season, Nill's acquisitions scored 119 more primary points at even strength than the players he has traded away. That is an incredible chasm made even more impressive by the number of players in each category. Twelve acquisitions by Nill on Dallas played 100 minutes of 5-on-5 hockey this season while eight players he has traded away played that much. The difference in production is highlighted below.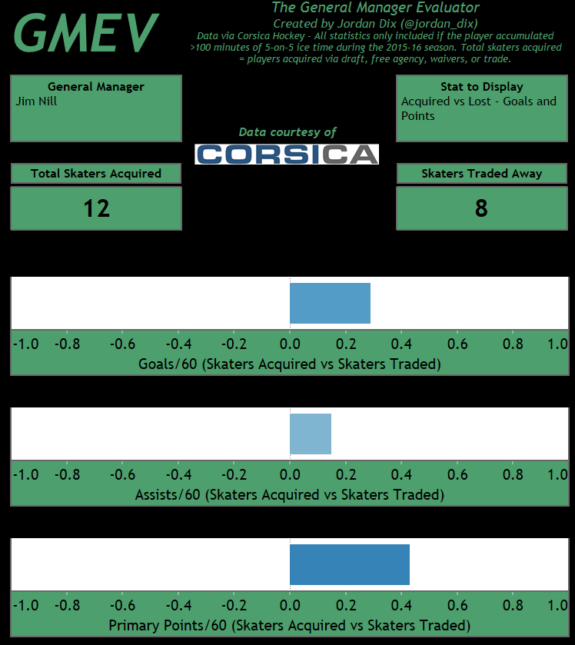 Without a doubt, Nill has bolstered the offensive production. Since he took over as general manager, the Stars have finished 10th, 2nd and 1st in overall scoring in the entire NHL. The year before he arrived, the Stars finished 11th and the year before that they finished 22nd. He has quickly turned Dallas into an offensive powerhouse.
But what of the defense?
The Present
The Dallas Stars are fresh off a season which saw them finish first in the West and lose the St. Louis Blues in seven games in the second round of the postseason. Taking a look at what Nill has assembled, it would be a tough pill to swallow for them to take a step backwards this upcoming season.
Jamie Benn just signed a massive $9.5 million extension that doesn't kick in until next year and he is entering his prime. As is Tyler Seguin, who is on an incredible deal that comes with a $5.75 million cap hit for the next three seasons (courtesy of generalfanager.com). They have one of the better possession-driving, offensive-defenseman in the league in John Klingberg locked up at a $4.25 million cap hit for an eternity. They've got talented veterans Patrick Sharp and Ales Hemsky locked up for one more season. They've got an incredibly talented Jason Spezza for three more seasons. And on top of all that, they have talented youth like Stephen Johns, Radek Faksa and Mattias Janmark on entry-level contracts.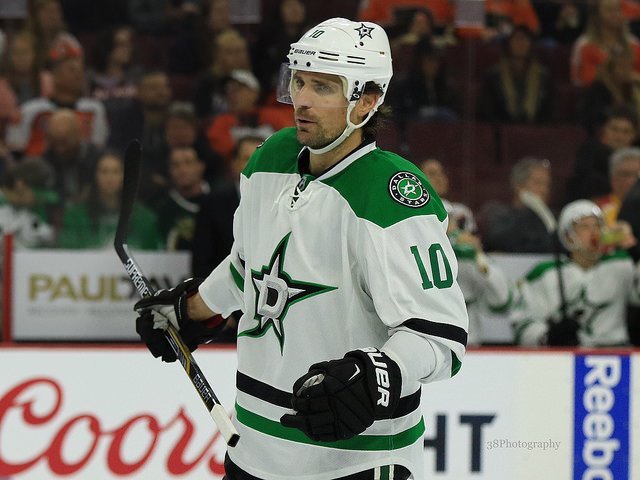 There is no doubt, the time to win is now. Sharp and Hemsky may not be back next season. Who knows how long Spezza will be able to continue his incredible play? And eventually, the bargain contracts of Benn and Seguin will be pushed aside for massive amounts of money. In a salary-cap league, they have to take advantage when contracts line up the way they have.
Unfortunately, at this time, the Stars may be poised to take that step backwards without a solid amount of good fortune. They lost arguably their two best defenders from last season with Goligoski and Demers playing elsewhere next year. Nill added Hamhuis who may be good enough to replace what Demers brought but likely won't get close to Goligoski's contributions on this team. Aside from that, it looks as though Dallas is prepared to enter next season with a ton of youth on the blue line. Johns looks like he will get a roster spot but that leaves at least two spaces after you count Oduya. Some combination of Jordie Benn, Jamie Oleksiak, Patrik Nemeth and Esa Lindell is expected. Is that blue-line good enough in front of Dallas' netminders?
Depends on the netminders.
The Future (?)
If Nill's big summer splash is coming, it is likely going to center around a goaltender. There have been a few names floated around but the most obvious candidate is Ben Bishop of the Tampa Bay Lightning. The Lightning have had a busy offseason and now have Steven Stamkos, Victor Hedman, Alex Killorn and Andrei Vasilevskiy locked up long-term. They still have to sign Nikita Kucherov to an extension and extensions for Ondrej Palat, Tyler Johnson and Jonathan Drouin will be coming next year. Whether it is now, the trade deadline or next summer, it seems as though it is a certainty that Bishop won't be a member of the Lightning come the 2017-18 season.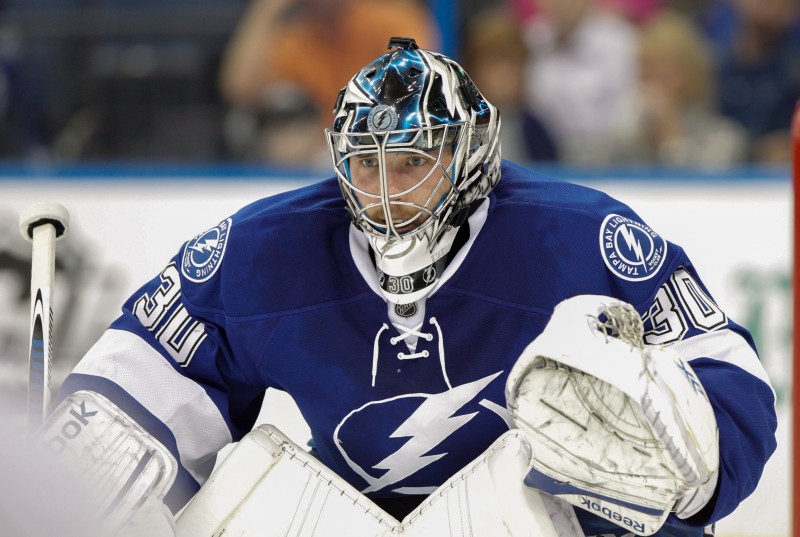 For the Stars to survive a youth-injected blue-line, they are going to need better goaltending than they got in the 2015-16 season. There are two ways to achieve that. One is to hope that one or both of Kari Lehtonen and Antti Niemi play better than they did last year. Another is to acquire a guy like Bishop.
It will take a lot to pry Bishop from Yzerman who has shown to be incredibly patient with situations such as this. For starters, just to make it work on the Dallas end of things, Nill will have to send a goalie the other way. Considering the Lightning would already be moving Bishop partly due to the salary cap, Dallas would have to retain some serious salary on Niemi or Lehtonen going back the other way. After that, it would appear that a solid young prospect and a pick is what it would take to get the deal done.
Does Nill have it in him? There is still quite a bit of summer left to go but the World Cup of Hockey is approaching fast. We will find out in the next few weeks if Nill is going to continue his yearly tradition.