Arizona has long been a talking point in the NHL as the next potential franchise to be thwarted through relocation. The city struggled to draw consistent crowds and the team on the ice failed to give their fans a good reason to show up.
Fans from Quebec often made the trip down south to prove their point of the faith of Canadian viewership in an attempt to sway the Coyotes out of Arizona and into Quebec City.
After Atlanta was relocated to Winnipeg, it had seemed like a guarantee that Arizona would be the next franchise to give Canada an eighth NHL team. But with the league choosing expansion over relocation in 2016, Arizona may have just enough time to paddle themselves out of trouble.
Creating a Fan Base
Since the 2009-10 season, Arizona has ranked 30th (68.5%), 29th (71.2%), 30th (72.5%), 29th (81.3%), 29th (80.4%), 28th (77.9%), and 29th (78.4%) in terms of percentage of seats sold at their 41 home games each year.
You can see that there is a general upwards trend, with 10 percent more seats being filled now than seven years ago. But, the Coyotes remain an annual bottom feeder in the league in terms of attendance. So why have talks of relocation vanished from the desert and headed east to Carolina? Well, the promise of a successful future on the ice has certainly boosted the excitement of fans in Arizona.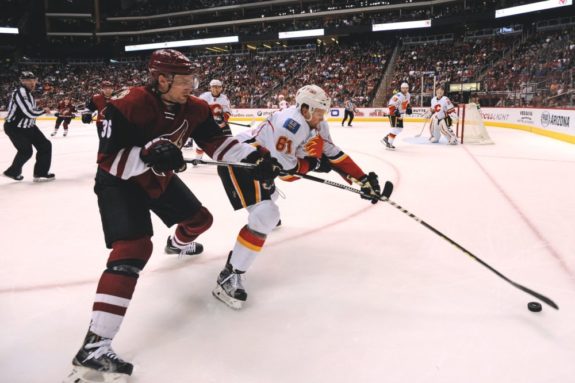 The Coyotes can look to Florida and Dallas, two southern organizations that had long failed to bring in a solid crowd, as mentors in turning around the future of hockey in Arizona.
Both the Panthers and Stars had been at the bottom of attendance rankings beside Arizona for years. They were looking for the solution that would convince fans to come to games more often, as well as how to grow the game and create hockey fans. After many tough years, they found an obvious solution; Success. As the respective franchises bought in to rebuilding and acquiring star pieces, they began to find their winning ways.
And with winning came fans.
Florida was a perennial bottom three team in percentage of seats filled until 2012-13. The team had missed the playoffs for 10 straight seasons until they won their division in 2011-12. As a result of that success, fans were drawn to games the following season. Their attendance increased nearly 15 percent (to 99.7 percent), but with an unsuccessful season in '12-13, it quickly dropped back to just 83 percent.
Now, as they continue to stick to a smart plan, they are reaping the rewards of on-ice success. This past season, their attendance had grown to upwards of 90 percent.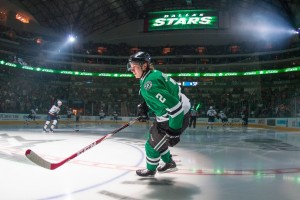 As for Dallas, they have seen a direct correlation between on-ice success and a full arena in a matter of just three years. In 2013-14, the team ranked dead last in the league, filling just 79.1 percent of their seats. With the development of Jamie Benn into a superstar and the acquisition of Tyler Seguin, the team had once again become a successful and exciting team. As a result, their attendance has grown from 79.1 percent, to 93.6 percent in 2014-15, and now 99.2 percent in 2015-16.
Another critical category to bring in more fans is the number of kids playing the game. As more kids enroll in hockey, they become fans and often look up to their hometown heroes. This drives a large portion of the city's fans, and all three of the aforementioned teams have seen a steady rise in grassroots hockey.
In The Hockey News' recent magazine, they displayed a chart of the states which have seen the greatest increase in players enrolled in hockey programs since 1990-91. No. 1 on that list was Texas, who have jumped from 868 to 13,384 players. Next was Florida, where the number rose from 1,200 to 13,276. And third was Arizona, who have just recently been seeing a significant increase. They jumped from 1,196 to 7,510. The increase in kids enrolled in hockey seems to have a great correlation with an increase of that state's hockey team's attendance, and Arizona is clearly on the ups in that category.
Stacked Prospect Pool Ensures Future Success On & Off Ice
With the need of on-ice success to fuel a drive in attendance in Arizona, the team has turned in some lackluster seasons to earn high draft picks. With not only their first-round picks, but smart drafting throughout all seven rounds, the Coyotes have quickly put together one of the deepest prospect pools in the league over the past three years.
To give an idea of the talent that is waiting to burst into the NHL in Arizona, here is a quick list of the team's Top 10 Prospects.
Dylan Strome – 3rd overall, 2015 – Erie Otters (OHL)
Clayton Keller – 7th overall, 2016 – Boston University (NCAA)
Christian Dvorak – 58th overall, 2014 – London Knights (OHL)
Jakob Chychrun – 16th overall, 2016 – Sarnia Sting (OHL)
Brendan Perlini – 12th overall, 2014 – Niagara (OHL)
Christian Fischer – 32nd overall, 2015 – Windsor (OHL)
Anthony DeAngelo – 19th overall, 2014 – Sarnia (OHL)
Ryan MacInnis – 43rd overall, 2014 – Kitchener (OHL)
Nicholas Merkley – 30th overall, 2015 – Kelowna (WHL)
Cam Dineen – 68th overall, 2016 – North Bay (OHL)
With such a deep pool to go along with the young stars already with the club, like Oliver Ekman-Larsson, Max Domi and Anthony Duclair, the organization is set to take a very sharp turn towards finding success in the NHL. And as earlier mentioned, with success will come a greater fan base.
For all those that ask me if hockey has a chance in the desert? This should answer your question! #1 fans in the NHL pic.twitter.com/mIwEtLseYw

— Max Domi (@max_domi) July 9, 2016
What the Arizona Coyotes must now do is ensure the smooth transition of their top prospects from the junior level into the professional level. Often, a prospect's development can wither if they are unprepared for the professional level, or have been advanced prematurely. Arizona general manager John Chayka must be positive that each prospect is handled properly depending on their certain situation and developmental step.
All in all, the future of hockey in Arizona is as bright as ever right now. The team loves playing in Arizona, and they have an exciting future ahead of them with so many tremendous prospects. With the increase of grassroots hockey and attendance over the past decade, it will be intriguing to see the further improvement as the team is finally set to become a serious threat in the NHL, and hopefully for a long time to come.
Contributor for the Toronto Maple Leafs and Prospects. Scout with the Oakville Blades of the OJHL. For questions, concerns, or comments, contact me at devinslawson123@hotmail.com or on twitter @SlawsonTHW.